Johns Hopkins University namesake founder revealed to have owned slaves
Information came to light as part of ongoing work 'to deepen our historical understanding of the legacy of racism in our country, our city, and our institutions'
Oliver O'Connell
New York
Wednesday 09 December 2020 21:00 Comments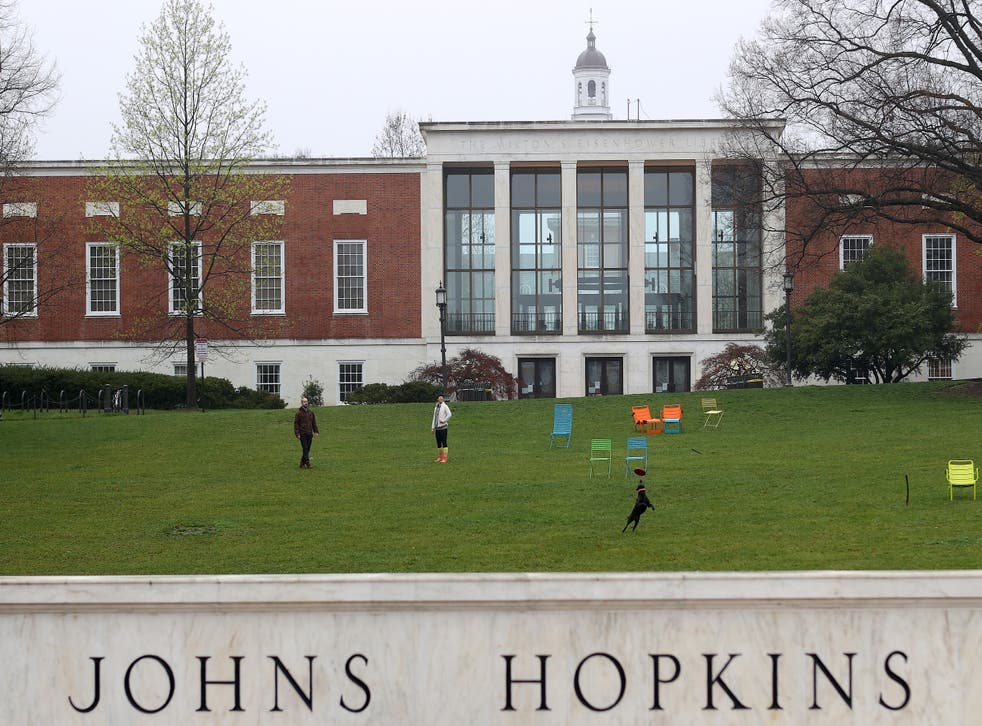 Leer en Español
John Hopkins, the founder of the university and hospital that bear his name, owned slaves before the Civil War, school officials have disclosed.
Researchers discovered evidence that he held four enslaved people in his home in the mid-1800s, contradicting both accounts that Mr Hopkins was an early abolitionist, and the mythology surrounding the school's founder.
It was previously understood that his father, a committed Quaker, had freed the family's enslaved people in 1807.
However, according to government census records, Mr Hopkins was the owner of one enslaved person in his house in 1840, and four were listed in 1850. It was legal to own slaves in Maryland at that time.
By 1860, no enslaved people were listed as part of the household. The state abolished slavery in 1864.
In a message to the Johns Hopkins community, officials said that additional research will be needed, which will be pursued vigorously in the months ahead.
The new information came to light as part of ongoing work announced in the summer "to deepen our historical understanding of the legacy of racism in our country, our city, and our institutions".
Mr Hopkins launched America's first research university in 1876, just a decade after the Civil War – at the time, the largest-ever philanthropic gift ever made in the nation.
His bequest saw the opening of the hospital in 1889, which set the standard for modern patient care and medical education. Researchers at Johns Hopkins have been among the most prominent voices for public health in the fight against the coronavirus pandemic.
Mr Hopkins instructed that the hospital should extend its care to "the indigent of Baltimore, regardless of sex, age, or race", and he also instructed his trustees to open an orphanage for Black children.
"But the fact that Mr. Hopkins had, at any time in his life, a direct connection to slavery – a crime against humanity that tragically persisted in the state of Maryland until 1864 – is a difficult revelation for us, as we know it will be for our community, at home and abroad, and most especially our Black faculty, students, staff, and alumni," officials wrote in a letter.
The signatories of the letter are Ronald Daniels, president of Johns Hopkins University; Paul Rothman, dean of the medical faculty and chief executive of Johns Hopkins Medicine; and Kevin Sowers, president of the Johns Hopkins Health System.
Martha Jones, professor of history at Johns Hopkins University and director of the Hard Histories at Hopkins Project, and Allison Seyler, programme manager of Hopkins Retrospective, are leading the research.
"Many of us had been offered up what turns out to be a somewhat mythological narrative about a man who had been a Quaker and who had been an abolitionist, who had been a supporter of the Union during the Civil War. We had taken that to heart," Ms Jones said.
She vowed to continue the work and added that she hopes the community will express and share it feelings about the revelation.
In addition to the census information, the historians found no evidence to support the narrative that Mr Hopkins' father had freed the family's slaves, but did find evidence of a partial freeing of slaves by his grandfather, though he also continued slaveholding and transactions for decades after.
Mr Hopkins is connected to an 1838 letter in which an enslaved person is accepted as collateral for a debt by a company in which the eventual founder of the university was a principal.
An obituary of Mr Hopkins from the time describes him as holding antislavery political views, and says that he purchased an enslaved person for the purpose of freeing him.
"Like so many others who have made meaningful contributions to our country's history, Mr. Hopkins is a complex and contradictory person whose story holds within it multiple truths," school officials wrote in their message to the community. "Both his participation in slaveholding and his extraordinary and specific gifts to the people of Baltimore, particularly those gifts that supported Black Baltimoreans at a time when other white leaders of similar means did not."
A virtual town hall meeting for the community to discuss the findings is planned for Friday.
Register for free to continue reading
Registration is a free and easy way to support our truly independent journalism
By registering, you will also enjoy limited access to Premium articles, exclusive newsletters, commenting, and virtual events with our leading journalists
Already have an account? sign in
Join our new commenting forum
Join thought-provoking conversations, follow other Independent readers and see their replies