'I can't describe a better father': Community rallies for grieving man who left twins to die in hot NYC car
Community in mourning stands by grieving father who made the worst mistake of his life. Clark Mindock reports from a Bronx courtroom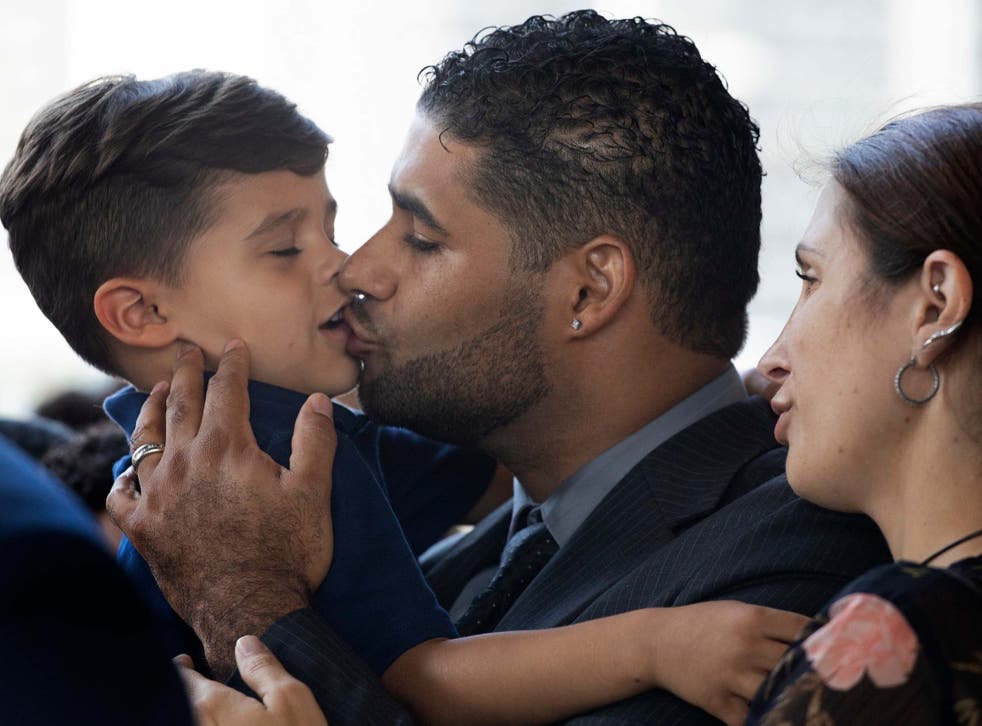 Less than a week after leaving his twin one-year-old children to die, trapped in a hot car in the Bronx, Juan Rodriguez stood before dozens of his family and friends, and shook.
With tears in his eyes, the 39-year-old sighed and hung his head in disbelief. A court officer brought him a cup of water. Then a chair.
The room was silent but for those sighs, and the muffled conversation taking place in the corner between a judge and two attorneys.
As he shook, dozens of family and friends waited for news on the fate of a grieving father, who had just made the biggest mistake of his life by forgetting his children strapped into car seats on a hot summer day – and one who they otherwise described as a doting, attentive, and dedicated man who would do anything for his kids.
"I can't lay out a better example of what a good father is. He's an involved father. Loving. Always there for his kids," Marlon Pavon, a family friend who went to college with Rodriguez, says later, outside the courthouse.
"He would go above and beyond if they needed something," he tells The Independent.
The description of Rodriguez is one that seemed to contradict the underlying set of the facts before the state of New York. It has refused so far to drop charges against the father of five who forgot two of them in a hot car for hours after driving to his job at a Veterans Affairs hospital from his home just outside of the city two Fridays ago.
But it's an opinion of him that seemed to be shared among the dozens of friends and family who took time out of their days to show support for him, even as he wrestled with the tragedy that is now taking over their lives.
It's an opinion that is shared by Rodriguez's wife too; a newly grieving mother who clasped his shoulder at a press conference after court, crying as their four-year-old son smiled at his father, and playing with his face.
World news in pictures

Show all 50
"I will never get over this loss, and I know he will never forgive himself for this mistake," Marissa Rodriguez said in statement distributed by their lawyer last weekend. "This is a horrific accident, and I need him by my side to go through this together."
But, even with the testimonials, the question remains: how could such a loving father ever leave his two children in the back seat of a boiling hot car, even if it was accidental?
Support free-thinking journalism and attend Independent events
Well, on 26 July, according to court documents, Rodriguez – a captain in the New York national guard who was once deployed in the Middle East – pulled into work just after 8am at the Veterans Affairs hospital, after dropping off another of his children at daycare.
Eight hours later, the father was seen returning to that car, and driving off. Moments later, after Rodriguez realised his two children were still in the back seat, he pulled over and jumped out screaming. A bystander called the police. The medical examiner registered the internal temperature of the children at 108 Fahrenheit (42 Celsius).
Amber Rowlins, the director of the advocacy group Kids and Cars, says that she sees dozens of similar cases. Parents, in a rush or somehow distracted, simply forget.
Rowlins runs a group headquartered in Kansas that advocates for better safety measures on these issues, and compiles what is perhaps the saddest database in America – one that tracks all of these children's deaths.
She says that it could happen to anyone, even a father who just months ago threw a lavish party to celebrate his twins' first birthdays in their fence-lined suburban yard.
"This happens to all different types of people. People of all different ages. People of all different socioeconomic statuses, professions, races, ethnicities," Rowlins says.
"It truly is one of those things that does not discriminate," she continues.
Kids and Cars was established in the early 1990s at something of an inflection point for this particular kind of tragedy, Rowlins says. Before then, children being left unintentionally in cars was relatively rare.
The newfound understanding that airbags are deadly for young children that developed at that time changed that. As parents began putting their babies in back seats, so too did they begin to forget them once they were physically out of sight.
Since 1990, over 900 children have died from heat stroke after being left in cars in the US, with 25 deaths already recorded this year, according to the database. Just last year, there were 53.
But even with the human propensity to forget, Rowlins says that these deaths are all unnecessary. There are, and have been for years, products available that notify parents if they forget something with weight in the back seat and wander away from the vehicle. Those tools just aren't in every vehicle.
It's an issue that has attracted the attention of congress, with the first bill aimed at requiring carmakers to put that technology into cars being introduced by now-presidential candidate Tim Ryan of Ohio in 2016. The current version of the bill has a Senate-introduced version too, and six sponsors.
Michael Zetts, Ryan's communications director, says it is ridiculous that the bills have not already passed.
"These kinds of tragedies happen every year, and it's not just one or two. It's in the teens. It's more," he says. "All summer long, and even in the spring, you get these stories."
Rodriguez, for his part, now plans on joining in on the efforts to enact legislation that would ensure what has happened to him never happens to another family.
At least, that is what his lawyer says his client plans on doing if he can beat the manslaughter and criminally negligent homicide charges he faces.
Rowlins says that from what she has seen in her 15 years advocating on these issues, about half of the deaths result in charges, and about a third of the cases see convictions. It is hard to predict what the results will be, and sometimes seemingly identical cases will yield opposite results.
As Rodriguez starts that fight, he has plenty of support from his family and friends, who showed up en masse to support him in the Bronx.
But Rowlins says that regardless of the character of the father described by that support network, this doesn't change the fact a parent can be charged with manslaughter. Parents don't leave their children in cars because they don't care about legal repercussions.
"They have no idea they're leaving them behind," she says. "Fear of going to jail is not going to stop that from happening."
Pavon, the friend of the family, says that he is now going to be there for a friend who he says always has his back.
"Whenever I'm in need, he's always been there. It just shows you the level of character that he has," he says. "I hate to see his family go through this. It's a tragic accident."
Join our new commenting forum
Join thought-provoking conversations, follow other Independent readers and see their replies