Government contractor fired for giving Donald Trump the finger considering suing employer
'They walked me to my desk and then out the building. I was even told I could not get photos of my children from my computer before they bleached it,' says Juli Briskman
Maya Oppenheim
Saturday 25 November 2017 20:32 Comments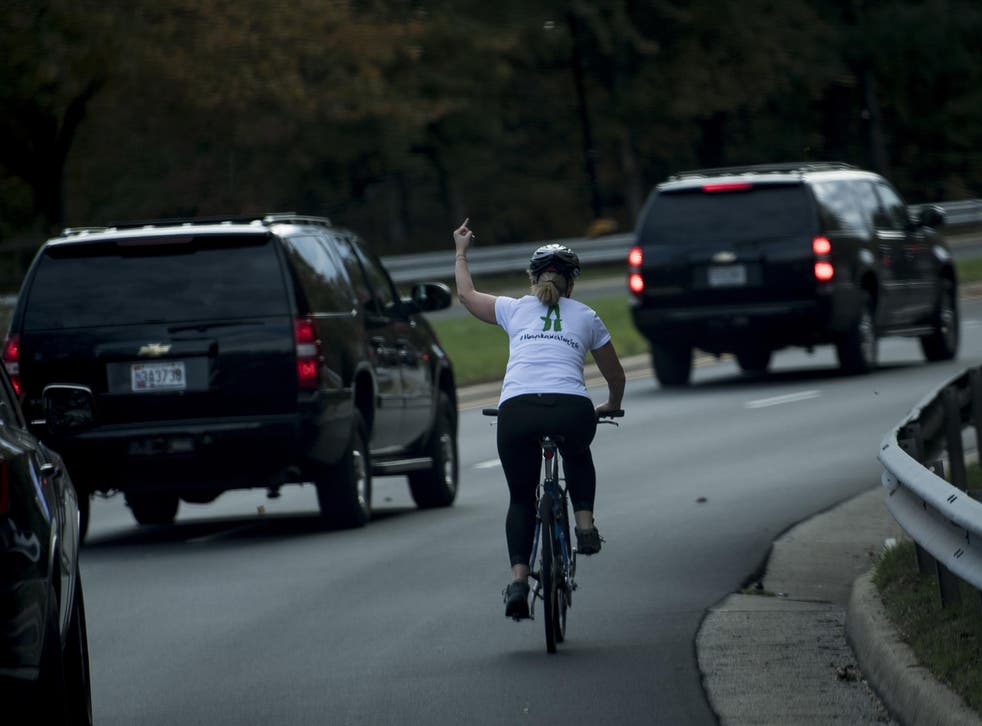 A woman who was sacked from her job as a government contractor for cycling past Donald Trump's motorcade to give him the middle finger has said she is considering suing her employer.​
Juli Briskman grabbed headlines around the world after a White House photographer captured her cycling past the US President's car as it left the Trump National Golf Club in Virginia to give him the one-fingered salute. Although the convoy overtook the 50-year-old she managed to catch up and flip President Trump the bird again.
The incident led to Ms Briskman, whose Twitter followers have jumped from 24 to a whopping 17,800 since the photo of her went viral, being dismissed from her job at Akima LCC at the beginning of the month.
The mother-of-two, who worked in the marketing and communications department of the government contractor, said she felt obliged to alert her employer to the image after it started gaining increasing traction online.
"I brought it to their attention – it was going viral so I figured they should know – I turned myself in so to speak. They sacked me in 24 hours which makes me think they did not properly think it through," she told The Independent.
"They walked me to my desk and then out the building. I was even told I could not get photos of my children from my computer before they bleached it. It was like I had embezzled a couple of million company dollars."
Ms Briskman said when she initially told human resources the photo was being widely circulated they were insistent it would not be a problem.
"The HR person said, well, you are allowed to ride your bike and talk to the media, just do not do it on company time. But she ended up telling her boss, the director of HR, and the VP of corporate development, who then talked to the CEO of Akima. Apparently he just said I was not being respectful of company policy."
In the end, Ms Briskman was told she had breached the firm's social media policy. Despite drawing attention to the fact that while she made the image her profile picture on Facebook and Twitter, she had not listed her employer on either accounts, they still proceeded to sack her, she said.
Protest in Manila against Donald Trump's visit to the Philippines

Show all 14
"They said they were government contractors and shrugged their shoulders to imply it was obvious they could not have me," she said.
Virginia has "at will" employment laws which allow private sector employers to be able to sack people for any reason they consider fit. Ms Briskman claimed that while she was monitoring Facebook over the summer she stumbled across a public comment made by a male senior director of the firm talking to one of his employees about the Black Lives Matter movement. Despite it being an otherwise civil exchange, he said: "You're a f***ing libtard a***hole".
Although he hurled the insult from a profile which clearly and repeatedly identified himself as an employee of the company, she said, he was not dismissed and was merely permitted to clean up his Facebook page. She argued it was not fair he had been allowed to keep his job whereas she had been dismissed.
Ms Briskman said she was investigating the range of legal options at her disposal and considering suing the company. She said she had spoken with the several lawyers and the American Civil Liberties Union a number of times.
"I am considering a lawsuit against them," she said. "All options are on the table at this point. I am speaking with a number of different lawyers, potentially suing for discrimination or potentially my First Amendment rights being violated. A number of attorneys are excited by the case."
The single mother, whose children are 15 and 13, said she was initially terrified after learning she had been sacked.
"I was driving home working out how much money I had in my savings account and how many months I could be unemployed for but still pay the mortgage, afford healthcare and feed the kids."
Fortunately, Ms Briskman has been inundated by donations from all over the world since a Go Fund Me campaign was set up for her. The former marketing executive, who has become something of a national hero, has to date received more than $128,000 (£96,000) in donations.
"There are three reasons why people are contributing," she said. "The first is they hate Trump, the second is they think my First Amendment rights have been violated, the third is that my employer discriminated against me."
Ms Briskman said she did not regret her actions but may have tackled the situation differently had she known cameras were there while she cycled past President Trump's motorcade.
"I just wanted to go to for a cycle ride, I could never have imagined what would have happened," she reflected. "If I had known my photo was being taken or media were there I would have still given him a piece of mind but if I had time to make a sign it would have said 'stop colluding with Russia' or 'not my president'.
"I would have refined my message, so to speak, but seeing that I was on my bike and it was bulletproof glass, it was the only way to give him the message," she continued. "Nobody is normally happy they get fired but I actually feel lucky. My life has changed forever."
Ms Briskman, who often jogs directly past President Trump's golf course but had not previously seen the President's motorcade in the flesh, said she has been in touch with the Democrat Party and a number of political organisations about potential roles for her.
"The Go Fund Me money has taken the pressure off and given me the breathing room to find out what I want to do. I really hope I can use this for something good," she said.
But it has not been all plain sailing for Ms Briskman. She has been subject to great deal of abuse from Trump supporters via social media, email, voicemail and though her actual letter box.
"I've had about eight abusive letters full of swear words, with people saying I look like an elephant on that bike and that I'm a defective offspring. People have even copied the middle finger and sent it to me".
Ms Briskman, who said thousands of people had also been abusive to her on Twitter, said the sheriff had been providing her with extra support and had chosen to increase patrols in the area.
Donald Trump claims Time Magazine told him he was 'probably' going to be Man of the Year
Reflecting on the day itself, she insisted the message behind her action was more important than the gesture itself. "When the motorcade went past I remembered all that frustration I have had with President Trump and his administration and it came out through my middle finger. I hope eventually he gets the message or he gets impeached," she said.
When pressed about how she would feel if the US President were to respond to the viral photo via one of his trademark Twitter tirades, she said she would not be surprised.
"It would be a typical bully move by him," she said. "I don't think I would be scared. I just think he's a jackass. If he took the time to tweet about a private citizen flipping him the bird he would be proving my point that he's a bully and has no respect for the office or his position on the world stage."
A representative for Akima did not immediately respond to a request for comment.
Register for free to continue reading
Registration is a free and easy way to support our truly independent journalism
By registering, you will also enjoy limited access to Premium articles, exclusive newsletters, commenting, and virtual events with our leading journalists
Already have an account? sign in
Join our new commenting forum
Join thought-provoking conversations, follow other Independent readers and see their replies