Julian Hernandez: 5-year-old boy who went missing in 2002 found alive and well 13 years later
The boy is found, aged 18, living in Ohio with his father after he appied for college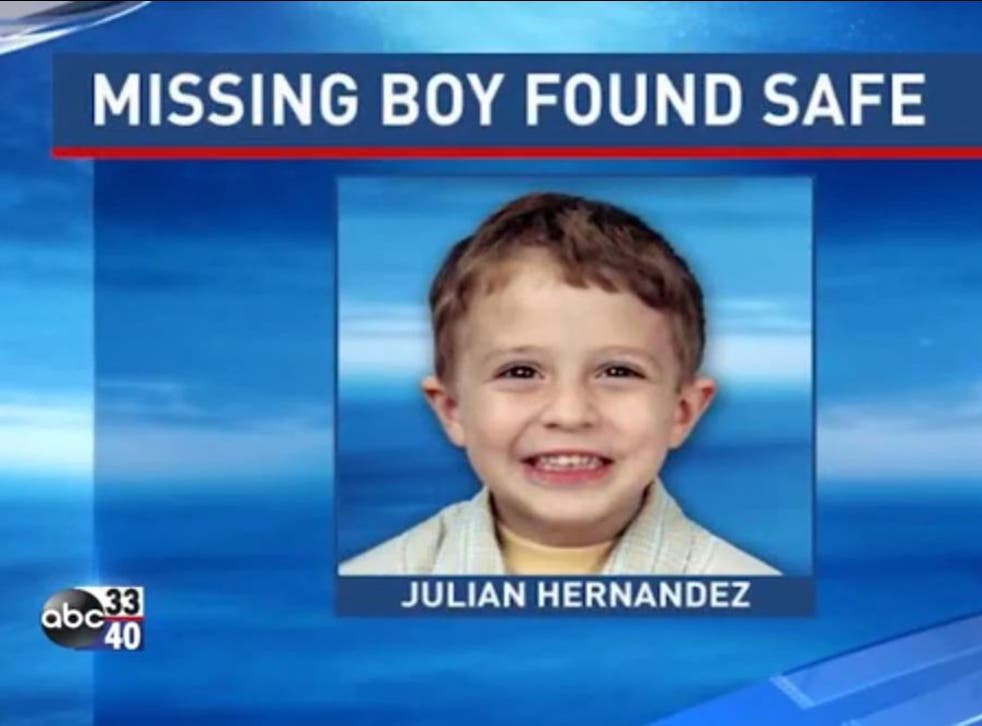 A five-year-old boy who went missing in 2002 has been found alive and well 13 years later.
Julian Hernandez, who disappeared in Birmingham, Alabama, was found living more than 700 miles away in Ohio.
Police and FBI agents confirmed that the now-18-year-old was safe and unharmed.
His mother was said to be "ecstatic" at the news, according to AL.com.
Julian's mother reported the boy missing after his father, Bobby Hernandez, was supposed to take him to preschool but instead withdrew money from his bank account and fled.
Mr Hernandez, now 53, has been arrested on suspicion of one count of tampering with records in Ohio over a falsified driving licence, and is likely to face abduction charges in Alabama, according to local police.
Julian's identity only came to light when he began applying for colleges.
Teen Solves His Own Missing Person Case Trying to Apply for College
His Social Security number - the equivalent of a National Insurance number in the UK - did not match his name and when a school counsellor tried to help him find out why, they found him on the National Centre for Missing and Exploited Children's database.
Lt Johnny Evans, a local police officer in the Vestavia Hills neighbourhood of Birmingham where Julian went missing, told local news channel WVTM13: "I've been doing this 25 years and it's something I've never experienced before.
"They (investigators) spent tireless hours doing everything they could to try to find him.
Heartwarming news stories from around the world

Show all 30
"That's the reason you never give up and you keep looking."
Register for free to continue reading
Registration is a free and easy way to support our truly independent journalism
By registering, you will also enjoy limited access to Premium articles, exclusive newsletters, commenting, and virtual events with our leading journalists
Already have an account? sign in
Register for free to continue reading
Registration is a free and easy way to support our truly independent journalism
By registering, you will also enjoy limited access to Premium articles, exclusive newsletters, commenting, and virtual events with our leading journalists
Already have an account? sign in