New Haven overdose: What is K2 weed alternative and how dangerous is the synthetic marijuana?
The synthetic marijuana alternative could be far more dangerous when mixed with opioids like fentanyl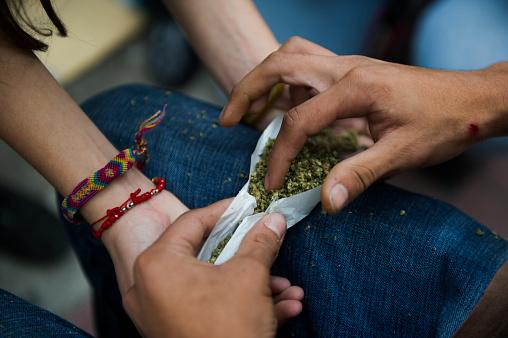 Officials have announced a state of emergency in New Haven, Connecticut after at least 76 people overdosed on a synthetic marijuana alternative.
The harrowing incident is just the latest in a wave of synthetic marijuana overdoses nationwide, in which hundreds of victims have suffered a myriad of side effects, from bleeding out of their eye sockets to delusional thinking and repeated vomiting.
The synthetic drug is known as K2; it looks similar to marijuana and is smoked the same way as cannabis, but can cause deadly side effects due to its unregulated and varying mixture of chemical compounds. Researchers and police believe the recent string of K2 overdoses may have been caused in part by mixing the drug with opioids, fentanyl, or unknown compounds imported from Russia and China.
"It's really hard to say what causes these big outbreaks, because people don't really know what they're getting when they buy K2 spices," said Paul Prather, a principle investigator for the College of Medicine at the University of Arkansas for Medical Services. "These products are made specifically to evade detection, so what may be going on is that we're seeing the introduction of new compounds into the market that have never been tested on animals or humans."
Police arrested a 37-year-old man believed to be connected to the overdoses at New Haven Green, a city park near Yale University. There were nearly 25 overdoses in a three-hour period at the park on Tuesday, with dozens more continuing throughout the night and into Wednesday. Victims began collapsing in broad daylight and convulsing on the floor, as paramedics rushed to the scene.
It's not the first time an outbreak of overdoses occurred at "the Green," as locals refer to the city park known for attracting drug users and the homeless. Nearly a dozen victims overdosed at the park on 4 July this year.
City officials warned residents about the dangerous drug after numerous victims were hospitalised with life-threatening conditions, telling locals not to buy K2 at the Green — or anywhere, for that matter.
"Today New Haven was on the front lines of a coast-to-coast struggle to combat the public health menace of illicit distribution and use of what appear to be tainted street drugs," New Haven Mayor Toni Harp said in a statement.
Connecticut Governor Dannel Malloy also echoed that warning, saying in a statement, "The substance behind these overdoses is highly dangerous and must be avoided."
76 people overdose on synthetic marajuana in a single day at a park in Canada
Mr Prather, whose conducted years of studies into K2 and its potentially lethal side effects, described a black market system behind K2 in which street dealers are buying and mixing unknown chemicals themselves.
"It's mostly nefarious people trying to make a buck, who maybe have a chemistry degree or know a little about this or that — they order the chemicals off the internet," he said. "The powders are ordered from China and Russia, then people who want to sell them dissolve the compounds with acetone and spray them on plant material to usually sell them for $10 or $20 dollars a bag."
There are hundreds of types of varying synthetic marijuana drugs typically called "spices" or K2. They derive from research conducted by John W Huffman, a Clemson University professor who developed the first synthetic cannabinoids in the early 1990s to test the brain's regulation of appetite, nausea, mood pain and inflammation.
Drug addiction, overdoses, and a very brief history of Heroin
Show all 14
Synthetic cannabinoids have since found their way into recreational drugs like K2, which began being seen in overdoses in the US and UK around 2009.
The effects of taking K2 are far different from that of actual marijuana because weed includes mitigating compounds that reduces its toxicity on brain receptors.
What's more, whereas marijuana has just one compound that causes psychoactive effects, synthetic marijuana typically has between three to five. And unlike weed, K2 is designed to activate 100 per cent of a brain receptor, whereas cannabis has a much weaker effect.
"K2 is meant to fully activate the receptors, so they're much more efficacious at activating those than THC," Mr Prather continued. "It's a much bigger activation, no mitigating compounds to remove toxicities and an overall much bigger bang."
Outbreaks of synthetic drug overdoses have become a constant news story, with thousands of people being sent to the emergency room each year across the country for issues related to ingesting K2 and other products. At one point two years ago, New York City was seeing nearly 40 people hospitalised on a daily basis due to K2.
Research indicates the use of K2 has increased in recent years, with nearly 500 cases of highly toxic effects caused by synthetic cannabinoid drugs between 2010 and 2015 according to one study.
Join our commenting forum
Join thought-provoking conversations, follow other Independent readers and see their replies