Kansas shooting: Wife of Indian engineer shot dead in Kansas bar calls on Donald Trump to fight hate crime
White House dismisses link between President's rhetoric and killing as 'absurd'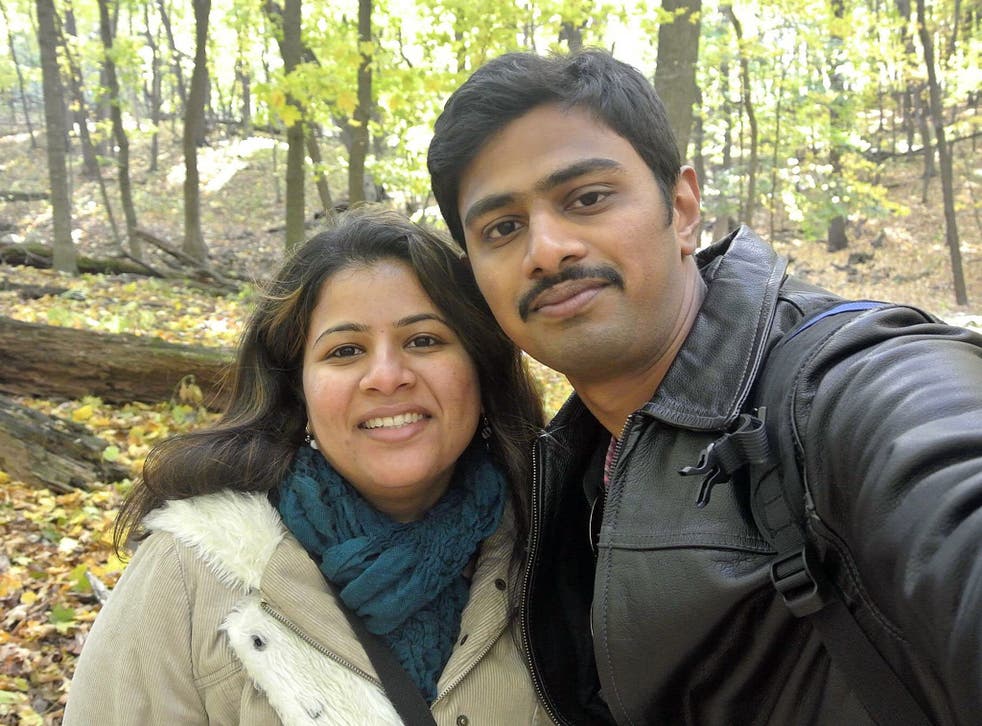 The wife of an Indian engineer gunned down by an American man who allegedly told him to "get out of my country" has called on Donald Trump's administration to fight hate crime.
Adam Purinton reportedly shouted racial slurs at Srinivas Kuchibhotla and his friend before leaving the crowded bar in Kansas and returning with a gun and opening fire.
Mr Kuchibhotla died from his wounds, while another Indian man Alok Madasani was injured and has since been discharged from hospital.
A third man, Ian Grillot, attempted to chase Purinton down, believing his weapon's magazine was empty, before being shot himself.
Mr Kuchibhotla's wife said she had questioned whether the couple belonged in the US but was reassured by her husband, who would have celebrated his 33rd birthday next month.
Holding back tears, Sunayana Dumala told a press conference: "We've read many times in newspapers of some kind of shooting happening everywhere.
"I was always concerned: 'Are we doing the right thing staying in the United States of America?' But he always assured me good things happen to good people."
Ms Dumala described her husband was a "very loveable soul", whose murder had plunged parents and relatives in India into grief.
"And I need an answer," she added. "I need an answer from the government … about what they are going to do to stop this hate crime."
Mr Madasani's father, Jaganmohan Reddy, said the shooting at Austins Bar and Grill in Olathe had left him fearing for his son's safety.
"I request other parents to think twice before sending their children to the United States," he said.
Hours after the killing, Purinton – a 51-year-old US Navy veteran – reportedly walked into a bar in a town 70 miles away and told a member of staff he needed a place to hide because he had just killed "two Middle Eastern men".
Authorities are investigating the possibility the killing was racially motivated amid concern the President's "America First" rhetoric on jobs and immigration, including an attempted immigration ban on seven Muslim-majority countries.
Mr Trump has attempted to characterise the executive order as a security measure but a draft Homeland Security report found no support for the assessment, saying nationality is "unlikely to be a reliable indicator of potential terrorist activity".
"Not everyone will be harmful to this country," Ms Dumala said.
The White House dismissed suggestions of a link between the shooting and the President's rhetoric as "absurd".
The controversial orders Donald Trump has already issued

Show all 9
Mr Trump's spokesman, Sean Spicer, answered a question on his response by saying: "I mean, obviously, any loss of life is tragic, but I'm not going to get into, like, that kind of – to suggest that there's any correlation – I think is a bit absurd.
"So I'm not going to go any further than that."
Purinton has been remanded in custody on charges of murder and attempted murder ahead of a scheduled hearing on Monday.
Mr Kuchibhotla moved to the US in 2005 to pursue a master's degree at the University of Texas at El Paso and worked in Iowa for six years before moving to the Kansas City area, where his brother also lives.
He and Mr Madasani, both Hindus, worked for American technology firm Garmin, which has its headquarters just a mile away from the bar where they were shot.
The company said it was devastated by the "senseless tragedy" and praised Mr Grillot for his "heroic efforts" to detain the gunman.
"Srinivas was a valued member of our engineering team and will be greatly missed," a spokesperson said.
"We are working closely with Srinivas's and Alok's families and appreciate the outpouring of support for them."
The Indian government said its diplomats would monitor the Kansas investigation, as mourners gathered in Hyderabad for the return of Mr Kuchibhotla's body.
Join our new commenting forum
Join thought-provoking conversations, follow other Independent readers and see their replies