Kate Steinle latest: Antifa outnumber neo-Nazis at White House protest over murder trial
Around 25 white nationalists were confronted by approximately 50 Antifa protesters shouting 'Nazi scum off our streets!'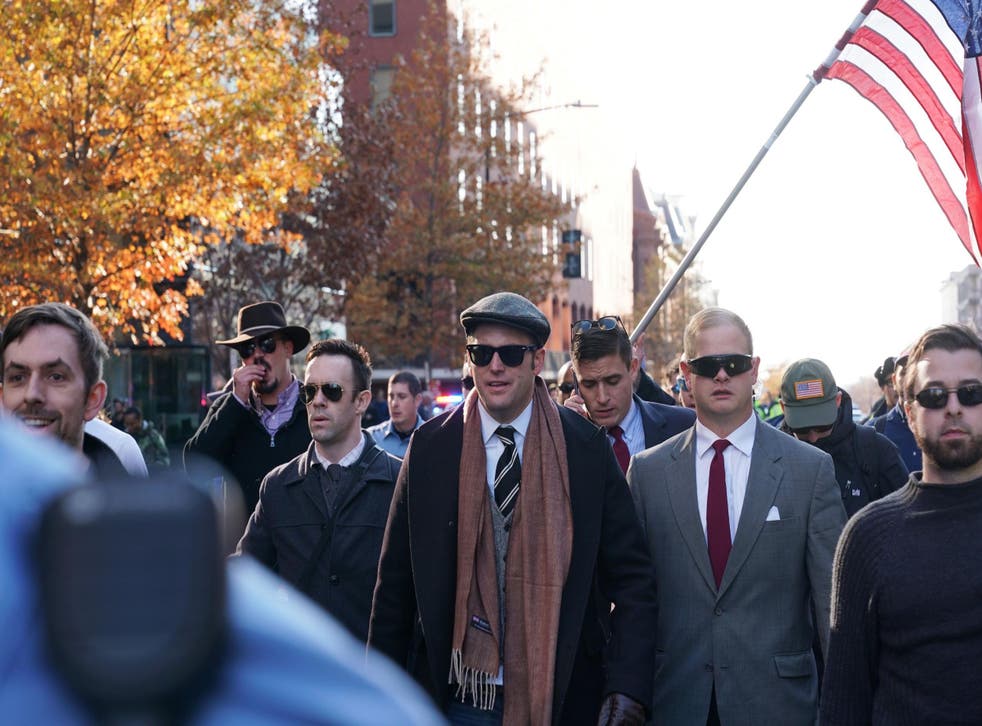 Antifa outnumbered white supremacists during a protest in front of the White House which saw the two rival groups hurl slogans at each other before being escorted away by the police.
Neo-Nazis and members of the far right gathered on Pennsylvania Avenue carrying American flags and chanting "build the wall" to show their opposition to the verdict in the Kate Steinle trial.
Jose Ines Garcia Zarate, an undocumented Mexican immigrant, was found not guilty of murder last week in the killing of a woman on a San Francisco pier that sparked a national immigration debate two years ago. The jury found him guilty of being a felon in possession of a firearm.
Around 25 white nationalists, including far right poster boy Richard Spencer, were confronted by approximately 50 Antifa protesters yelling "Nazi scum off our streets!" and clutching placards with slogans such as "Stop Racial Scapegoating".
Antifa, shorthand for anti-fascist protesters, refers to a loose decentralised coalition of groups who oppose fascism via popular grassroots action rather than relying on the police or the state.
The white nationalist's rally, which called for more stringent laws on immigration, lasted 20 minutes before police on bikes and horseback succeeded in separating the opposing groups before clashes broke out. Police managed to escort far right demonstrators away from the scene.
Spencer, who is credited with coining the term "alt-right", urged people to join him for the protest on Twitter, saying: "Join me on Sunday at 2pm in Lafayette Square to demand Trump build #KatesWall."
Spencer helped organise the "Unite the Right" rally in Charlottesville which saw neo-Nazis, KKK members and "alt-right" supporters descend on the ordinarily quiet university town. Tensions between fascists and counter protestors turned deadly after a 20-year-old man, who officials say had Nazi sympathies, deliberately ploughed his car into the crowd of peaceful anti-fascist demonstrators and killed a female civil rights activist.
Violence on the streets of Charlottesville

Show all 9
Spencer addressed US President Donald Trump directly through his microphone at the recent White House demonstration, saying: "Kate could have been your daughter too."
He shouted: "Kate Steinle's death has touched everyone that's here. She represented everything that is white and wonderful about this country."
President Trump has condemned the acquittal of Mr Zarate and used the case to launch an attack on illegal immigration.
"A disgraceful verdict in the Kate Steinle case! No wonder the people of our Country are so angry with Illegal Immigration," he tweeted last week before claiming it was a "total miscarriage of Justice" on Sunday.
Mr Zarate, who had been deported five times and served time in federal prison for illegally re-entering the US, was found not guilty of first or second-degree murder or assault with a firearm.
Mr Zarate's lawyer for the case released a statement last week urging President Trump to "reflect" on his own "presumption of innocence beyond a reasonable doubt" in special counsel Robert Mueller's Russia investigation before deciding to comment on the Steinle case.
The Steinle case became a flashpoint over debates on immigration policy and Mr Trump regularly used the case to call for stricter immigration policies during the 2016 presidential election.
Immigration officials said they will try to deport Mr Zarate again following his acquittal on the murder charges.
Join our new commenting forum
Join thought-provoking conversations, follow other Independent readers and see their replies