Kate Steinle shooting: Mexican man found not guilty of woman's murder in case Trump used to tout border wall
Donald Trump has regularly invoked the death to argue for tougher immigration laws
Jeremy B. White
San Francisco
Friday 01 December 2017 00:25 Comments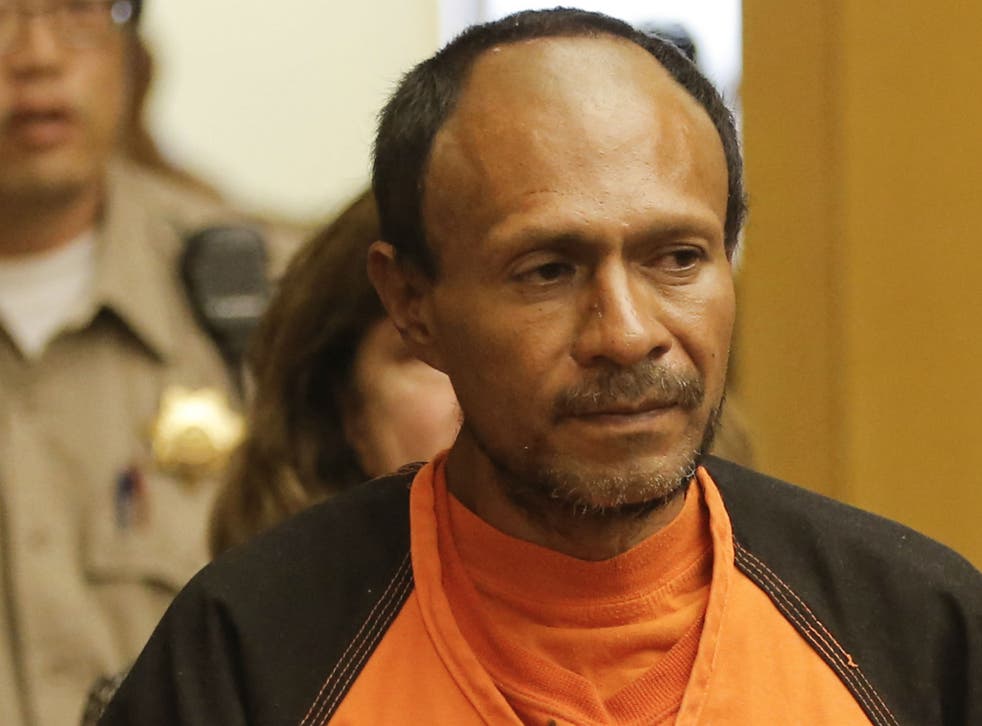 The undocumented immigrant accused of murdering Kate Steinle has been found not guilty of homicide, capping a closely-watched trial that magnified a contentious national debate over immigration policy.
The verdict came on the jury's sixth day of deliberation. Ms Steinle was slain in 2015 by a ricocheting bullet as she strolled along the San Francisco waterfront with her father. Prosecutors argued that defendant Jose Ines Garcia Zarate intentionally killed her, while his defense said it was an accident.
"The physical evidence has always supported the finding that this was an accidental occurrence, and I think the jury came to that conclusion," Mr Zarate's attorney Matt Gonzalez said after the ruling.
Mr Zarate said he found the gun on on the pier. The firearm had disappeared from a U.S. Bureau of Land Management ranger's car before the shooting, but prosecutors did not present evidence establishing that Mr Zarate stole it. Jurors found him guilty of being a felon in possession of a firearm, the only charge for which he was convicted.
While the jury was tasked with settling a murder charge, the case became a national lightning rod for a larger debate about immigration policy. Donald Trump has regularly invoked Ms Steinle's death as a justification for more stringent immigration enforcement.
Mr Zarate is a native of Mexico who had been deported five times and served time in federal prison for illegally re-entering the United States. Before Ms Steinle's death, Mr Zarate was released from the San Francisco Sheriff's Department after charges related to selling marijuana were dropped.
Protestors rally at JFK Airport against Muslim immigration ban

Show all 20
Sheriff's officials did not comply with a request by federal immigration authorities to hold onto Mr Zarate, who then went by the name Juan Francisco Lopez Sanchez. The department had in place policies limiting how much information on detainees it could share with Immigration and Customs Enforcement, the type of so-called "sanctuary city" resistance to assisting federal immigration authorities.
Mr Trump and his administration have blasted those jurisdictions, saying they undermine public safety by protecting lawbreakers and trying to punish them by withholding federal funds. California recently enacted a so-called "sanctuary state" law that fortifies restrictions against jails and police officers working with ICE.
"This senseless and totally preventable act of violence committed by an illegal immigrant is yet another example of why we must secure our border immediately," Mr Trump said in 2015.
Earlier this year, a federal judge tossed a lawsuit brought by Ms Steinle's family against former San Francisco Sheriff Ross Mirkarimi faulting him, along with the city and county of San Francisco, for allowing Ms Steinle's death.
Register for free to continue reading
Registration is a free and easy way to support our truly independent journalism
By registering, you will also enjoy limited access to Premium articles, exclusive newsletters, commenting, and virtual events with our leading journalists
Already have an account? sign in
Join our new commenting forum
Join thought-provoking conversations, follow other Independent readers and see their replies