Katy Jurado: 5 things you need to know about the iconic Mexican actress
Google honours what would have been her 94th birthday 
Mythili Sampathkumar
New York
Tuesday 16 January 2018 16:38 Comments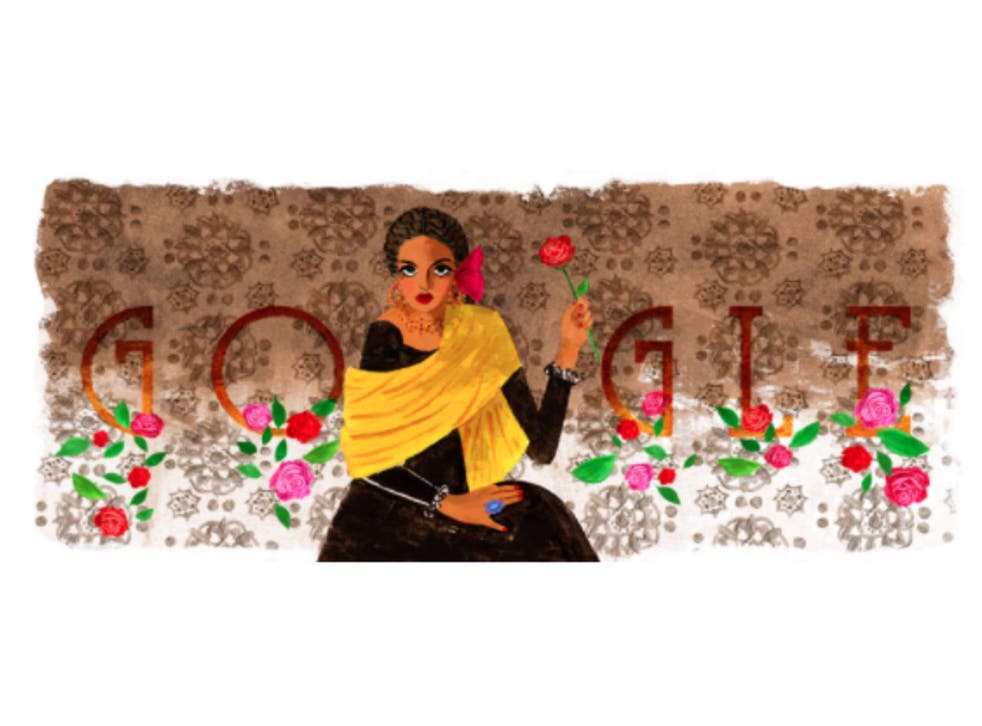 The award-winning Latin American actress who broke stereotypes beginning in the 1950s, Katy Jurado has been honoured through this week's Google doodle.
Ms Jurado, who would have been 94 today, died in 2002 in her native Mexico - but not before leaving a lasting impact on Hollywood.
Ex-husband and veteran Hollywood star Ernest Borgnine described Ms Jurado as "beautiful, but a tiger."
Here are five things to know about the High Noon star:
She began her career in secret
Ms Jurado almost did not make it to the silver screen during Mexico's golden age of cinema. She hailed from a wealthy family in Guadalajara - so wealthy in fact, they owned much of what is now Texas - who forbid the teenager from acting despite having an uncle who was an actor.
She was set on making it in the movie industry and proceeded to sign her first contract without their consent, in secret.
Though they threatened to send her away to boarding school as a result, it was the beginning of a career that spanned seven decades.
Google marks International Women's Day with 13 amazing women

Show all 13
She reportedly memorised English scripts by sound
For her first Hollywood film, 1951's Bullfighter and the Lady, Ms Jurado is said to have memorised her lines by how they sounded to her because of her limited English at the time.
It was a unique approach, but her acting skills still shone through as she was soon cast in the western classic High Noon the following year. She took language classes for two hours a day for months in order to star opposite Grace Kelly and Gary Cooper.
She would go on to work with the likes of Marlon Brando, Charlton Heston, and Anthony Quinn.
Ms Jurado won several awards, including one for her contribution to Hollywood Westerns
Her hard work preparing for High Noon was not in vain. Her portrayal of saloon owner Helen Ramirez earned her a Golden Globe award for Best Supporting Actress.
She would go on to be nominated for a Best Supporting Actress Oscar for her work in the 1954 Spencer Tracy film, Broken Lance.
Ms Jurado also won three Silver Ariel awards, the Mexican Oscars, for her portrayals as well as being nominated many more times for Academy Awards.
Her characters broke stereotypes
Ms Jurado was "stunningly beautiful," as Google's description of their tribute described, but it was also the characters she played that stood out.
Most roles for Latin American actresses at the time were "over-sexualised," but Ms Jurado became a specialist in villainous roles.
"Her talent at depicting a range of characters helped to expand the parts available to Mexican and other Latinx actresses in Hollywood today."
She planted the Mexican flag in the US film industry, and made her country proud", said National Actors Association official Mauricio Hernandez at the time of her death.
She was an expert on bullfighting and has the keys to New York City
According to her obituary in The Guardian, Ms Jurado also worked as a writer and commentator for Mexican newspapers, magazines, and radio in between being on sets. Not only did she write critiques of films but was also considered a bullfighting aficionado.
It was at one of her bullfight assignments that she was spotted by John Wayne and director Budd Boetticher, who cast her in his autobiographical Bullfighter and the Lady in 1951.
In 1954, thanks to her new and growing popularity in Hollywood, Ms Jurado became the first Mexican woman to be awarded the keys to New York City.
Register for free to continue reading
Registration is a free and easy way to support our truly independent journalism
By registering, you will also enjoy limited access to Premium articles, exclusive newsletters, commenting, and virtual events with our leading journalists
Already have an account? sign in
Join our new commenting forum
Join thought-provoking conversations, follow other Independent readers and see their replies