Gas pipeline explodes in Kentucky county
'If it had to happen, it couldn't have happened in a better place,' resident says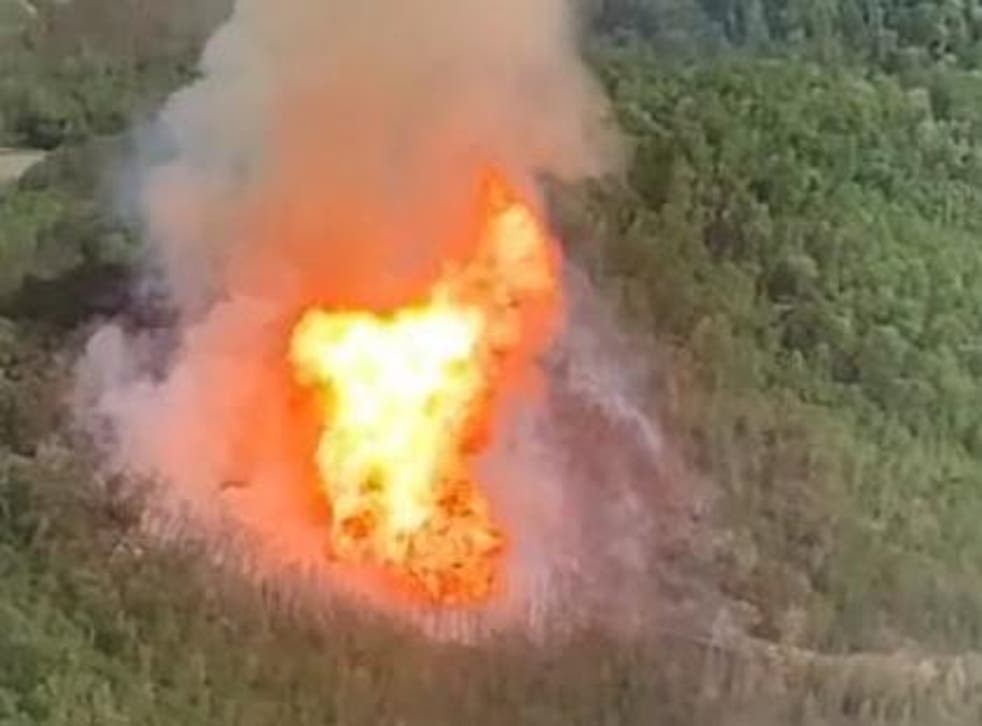 A gas pipeline in Kentucky has exploded causing a large blaze to engulf a wooded area.
No one was injured during the fire which happened at 4.30 pm Monday, according to a report by WKYT.
The explosion was reported to have taken place in a wooded area with no homes nearby near the Hillsboro community in Fleming County.
"If it had to happen, it couldn't have happened in a better place," Art Huggins, a resident who lives less than a mile away from the site of the explosion told the broadcaster.
"There is places this line travels where there is occupancy pretty close — not tremendous amounts. But it runs through areas where there are a lot of people. Right here, that's as good of a spot as it can happen."
According to a video report by the outlet, residents could see the flames and smoke from the fire from miles away.
Emergency crews were said to have attended the scene of the explosion.
Gas to the pipelines has been shut off while crews monitor hot spots in the burned area and assess the site, according to the report.
Investigators have not identified the cause of the explosion.
Register for free to continue reading
Registration is a free and easy way to support our truly independent journalism
By registering, you will also enjoy limited access to Premium articles, exclusive newsletters, commenting, and virtual events with our leading journalists
Already have an account? sign in
Register for free to continue reading
Registration is a free and easy way to support our truly independent journalism
By registering, you will also enjoy limited access to Premium articles, exclusive newsletters, commenting, and virtual events with our leading journalists
Already have an account? sign in
Join our new commenting forum
Join thought-provoking conversations, follow other Independent readers and see their replies