Kentucky gay couple denied marriage licence by controversial county clerk Kim Davis wins $100,000 payout
The official was briefly jailed in 2015 after she refused to permit David Ermold and David Moore to marry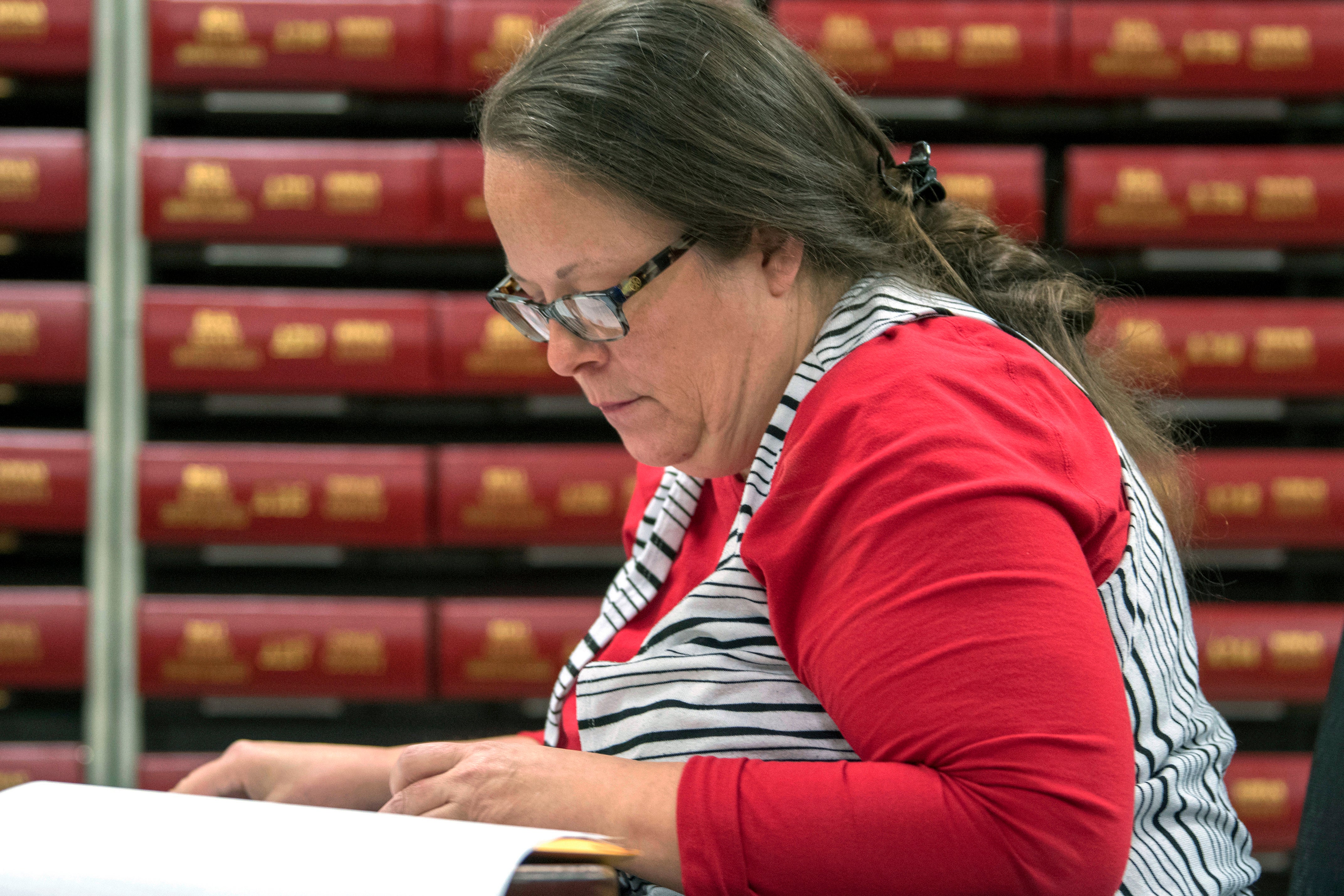 A Kentucky gay couple who were denied a marriage licence by former controversial county clerk Kim Davis have won a $100,000 payout.
Ms Davis was briefly jailed in 2015 after she refused to grant David Ermold and David Moore permission to wed, citing her belief that marriage should only be between a man and a woman.
The ex-Rowan County clerk spent five days in jail after she was held in contempt of court.
Mr Ermold and Mr Moore had a highly publicised showdown with Ms Davis after they asked for a marriage licence with news cameras surrounding them. When she refused, Moore asked under whose authority was she acting. "Under God's authority," she replied.
A jury awarded the couple $50,000 each after deliberating on Wednesday, according to lawyers for Ms Davis.
A second couple who sued, James Yates and Will Smith, were awarded no damages.
Mat Staver, founder of the Liberty Counsel, a religious-rights organisation which represented Ms Davis in the case, said in a release that they "look forward to appealing this decision and taking this case to the US Supreme Court."
Ms Davis has argued that a legal doctrine called qualified immunity protects her from being sued for damages by the couples.
The Supreme Court declined to hear her appeal to the case in 2020.
The former county clerk was freed from jail after her staff issued the licences on her behalf but removed her name from the form.
Kentucky's state legislature later enacted a law removing the names of all county clerks from state marriage licences.
Last year, a federal judge for the Eastern District of Kentucky, David Bunning, ruled that Ms Davis violated the constitutional rights of the two couples.
In the ruling, Judge Bunning reasoned that Ms Davis "cannot use her own constitutional rights as a shield to violate the constitutional rights of others while performing her duties as an elected official."
David Ermold unsuccessfully ran to be clerk of Rowan County in 2018.
Ms Davis, who ran as a Democrat, was also unsuccessful in the election and was defeated by another Democrat. She later switched her registration to the Republican Party.
Join our commenting forum
Join thought-provoking conversations, follow other Independent readers and see their replies