Kim Kardashian shares 'heartbreaking' letter by Melissa Lucio's children in bid to stop execution
There have been growing calls to cancel or commute Lucio's death sentence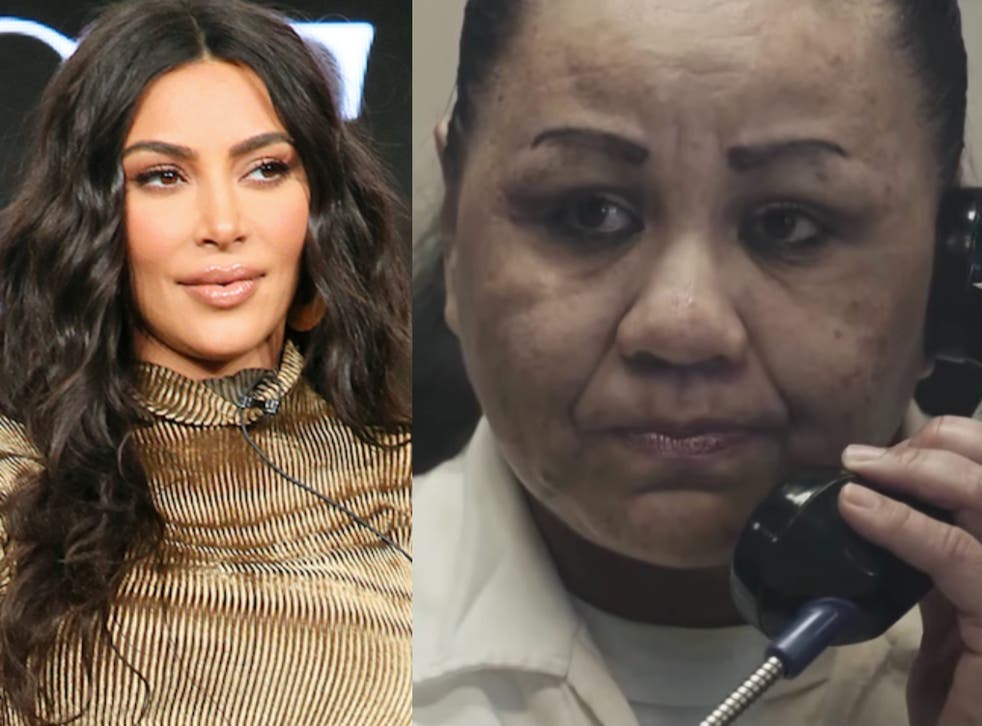 Leer en Español
Kim Kardashian has shared a letter from Melissa Lucio's children, as calls are mounting for Lucio's planned execution in Texas to be stopped.
"So heartbreaking to read this letter from Melissa Lucio's children begging for the state not to kill their mother," Kardashian tweeted on Thursday (7 April) along with the letter.
"There are so many unresolved questions surrounding this case and the evidence that was used to convict her."
She added: "This is one of the many reasons why I am against the death penalty – and why I pray her children's wish is granted and their mother's life is spared."
Lucio was convicted in 2008 in the death of her two-year-old daughter Mariah Alvarez. Advocates have contended that Lucio falsely confessed while being interrogated, and that she was especially vulnerable as a survivor of sexual abuse and domestic violence. Lucio has maintained her innocence.
There have been growing calls to cancel or commute Lucio's death sentence as the date of her planned execution, 27 April, nears.
The letter, signed by Lucio's daughters and sons, is addressed to Texas Governor Greg Abbott and the Texas Board of Pardons and Paroles.
"We ask you to spare the life of our mother, Melissa Lucio," it reads in part. "We ask you for closure. We ask you for peace.
"The death of our sister Mariah and the prosecution of our parents tore our family apart. The wounds never fully healed. They probably never will.
"We ask you not to tear those wounds open again. Please give us the chance for closure. Please give us a chance for peace. Please allow us to reconcile with Mariah's death and remember her without fresh pain, anguish, and grief."
Mariah Alvarez died in 2007. Lucio was charged with capital murder in her death, which prosecutors argued had been the result of physical abuse. Lucio has consistently denied those allegations, and has maintained that Mariah died after falling down a flight of stairs.
Dr Gisli Gudjonsson, one of the world's leading experts in false confessions and Emeritus Professor of Forensic Psychology at King's College London, called the case "an extraordinarily potent example of how a vulnerable person can be psychologically manipulated into falsely implicating themselves in a crime in response to interrogative pressure" in a piece for The Independent.
"Today, forensic evidence suggests the child's head trauma was probably caused by a fall from a flight of stairs two days before her death, witnessed by one of her siblings," Dr Gudjonsson, who worked on the case with The Innnocence Project, added.
"But the investigators refused to accept that a fall had happened, or that the head trauma was caused by anything other than physical abuse. So, before an autopsy or any real investigation had even been conducted, the officers focused their attention and suspicions on Lucio."
Speaking to Van Jones in a recent episode of his podcast Uncommon Ground with Van Jones, Kardashian discussed her advocacy for criminal justice reform in general, separately from Lucio's case.
"Literally everywhere you turn in the justice system, you hit a road block," she said. "And you wish that it [could be] different, from mandatory minimums to felony murder rules. I could get so deep into every corner and tell you how messed-up it is."
She emphasised that "the right people should be let out and we shouldn't stop fighting for people that no one wants to fight for."
Register for free to continue reading
Registration is a free and easy way to support our truly independent journalism
By registering, you will also enjoy limited access to Premium articles, exclusive newsletters, commenting, and virtual events with our leading journalists
Already have an account? sign in
Register for free to continue reading
Registration is a free and easy way to support our truly independent journalism
By registering, you will also enjoy limited access to Premium articles, exclusive newsletters, commenting, and virtual events with our leading journalists
Already have an account? sign in