KKK plan protest of new 'peace memorial' to Martin Luther King
The proposal for the peace bell at Stone Mountain Park has sparked controversy
Andrew Buncombe
New York
Friday 23 October 2015 14:37 Comments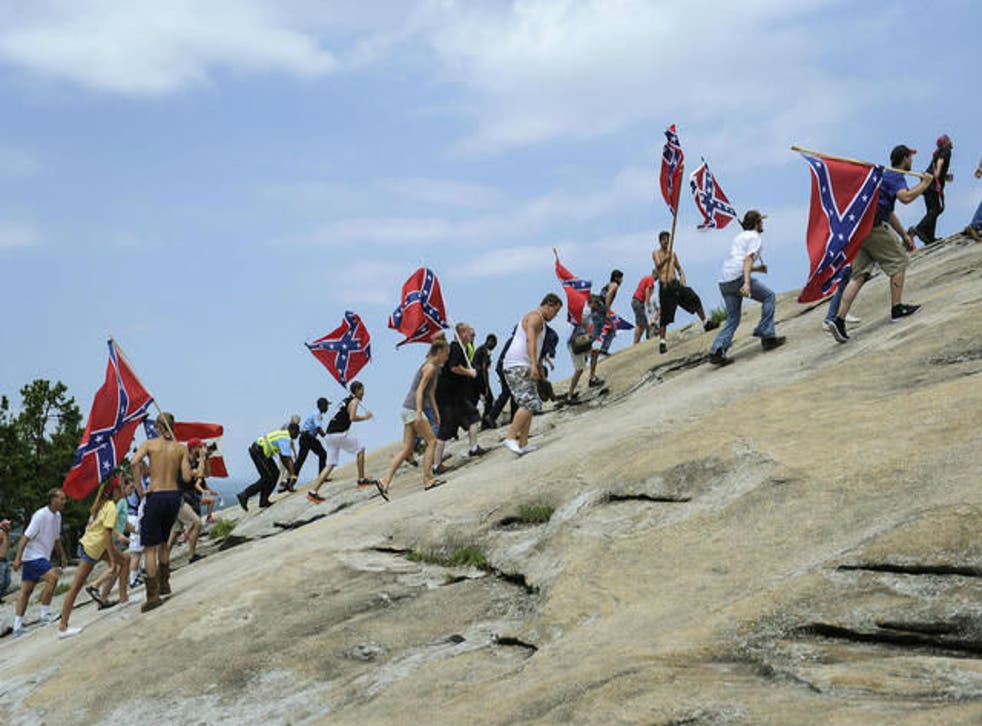 THE KKK and other pro-Confederate groups are planning to rally at a park in Atlanta that is the site of a proposed "freedom bell" dedicated to the civil rights leader Martin Luther King.
The bell, which would bear the words of Dr King's celebrated "I have a dream" speech, would sit on a granite wall that bears images of Confederate heroes Robert E Lee, Stonewall Jackson and Jefferson Davis.
But the proposal for the memorial, unveiled earlier this month by state officials, has instantly run into controversy, with some groups claiming the park can only be used to honour confederate heroes.
The Georgia division of the Sons of Confederate Veterans, said in a statement: "The erection of monuments to anyone other than Confederate heroes in Stone Mountain Park is in contradiction to the purpose for which the park exists and would make it a memorial to something different."
The Southern Poverty Law Centre, which monitors extremist groups, says several organisations are promoting the rally scheduled for November 14. Among them are the KKK, the Sons of Confederate Veterans, the League of the South and assorted Patriot groups.
"Please stand with us against the traitors who wish to tarnish our Ancestors Heritage by placing a Monument celebrating Martin L King on Stone Mountain," a group calling itself Defend Stone Mountain says on Facebook.
"MLK has no relevance to our Southern Heritage where our beloved 13 States were forced to fight the Northern Aggressors that attacked us."
The controversy is focussed on Stone Mountain, a former Ku Klux Klan stronghold that has become an eponymous state park that is designated by the state as a Confederate memorial. The main gift store sells some T-shirts that depict the Confederate heroes, and some that do not, the New York Times said.
The park is the largest memorial to the confederacy in the country and attracts four million visitors a year.
"This memorial honors the 900,000 Confederate soldiers that went off to fight to protect their families, their homes and country," said Timothy Pilgrim, of the Georgia's Sons of Confederate Veterans.
"To put a monument on top of a existing monument is unlawful, disrespectful and inappropriate."
Register for free to continue reading
Registration is a free and easy way to support our truly independent journalism
By registering, you will also enjoy limited access to Premium articles, exclusive newsletters, commenting, and virtual events with our leading journalists
Already have an account? sign in
Join our new commenting forum
Join thought-provoking conversations, follow other Independent readers and see their replies