Third Trump ally KT McFarland removed from National Security Council
Her departure follows that of Michael Flynn and Stephen Bannon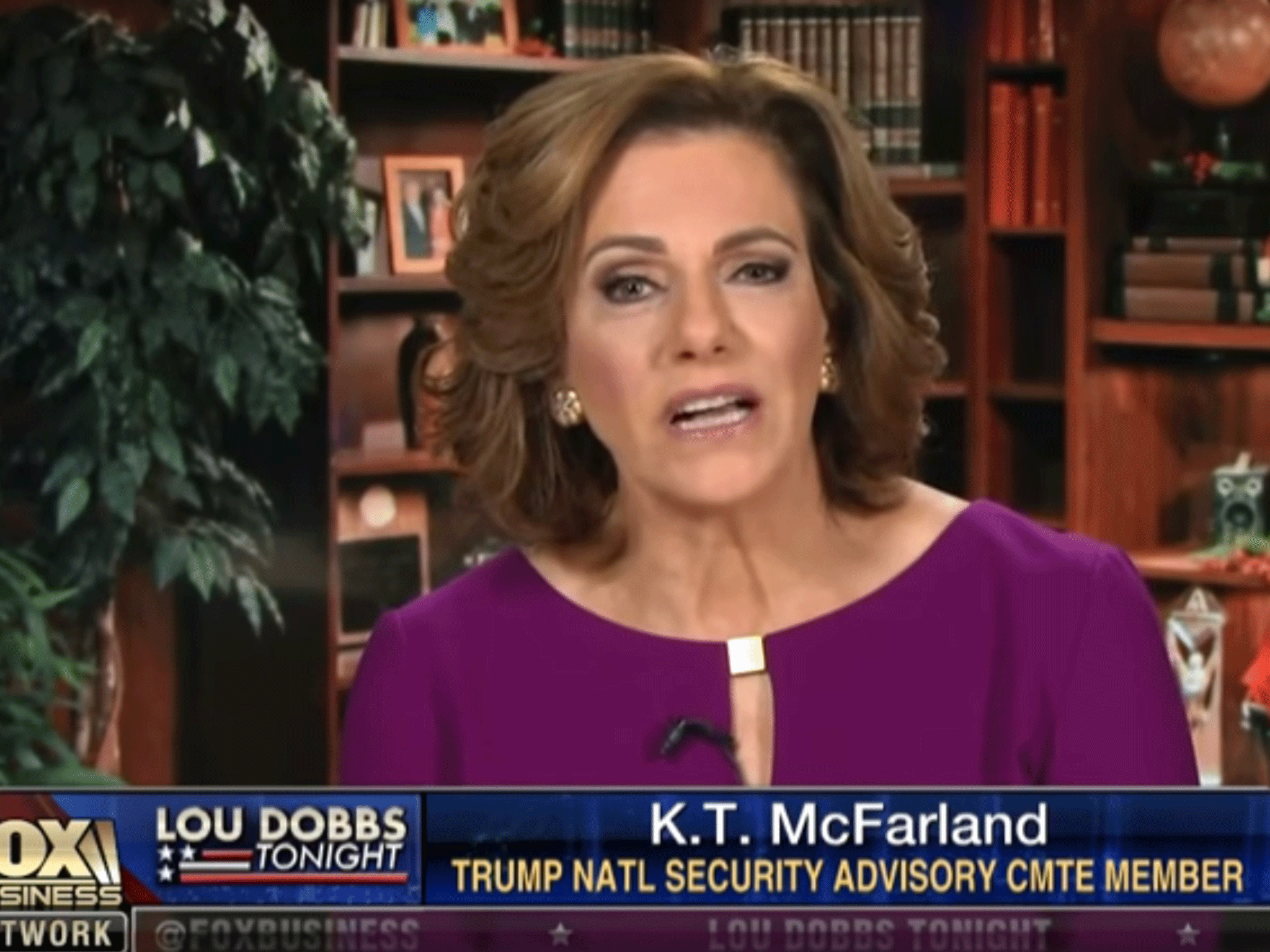 Donald Trump's National Security Council has even fewer familiar faces following the third forced resignation in less than four months.
Deputy national security adviser KT McFarland has been asked to step down and will become US ambassador to Singapore, as reported by Bloomberg.
The departure of the 65-year-old former Fox News host, who said in an interview that Hillary Clinton was so worried about her Senate candidacy in 2006 that she sent helicopters to her house, comes after two other high-profile moves.
Stephen Bannon, Mr Trump's chief strategist who appointed himself as a permanent member of the council, was asked to leave this month.
Reports circulated that Mr Bannon, former executive at right-wing platform Breitbart, was being pushed out after failing to implement his two key proposals – the Muslim travel ban and the disastrous failure of the Obamacare replacement plan. He has also reportedly experienced a widening rift with Mr Trump's trusted son-in-law and senior adviser, Jared Kushner.
Michael Flynn, the former national security adviser and above Ms McFarland, was forced to resign in February after he misled Vice President Mike Pence about his phone calls with the Russian ambassador.
The shake-up came as Lieutenant General H R McMaster replaced Mr Flynn and set about reorganising the council over the past two months.
Sean Spicer defends Steve Bannon sitting in on national security council meetings
Dina Powell is still the deputy national security adviser, and has an office very close to Ivanka Trump.
The NSC section of the White House website is blank, saying: "Check back soon for more information".
Government critics have praised the departure of Ms McFarland, describing her as a "crony" of Mr Flynn.
Prior to her appointment in February, she worked under several other administrations including Gerald Ford and Richard Nixon, and has had more experience than some of her colleagues. She was condemned, however, for peddling conspiracy theories and engaging in Islamophobic rhetoric.
After the Brussels terrorist attack, she said: "They're [Muslims] taking advantage of our reluctance to hurt their feelings and that's why I think political correctness is getting people killed."
Register for free to continue reading
Registration is a free and easy way to support our truly independent journalism
By registering, you will also enjoy limited access to Premium articles, exclusive newsletters, commenting, and virtual events with our leading journalists
Already have an account? sign in
Register for free to continue reading
Registration is a free and easy way to support our truly independent journalism
By registering, you will also enjoy limited access to Premium articles, exclusive newsletters, commenting, and virtual events with our leading journalists
Already have an account? sign in
Join our new commenting forum
Join thought-provoking conversations, follow other Independent readers and see their replies