Lake Mead's water level has never been lower, amid historic drought
The reservoir supplies water to some 40 million people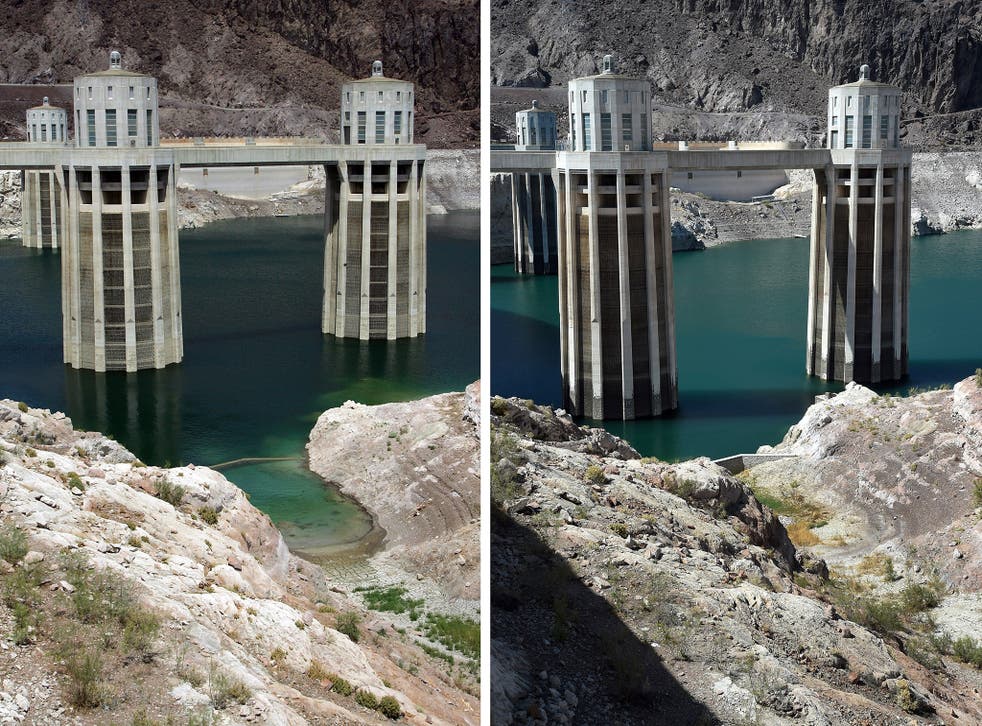 The historic drought plaguing the western US has claimed another casualty, as Lake Mead – the vast Nevada reservoir that provides water to some 40 million people in the US Southwest – has dropped to its lowest water level since it first was filled, in 1937.
The record-low water level was 1,080.18 feet (329.24 metres) above sea level, but by Monday afternoon, the water level had fallen to 1,080 feet, the Las Vegas Review-Journal reported.
By 5 pm on Monday, Lake Mead – which was created by the iconic Hoover Dam – had dropped below the 1,080 mark, according to the US Bureau of Reclamation. The surface level when the reservoir is at maximum capacity is 1,221 feet.
Lake Mead is the largest reservoir in the US when at maximum capacity, but now it is at just 38 per cent of that max. Federal forecasters project that the water level could drop as low as 1,073 feet above sea level later this year.
Should that level persist into the start of 2016, it would prompt a shortage declaration which would require states that pull water from the lake to cut back on usage. Those states include Colorado, Nevada, Arizona and California.
Incredible pictures of the California drought

Show all 15
Follow @PaytonGuion on Twitter.
Join our new commenting forum
Join thought-provoking conversations, follow other Independent readers and see their replies