Las Vegas shooting: Man pictured giving finger to gunman amid terrified crowds
He raised his right hand toward Mandalay Bay Hotel and Casino, and kept his beer in his left hand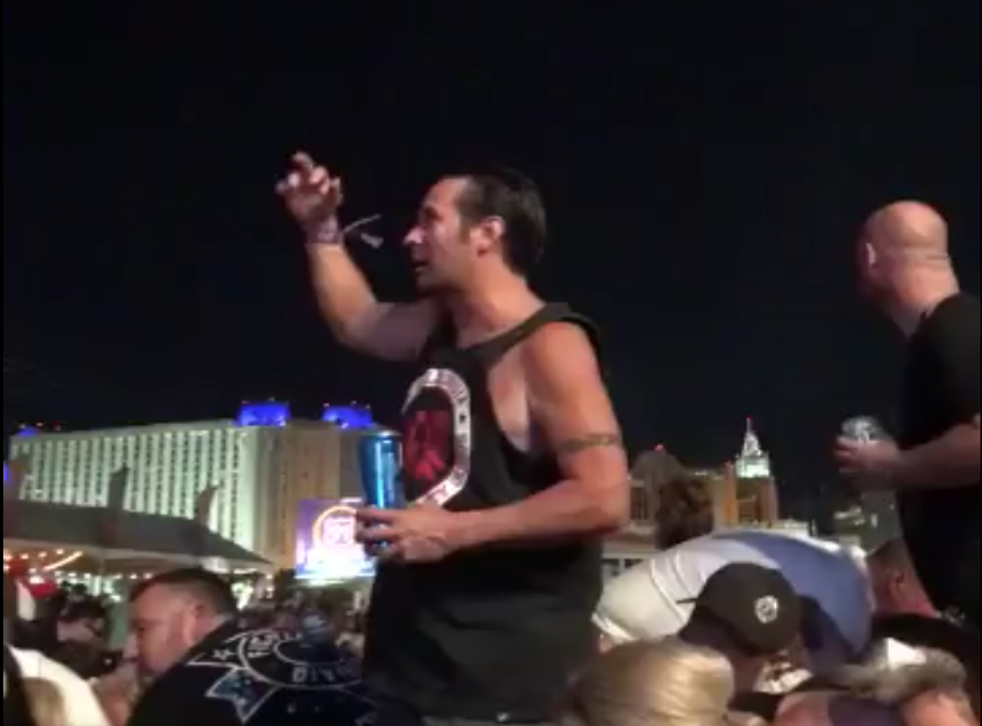 A man has been pictured giving the gunman in Las Vegas the finger, even though shots were still being fired.
The man can be seen in a video taken from inside of the concert venue, with the sound of a rapid-shooting rifle coming sporadically from the Mandalay Bay Hotel and Casino in the distance. People can be heard gradually figuring out where the shooting was coming.
As others yelled at people standing to get down, the man raised his middle finger toward the hotel. He kept a hold of his beer in his left hand, and finally ducked down once gunfire started up again.
The video was taken by a man named Shaun Hoff, who provided the footage to CNN. Mr Hoff told the cable news network that he was in the fourth row of the audience in front of the stage. He said that they were trapped when the shooting started, and that a woman was shot about 30 feet away from his position.
The shooting left at least 59 people dead and 527 people injured. Not all of the injuries were the result of gunshots. It wasn't immediately clear what portion of the injuries were a direct result of the gunfire, and which were the result of people trying to get away.
The condition of the man who gave the finger to the shooter was not immediately known.
Las Vegas shooting – in pictures

Show all 15
In the hours after the shooting, authorities rushed to try and determine a motive behind the attack. But, the motivation of the shooter was not immediately clear.
The shooter, Stephen Paddock, was a 64-year-old man who lived northeast of Las Vegas in a retiree community. He had previously lived in Orlando.
His brother, Eric Paddock, said that he was surprised with the news, and that his brother never showed violent tendencies before. Mr Paddock said that his brother was a wealthy former accountant who played $100-a-hand poker.
Join our new commenting forum
Join thought-provoking conversations, follow other Independent readers and see their replies