Las Vegas shooting: First pictures believed to be of Stephen Paddock's gun-filled hotel room emerge
Unverified photos appear to show military grade weapons, a tripod and spent cartridges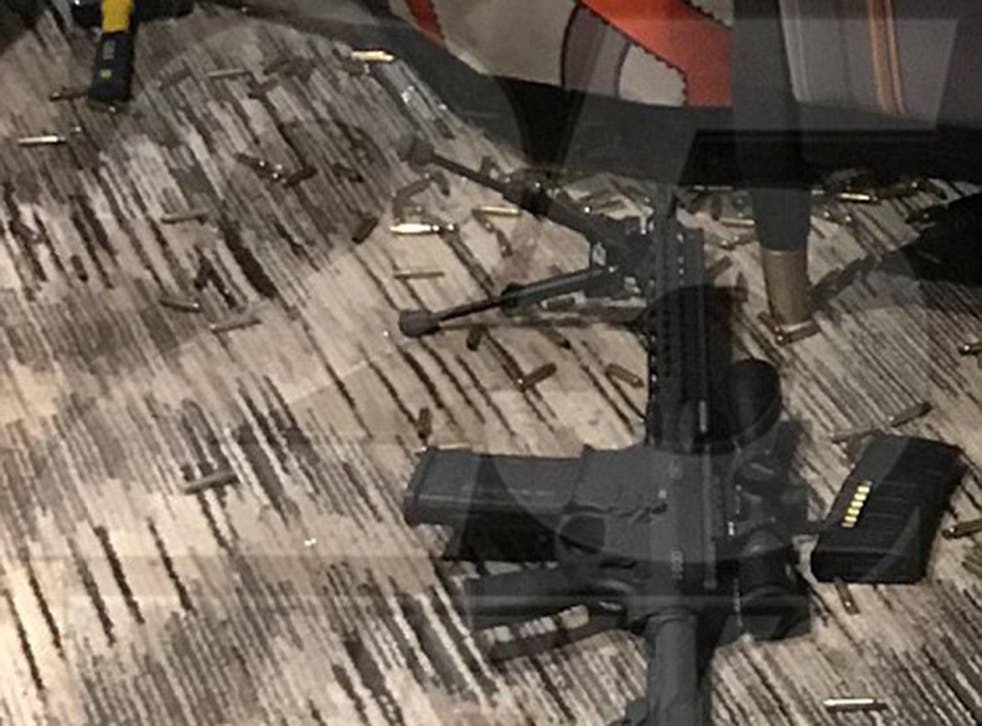 Photos reportedly showing the inside of the hotel room used by Las Vegas mass shooter Stephen Paddock have emerged.
The images appear to show two of the 23 rifles found inside the room used by the 64-year-old to murder at least 58 people and injure more than 500 as they attended a country music festival on Sunday evening.
Said to be taken inside Paddock's 32nd floor Mandalay Bay Hotel room, the unverified photos, obtained by Boston 25 News, show military grade weapons, a tripod and spent cartridges.
Various government agencies are investigating what led Mr Paddock to open fire from a Las Vegas hotel room into a crowd of some 22,000 concert-goers.
"He's a sick man, a demented man. A lot of problems, I guess," US President Donald Trump told reporters on Tuesday. "We are looking into him very, very seriously. But we're dealing with a very, very sick individual," the President added.
The gunfire erupted as country music star Jason Aldean was performing at the Route 91 Harvest Festival. He ran off stage as the shooting progressed.
Video of the attack showed throngs of people screaming in horror and cowering on the open ground as extended bursts of gunfire strafed the crowd from above, from a distance police estimated at more than 500 yards (460 metres).
Las Vegas shooting: Who is gunman Stephen Paddock?
The bloodshed ended with police swarming the hotel and closing in on Mr Paddock, who shot and wounded a hotel security officer through the door of his two-room suite and then killed himself before police entered, authorities said.
In addition to the 23 guns – and two tripods – found in the hotel room, police also found 19 more firearms, some explosives and thousands of rounds of ammunition at Mr Paddock's home in Mesquite, about 80 miles north-east of Las Vegas.
A search of Paddock's car also led to the discovery of a quantity of ammonium nitrate, a fertiliser that can be turned into explosives.
The shooting has rekindled the controversy over gun policy in the US, with Democrats again calling for stricter gun control laws even though stricter background checks might not have flagged the Las Vegas shooter.
But "we can't get caught in the trap of only advocating legislation that addressed yesterday's shooting", Democratic Senator Chris Murphy told reporters on Monday. "The fact is, 80 other people died from guns yesterday and stronger background checks laws should've saved many of them."
Christopher Sullivan, general manager of Guns & Guitars, a gun shop in Mesquite, Nevada, confirmed that Mr Paddock had bought firearms at his store. Mr Paddock never gave any indication that he might have been unstable, Mr Sullivan said in a statement.
The gun shop owner also said Mr Paddock showed no signs of being unfit to buy guns. All the purchases were legal and cleared routine federal screening, Mr Sullivan said.
Join our new commenting forum
Join thought-provoking conversations, follow other Independent readers and see their replies