Las Vegas shooting: Stephen Paddock tried to buy special bullets allowing him to target victims in dark
Tracer ammunition is not illegal in Nevada 
Mythili Sampathkumar
New York
Friday 06 October 2017 16:04 Comments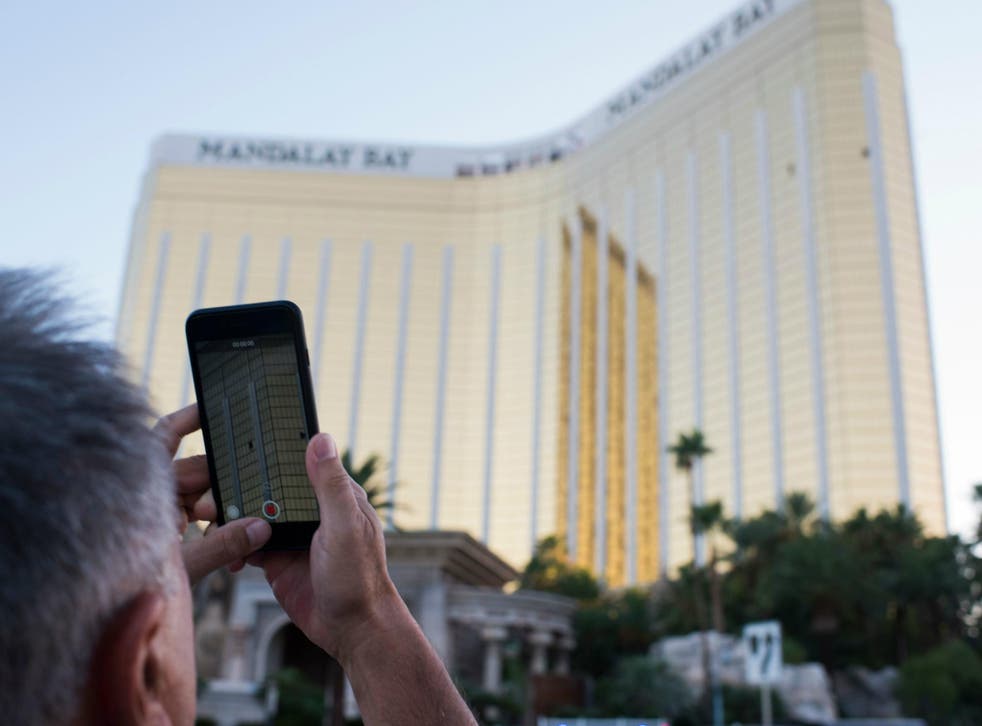 The Las Vegas gunman, Stephen Paddock, tried to buy tracer rounds at a gun show in Arizona just ahead of massacre of 58 people - which would have let him target his victims in the dark.
Tracer rounds are bullets that contain a pyrotechnic charge and when fired leave a bright path towards its target.
These have usually been used in military settings to mark targets for soldiers during nighttime battles.
Mr Paddock could have targeted victims in the dark with these bullets, but luckily the vendor at the gun show did not have them on hand a law enforcement official told CNN.
Shooters wanting greater accuracy in the dark often tracer and non-tracer ammunition — perhaps having one tracer every fifth round in a magazine, said Art Roderick, a former assistant director of the US Marshals Service.
"It allows you to keep your weapon on not necessarily a specific target, but a specific area. ... There would have been a lot higher casualty rate if he had tracer rounds," said Roderick, a
Without the tracer rounds, he was likely firing into the crowd indiscriminately, although tracer rounds may have also helped police identify the exact location of Paddock more quickly.
It is legal to carry a gun, openly or concealed, in Las Vegas casinos, although most will ask you to leave or disarm.
Gun law in Nevada does not prohibit shooting tracer rounds unless it is in an area with "grass, brush, forest or crop-covered land."
Las Vegas shooting – in pictures

Show all 15
Even then, the charge is only a misdemeanour. Tracer bullets are not illegal in Arizona to purchase or shoot.
Paddock did buy other ammunition at that Phoenix show that was part of the arsenal of 47 guns and more than 1,600 rounds found in his car, hotel room, and Mesquite and Reno homes.
He killed 59 people including himself and injured almost 500 people in a crowd of 22,000 attending country music star Jason Aldean's concert on Sunday night.
Mr Paddock was rapid-firing bullets from his 32nd floor room at the Mandalay Bay Hotel and Casino with the help of a bump stock, a device that allows semi-automatic weapons to fire more quickly by harnessing the energy from the 'kickback' and allowing the weapon to slide back and forth.
In a rare concession to gun regulation, the National Rifle Association announced its support for regulating the devices.
Police are still searching for a possible motive for the crime as the seek to construct a timeline of Paddock's life and the weeks leading up to the deadliest mass shooting in modern American history.
Police have said Paddock booked rooms over other music festivals in the months before the shooting, authorities said. He booked rooms overlooking the Lollapalooza festival in Chicago in August and the Life Is Beautiful show near the Vegas Strip in late September.
Boston Police Commissioner William Evans also said that the FBI told him agents turned up evidence that Paddock researched sites in and around Fenway Park, home of the Boston Red Sox baseball team, and the Boston Center for the Arts.
The Red Sox have have said they are working with officials to beef up security, while Mr Evans said security would be boosted for events including a Bruno Mars concert, a City Hall Plaza concert, road races and Red Sox games.
He says police also plan to meet with hotel officials in coming days to discuss ways for them to increase security.
Meanwhile, Australian police have said they are assisting their US counterparts with information on Paddock's girlfriend Marilou Danley.
Ms Danley was declared a "person of interest" in the wake of the shooting, and voluntarily returned to the US from the Philippines to speak to investigators.
She is said to have told FBI agents Wednesday she had not noticed any changes in his mental state or indications he could become violent, a federal official said.
Paddock sent Ms Danley on a trip to her native Philippines before the attack - after transferring $100,000 to the Philippines - and she was unaware of his plans and devastated when she learned of the carnage while overseas, she said in a statement.
The Australian Broadcasting Corporation reports that Philippines-born Ms Danley became an Australian citizen after moving to the Gold Coast in Queensland state and marrying a local man. ABC says she lived there for some 10 years until the late 1980s.
Australian Federal Police Commissioner Andrew Colvin said on Friday that as an Australian citizen, Danley was entitled to consular assistance. Mr Colvin said the Australian authorities are "working very closely with our partners in the US"
The profile developed of Paddock so far is of a "disturbed and dangerous" man who acquired an arsenal over decades, Sheriff Joseph Lombardo said. But investigators have been frustrated to find that he lived a "secret life," Mr Lombardo said, "much of which will never be fully understood."
A former executive casino host at the Atlantis Casino Resort and Spa in Reno said Paddock had a "god complex" and expected quick service without regard to how busy the staff was at the time.
"He liked everybody to think that he was the guy," John Weinreich said. "He didn't boast about anything he had or anything. It was just his demeanor. It was like, 'I'm here. Don't cross me. Don't look at me too long.'
Agencies contributed to this report
Register for free to continue reading
Registration is a free and easy way to support our truly independent journalism
By registering, you will also enjoy limited access to Premium articles, exclusive newsletters, commenting, and virtual events with our leading journalists
Already have an account? sign in
Join our new commenting forum
Join thought-provoking conversations, follow other Independent readers and see their replies