Lauren Cho: Human remains found in Yucca Valley identified as missing New Jersey woman
'The San Bernardino County Coroner's Division has positively identified the human remains to be Lauren Cho, 30-year-old resident of New Jersey,' says the San Bernardino County Sheriff's Office
Nathan Place
New York
Thursday 28 October 2021 19:21 Comments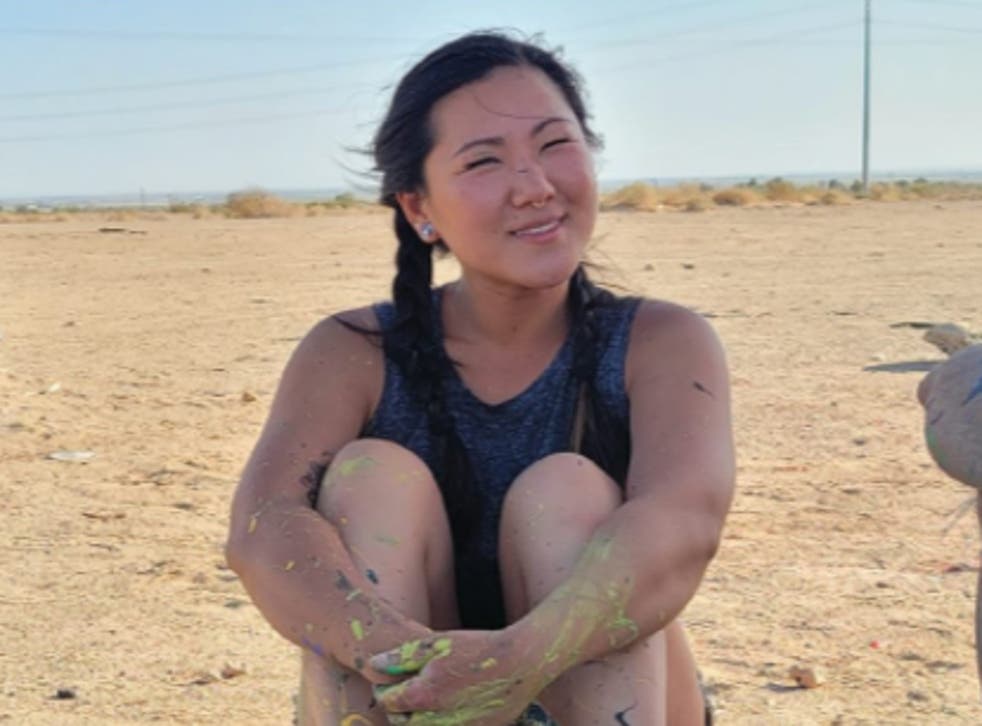 Leer en Español
Officials have identified the remains recently found in Southern California as those of Lauren Cho, a New Jersey woman who went missing in June.
"The San Bernardino County Coroner's Division has positively identified the human remains to be Lauren Cho, 30-year-old resident of New Jersey," the San Bernardino County Sheriff's Department said in a statement. "The cause and manner of death is pending toxicology results. No further information will be released on this case until such time toxicology results are available and new information is discovered as a result."
Police say they found the remains on 9 October in the desert of Yucca Valley, where Ms Cho's friends say she wandered off on 28 June without a phone, food or water.
Ms Cho's case drew national attention as police and the FBI searched for Gabby Petito, another missing woman who was eventually found dead. As Ms Petito's case gained an explosion of worldwide news coverage, some criticised the relative lack of resources devoted to the search for Ms Cho, who was Korean-American, and other missing persons of colour.
"I don't know much about her case, but let's get the same energy going to help locate #LaurenCho as we did for #GabbyPetito," one Twitter user wrote on 19 September. That post was then retweeted 47,000 times.
When Ms Cho vanished, she was living with some friends and her ex-boyfriend, Cody Orell, on a friend's land in Yucca Valley.
A talented soprano singer, she had toured with choirs in Europe as a teenager and was active in a local church choir. By last winter, however, she had quit her job as a high school music teacher and joined Mr Orell in a converted tour bus, winding up in an artists' commune called Bombay Beach on the edge of California's inland Salton Sea.
"Lauren wanted a different life," Mr Orell told the Hi-Desert Star. "She wanted to move from the East Coast and taste freedom."
According to Mr Orell, Ms Cho "evaporated" during a 10-minute window around 3pm on 28 June while he was inside the converted tour bus.
Mr Orell quickly phoned some friends and set out to search, and then at 5.13pm called the sheriffs for help. He told them that Ms Cho had gotten upset and walked into the desert, without taking her phone or any food or water.
The sheriffs looked for her by helicopter and on foot, starting from where she had vanished near the Hoopa Road and Ben Mar Trail. They found nothing, and on 2 July they reclassified her absence as a missing persons case.
The search has continued, with light planes used to scan the mountainous wilderness and dogs used to search the friends' property where she was last seen.
Meanwhile, Ms Cho's friends and family set up a Facebook page to publicise her case and seek information. On Thursday, that page posted a link to the Sheriff's announcement that her remains had been found.
The Independent has reached out to the group for comment.
Register for free to continue reading
Registration is a free and easy way to support our truly independent journalism
By registering, you will also enjoy limited access to Premium articles, exclusive newsletters, commenting, and virtual events with our leading journalists
Already have an account? sign in
Join our new commenting forum
Join thought-provoking conversations, follow other Independent readers and see their replies