'Courtside Karen was MAD MAD!': LeBron James reacts after maskless heckler ejected from Lakers game
All fans attending NBA games must wear masks at all times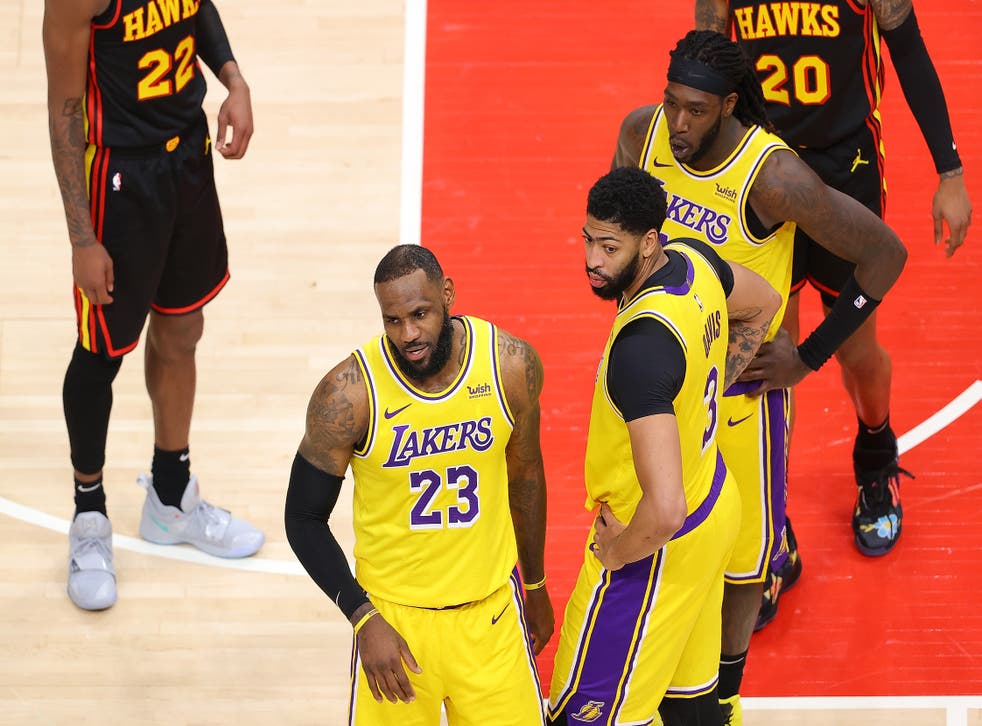 Leer en Español
Four courtside spectators were ejected from an NBA game after heckling basketball legend LeBron James.
One of the rowdy fans pulled down her face mask and shouted abuse during a verbal spat that led to a pause in the fourth quarter of Monday's nights' game between the Los Angeles Lakers and Atlanta Hawks.
Later on Twitter, James joked about the outburst from "courtside Karen", using the derisive term mocking entitled white women.
The angry fan was Juliana Carlos who was at the game with her husband Chris, ESPN reports. Ms Carlos documented the incident at Atlanta's State Farm Arena on Instagram.
Footage shows the game being stopped by officials with Ms Carlos pulling down her mask and pointing and shouting at James: "Shut the f*** up. Don't talk to my husband like that."
Off camera, a voice can be heard telling her to put her mask on — a requirement of all fans attending NBA games.
Following her removal from the stadium, Ms Carlos posted an expletive-laden video describing her version of events.
"I'm minding my own business, and Chris has been a Hawks fan forever. He's been watching the games for 10 years. Whatever, he has this issue with LeBron. I don't have an issue with LeBron. I don't give a f*** about LeBron," she begins, before outlining the alleged confrontation with James.
"Anyway, I'm minding my own business, drinking my [drink], having fun. All of the sudden, LeBron says something to my husband, and I see this and I stand up. And I go, 'Don't f***ing talk to my husband.' And he looks at me and he goes, 'Sit the f*** down, b****.' And I go, 'Don't f***ing call me a b****. You sit the f*** down. Get the f*** out of here. Don't f***ing talk to my husband like that.'"
The Lakers went on to win the game 107-99. In a post-game press conference, James was not asked about Ms Carlos' allegations of name-calling, but said he didn't believe their removal was necessary.
"At the end of the day, I'm happy fans are back in the building," he said. "I miss that interaction. I need that interaction; we as players need that interaction. I don't feel like it was warranted to be kicked out."
James did acknowledge that alcohol may have been involved and that the referees made the right call to stop the game as it would have been a distraction and that the comments made by Mr Carlos were "out of bounds".
The issue of Ms Carlos removing her mask was brought up by fellow Lakers, with Coach Frank Vogel saying that the incident highlighted the issues of having fans at games during the pandemic.
"You obviously can't have fans taking their masks down and shouting at our players with the virus out there during these times," he said.
Due to Covid-19 restrictions, the arena is limited to a capacity of eight per cent, and Monday night's attendance was 1,341 people.
Join our new commenting forum
Join thought-provoking conversations, follow other Independent readers and see their replies