'Legitimate rape': two words that could cost Republicans everything
Mitt Romney isn't just battling against Obama –he has to deal with the fallout from Todd Akin's toxic campaign in Missouri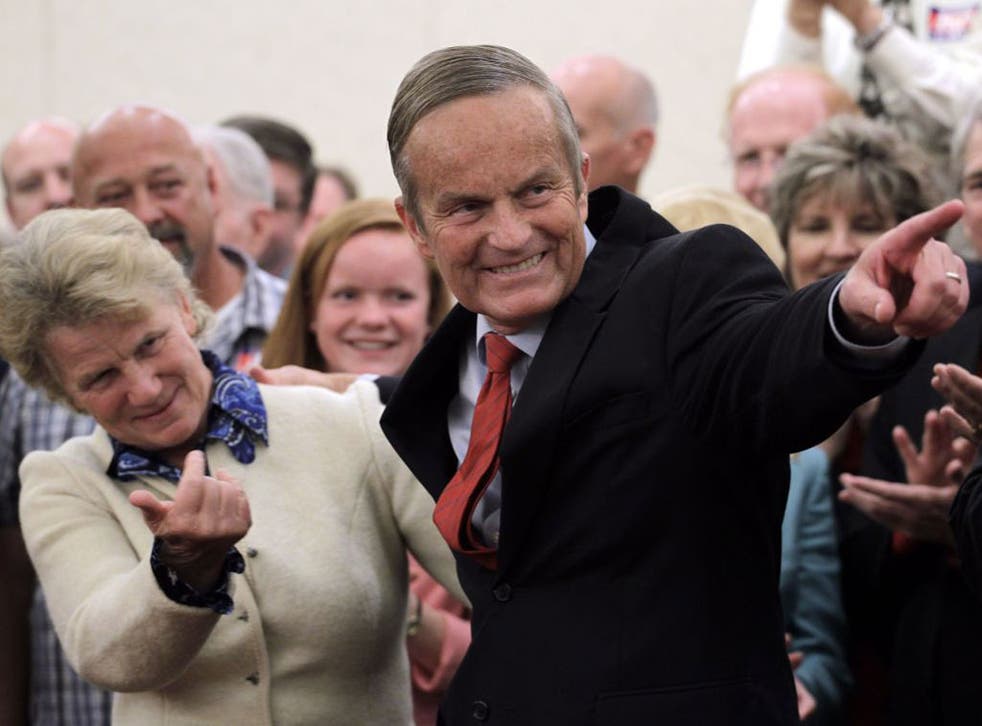 You might conclude that Todd Akin, the Republican Congressman from Missouri who is running for the US Senate against the Democrat incumbent, Claire McCaskill, just isn't a very modern man.
The case against him is not just that he causes serial offence to women but also that he is perhaps not very well educated. At a press conference yesterday, he greeted this reporter – who had introduced himself as "from The Independent in London" – with a chirpy "top of the morning to you" (your correspondent is not Irish), prompting chuckles in a hotel meeting room. Some saw it as another insensitive cultural gaffe by Mr Akin, and instantly posted the exchange on YouTube.
Being old-fashioned might be alright. But that is not why national leaders of the Republican Party are in despair. Rather, it's because Mr Akin – who, by the way sits on a science and technology committee in the House of Representatives – is the extreme pro-life candidate who averred in a television interview last month that in cases of "legitimate rape" women "rarely" become pregnant because of some kind of mechanism in their bodies that blocks conception.
They are in despair in part because Mr Akin is toxic for Mitt Romney, who is already trying to overcome a yawning deficit of support among women. Moreover, as Mr Romney turns his attention to wavering voters, the last thing he wants is someone like Mr Akin taking extremist positions in the way he did in the TV interview. (Mr Akin's point was that he would oppose a woman's right to choose an abortion in each and every circumstance, including rape and incest. And they are in despair because the last deadline for Mr Akin to bow out of the race came and went last Tuesday without him doing any such thing, and that may very well wreck the party's hopes of knocking Ms McCaskill out of the Senate and sabotage all their calculations for retaking control of the Senate from the Democrats in November. And then there is this: Mr Akin has returned to his quaint, foot-in-mouth ways.
He should probably just stay away from journalists, but this week has seen him embark on what he calls a "Common Sense" bus tour of Missouri (his detractors call it his "Nonsense Tour") and so he has been peppered with questions, mostly about "legitimate" rape, wherever he has gone. But then he was asked about Ms McCaskill's performance in a first debate between them a week ago when she came out, we can say, swinging.
Mr Akin put it slightly differently. Wasn't it true, he said, that when she appeared in debates the last time around six years ago she was altogether more "ladylike"? It didn't occur to him, apparently, that asking for "ladylike" behaviour from his opponent might seem a little out of tune with the times. Then he reportedly elaborated. "The first two minutes, wow, it's like somebody let a wildcat out of the cage." A wildcat? Not ladylike at all, of course.
None of this will help others in his party trying to woo voters this autumn, and it is not just Mr Romney who could be hurt. Some other senatorial candidates are at risk from the Akin effect. Scott Brown, the Republican incumbent in Massachusetts, is already being hit by television advertisements explicitly linking him to the Missourian.
Not even Mr Akin believes he didn't screw up horribly in that interview and he did apologise. But some are willing to forgive, like Vicki Sciolaro, 51, who is one of scores of home-schooling mothers – parents who believe they can instruct their offspring better than teachers – who turn up for Akin events. "I believe in the need to protect the sanctity of life at all costs," she said, a cross-shaped pin on her jacket coloured in the Stars and Stripes. She can't even vote here and had driven here from neighbouring Kansas. "I came because he needs our support," she said.
"It was a horrible gaffe," admitted Claire Baker, 60, who nonetheless brought a dozen children from the Christian school she runs in Kansas City to line up behind Mr Akin for a press conference. "But I just know he has huge respect for women and he has no intent of being derogatory towards women".
As for Mr Akin himself, he professed, when asked by The Independent, that women were coming out to support him from every corner. "We are hearing form the people of America and they are writing cheques and sending money to us all the way from Washington to the state of Maine, and we are getting their contributions because people want someone who will stand up for what they believe."
And he didn't get the "ladylike" fuss. "We have got a couple of words in the English language, one is a gentleman the other is lady. We have in the President a First Lady. In churches there is a first lady, I think those are pretty self-explanatory terms. I was using them just as the English language uses those words."
Ms McCaskill wasn't so sure. "I don't know exactly what his accusation that I'm not ladylike means," she said. "The debate was tough for Todd because I went through the list of his very, very extreme positions and I think he wasn't prepared to answer some of that."
Register for free to continue reading
Registration is a free and easy way to support our truly independent journalism
By registering, you will also enjoy limited access to Premium articles, exclusive newsletters, commenting, and virtual events with our leading journalists
Already have an account? sign in
Register for free to continue reading
Registration is a free and easy way to support our truly independent journalism
By registering, you will also enjoy limited access to Premium articles, exclusive newsletters, commenting, and virtual events with our leading journalists
Already have an account? sign in
Join our new commenting forum
Join thought-provoking conversations, follow other Independent readers and see their replies