'We're praying for him': Lewiston begins to heal after 48 hours of fear ends with shooting suspect's death
Lewiston residents speak to Sheila Flynn and Andrea Blanco as they emerge from days spent sheltering as they waited for news on the gunman who slaughtered 18 people and scarred the town forever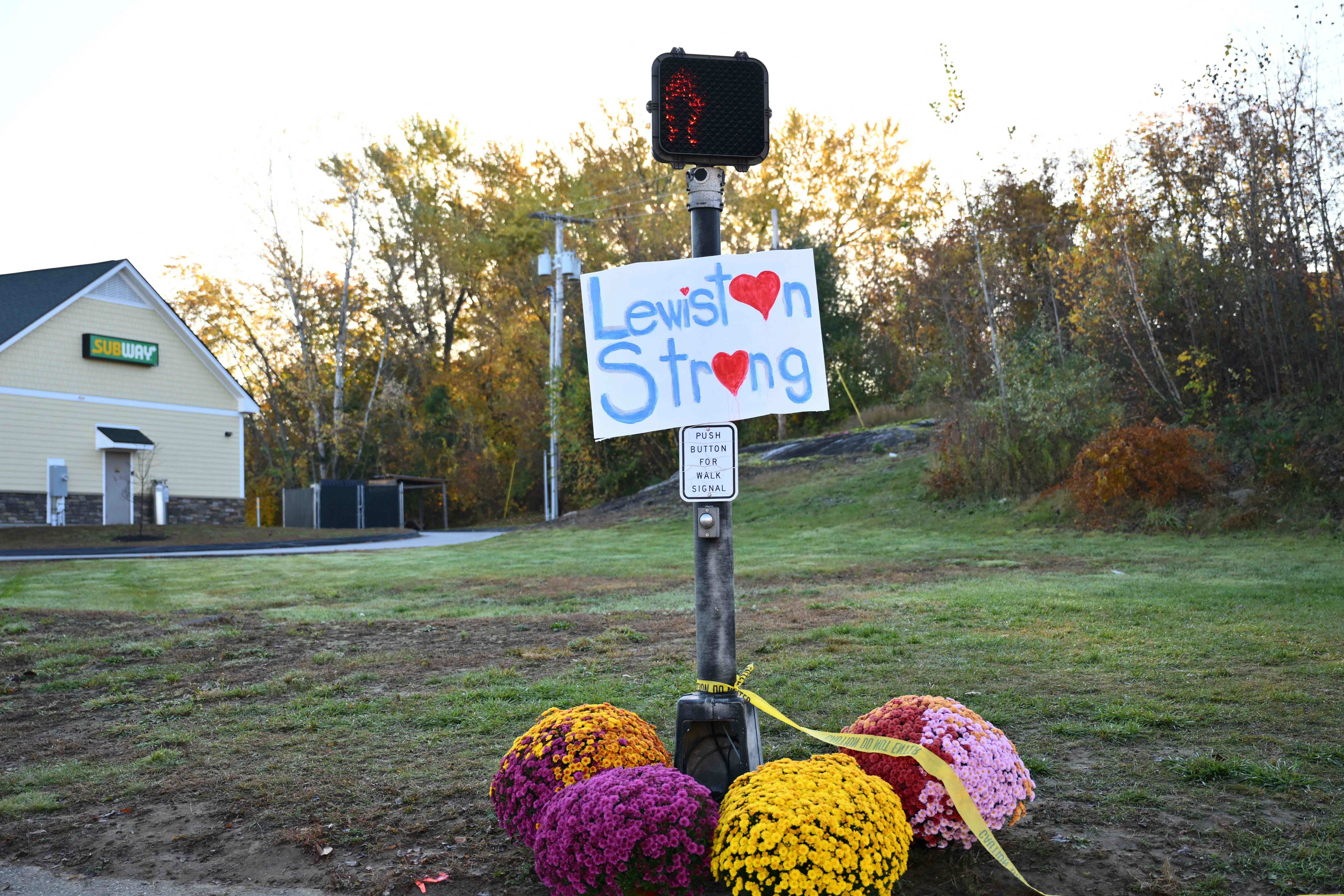 Pamela Sullivan walked sombrely out of Holy Family Catholic Church on Saturday with her husband and two grown children, the family praying together at the 100-year-old parish church as they grappled with the loss of friends killed in the Lewiston massacre in Maine – after enduring two days of anxious lockdown.
"We knew some of the victims, and we live in Lisbon Falls; about two miles from us was where his [the killer's] body was found," Ms Sullivan told The Independent. "And we've just been under lockdown ... we've been going through a lot. We had some pretty close people in our lives who were just taken away, so we've been grieving a lot."
She said the dead included classmates of her children, and one victim had been looking forward to welcoming his third child with his eight-months-pregnant wife.
"It's absolutely awful ... and we're just going to band together as a community," she said. "We have already, and we're showing great support for one another and love."
The Sullivans were among the many still-stunned families who ventured out to churches and community centres for support on Saturday after authorities lifted the shelter-in-place order on Friday night – and soon announced that Robert Card, had been found dead. The 40-year-old army reservist went on the run after killing 18 people and injuring more than a dozen on Wednesday at a Lewiston bar and a bowling alley.
The parking lot was full Saturday morning at Governor's Restaurant and Bakery in Lewiston after "a very quiet couple of days out here," manager Brittany Peterson said. "There was no movement; the only movements that you heard were police sirens and helicopters."
Local authorities announced counselling services at different locations on Saturday for people directly impacted by the shootings and for members of the wider community. Residents swarmed supermarkets and other stores, which had been completely shuttered since the shelter-in-place order was implemented on Wednesday as a manhunt began.
Ms Peterson had been at home with her children when authorities alerted residents about the rampages at the Just-In-Time Recreation bowling alley and Schemengees Bar & Grille, but she didn't think twice before jumping in her car.
"I decided to get in my car and head to work because we have a lot of folks around here that travel by foot," Ms Peterson told The Independent. "I wanted those folks who were travelling by foot to have a ride home. I had a few employees in the back seat of my car and there was just police everywhere, ambulances everywhere. It was unsettling."
On Saturday, a few events were resuming, and there was a steady stream of traffic at a River Road solid waste facility; with city services suspended under the shelter-in-place, rubbish has been piling up throughout Lewiston.
A vigil is scheduled for Sunday night, and Father Daniel Greenleaf, pastor of the 15,000-strong Prince of Peace parish, told The Independent faith leaders were grappling with how to support their flocks – while preparing for a weighty period of grieving and funerals. Because of the frenzied activity, fear and shelter-in-place order, he said it felt like the shootings happened "months ago".
"I think that's why the shelter-in-place order just made it so much more painful for all of us, because you could not ... move forward," he said. "You're really literally stuck in place and also emotionally stuck in place."
Saturday morning Mass was attended by over 100 people and parishioners continued praying at the church throughout the day.
"We want to get together, and that's exactly what they showed this morning – as soon as [church] opened it was like, 'Oh my gosh, look at everybody here,'" he said. "And they want to get together and at least do something and pray or go somewhere and lay a flower somewhere and do something."
Ms Sullivan said her family came out to "give support to people ... and whatever we can do to make the lives of these people easier is what we're looking to do".
She said there was a sense of relief throughout the community knowing that Card was "now deceased and gone".
"We're praying for him, though," she said. "I mean, he did an awful lot of bad things, but you don't get there without having trauma in your own life."
Ms Peterson said she hopes local people can now begin to grieve collectively.
"It was a very quiet couple of days out here," the restaurant owner said. "For the past few days, it was helicopters going overhead for about every hour on the hour."
Governor's was closed during the lockdown on Friday, but its dining room looked almost the same as usual on Saturday, Ms Peterson said – full of regulars enjoying breakfast as any other day, but now with grief in the air for the days to come as they acknowledge their town has been forever changed by gun violence.
Police provided more details about the horrifying incident at a press conference on Saturday morning, revealing that Card had been found dead at a Maine Recycling Corporation plant where he used to be employed.
Public safety commissioner Michael Sauschuck revealed that police had searched the plant twice during the manhunt, but did not find Card's body until the owner called in and urged them to check an overflow lot across the street.
Mr Sauschuck also revealed that, shortly after police put out photos of the suspected shooter on Wednesday night, three of Card's family members contacted investigators to name him.
The public safety commissioner said there was a "strong mental health cloud over what happened", but authorities have yet to determine a motive for the attack.