Lightning strikes Rio de Janeiro Jesus statue
Iconic Christ the Redeemer statue was damaged in a storm on Thursday night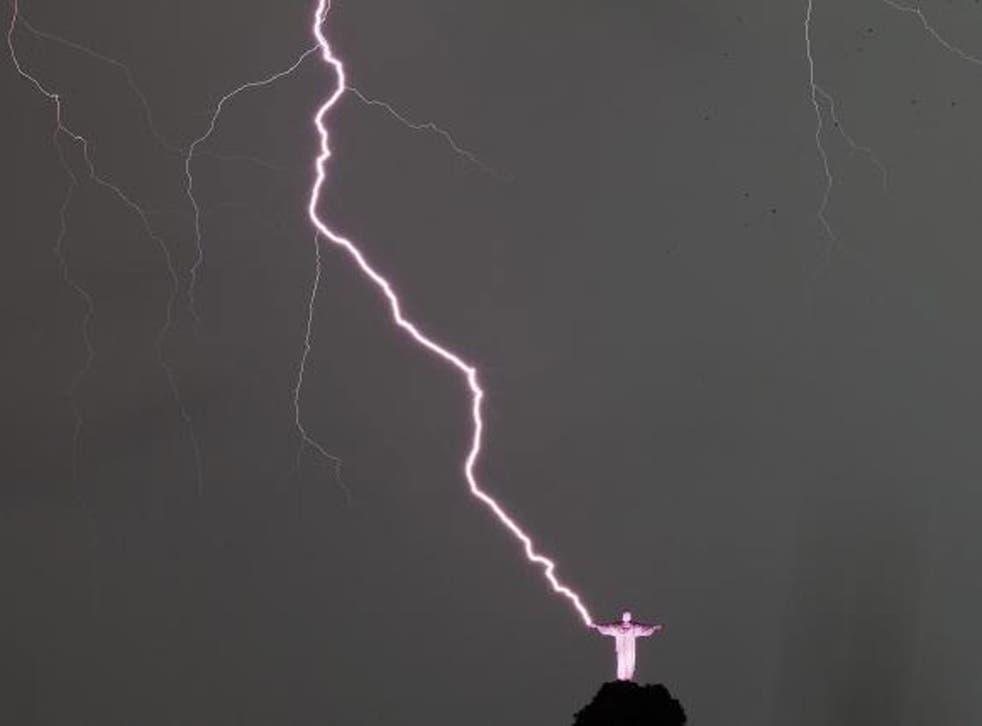 The iconic statue of Christ overlooking Rio de Janeiro has been struck by lightning during a violent storm.
Officials confirmed on Friday the right thumb suffered damaged from the storm. Incredible pictures captured the moment lightning hit the 125 ft (38 metre) statue on Thursday evening.
The powerful lightning and rain storm swept across the city, flooding streets and knocking out power in some neighbourhoods.
The middle finger of the right hand had also been chipped during a storm last month. The statue sits atop a steep mountain and is often hit by strikes.
It underwent a $4 million (£243, 600) renovation in 2010 to repair badly eroded parts of its face and hands.
The statue is managed by the Archdiocese of Rio. Father Omar Raposo told Globo Radio repairs will soon be carried out.
He says the church has a stock of the same stone originally used to build the statue, which was erected in 1931.
The statue also suffered damage in April 2010 when the arms head and chest were covered in spray painted graffiti, in an act Rio's mayor described as a "crime against the nation." The perpetrators used the scaffolding erected during the renovation to scale the statue and vandalise it.
The vandals sprayed sentences such as "when the cat's away, the rats will play," as well as references to residents who were killed in recent and unsolved crimes.
Lightning strikes in pictures: Rio de Janeiro Jesus statue damaged in storm

Show all 5
Additional reporting by Associated Press
Join our new commenting forum
Join thought-provoking conversations, follow other Independent readers and see their replies