Limo driver shoots himself outside New York City Hall after making complaints about the gig economy on Facebook
'I am not a slave and I refuse to be one'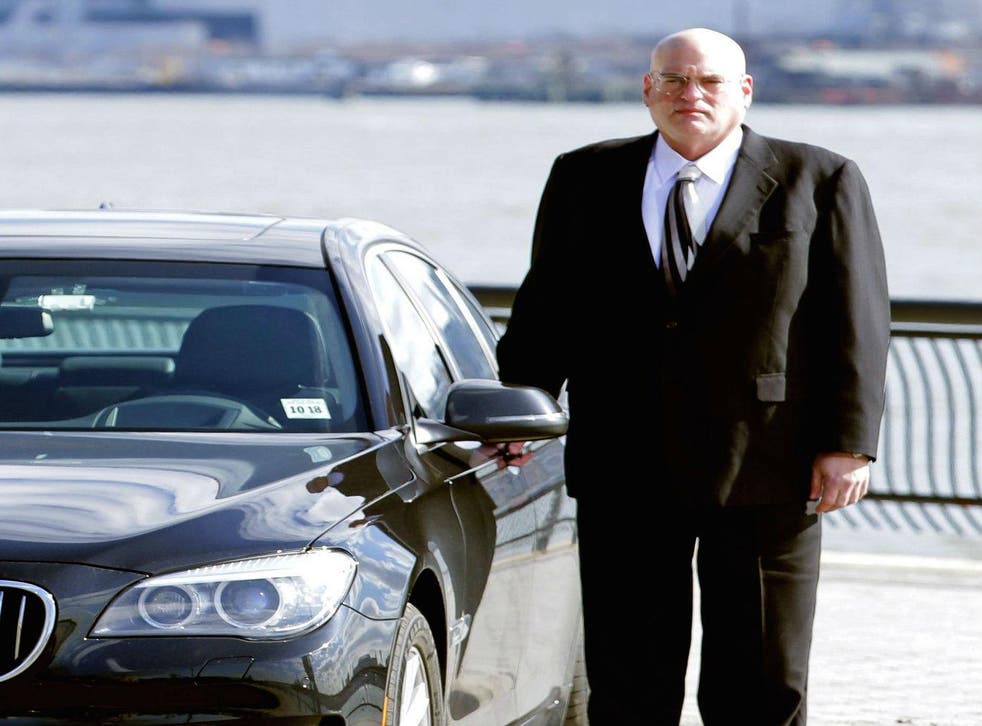 A limousine taxi driver has killed himself outside New York's City Hall – hours after accusing politicians in a Facebook post of failing to protect traditional drivers from the impact of ride hailing services such as Lyft and Uber.
Douglas Schifter, 61, drove himself to the east gate of the city's government administration and shot himself. Drivers' groups say he was the third cabbie to kill himself in the city in recent months over concerns about the state of the city's taxi industry.
Hours before, the man who had worked as a limousine, or livery, driver for the best part of four decades, had posted a lengthy note, in which he railed against city and state politicians for failing to protect the traditional taxi industry, and allowing companies such as Uber and Lyft to drive down drivers' wages, even as they made prices more competitive for customers.
"I worked 100-120 consecutive hours almost every week for the past fourteen plus years," wrote Mr Schifter, who travelled into New York every day from Pennsylvania.
"When the industry started in 1981, I averaged 40-50 hours. I cannot survive any longer with working 120 hours! I am not a slave and I refuse to be one."
In his message, Mr Schifter criticised former New York mayor Michael Bloomberg, the current mayor Bill de Blasio, and New York Governor, Andrew Cuomo.
"Bloomberg, De Blasio and Andrew Cuomo have each had their part in destroying a once thriving industry," he wrote. "There are over 100,000 of us suffering daily now. It is the new slavery."
Taxi driver groups say the last few years have been a massive increase in the number of cars for hire on the streets of New York, many of them who drive for Lyft or Uber in their spare time. While consumer organisations say this has reduced prices for consumers, the impact has been to make it harder for full-time, professional taxi drivers to make a living.
Bhairavi Desai, executive director of the New York Taxi Workers Alliance, told The Independent that over the last four years, the total number of for-hire vehicles had risen from around 52,000 to 137,000. She said Mr Schifter was the third cab driver to kill himself in three months because of economic concerns about the plight of the industry.
Ms Desai said companies such as Lyft and Uber lobbied heavily at both federal at state level to persuade local politicians to allow them to avoid the regulations imposed on yellow or green taxis. (Data provided by FollowMoney.org suggests that while the companies lobbying at state level was similar to that of Microsoft and Mal-Wart in 2016, at federal level it was less than 20 per cent.)
She said such firms, also did not have to provide healthcare or other payments to the drivers working for them.
European Union categorises Uber as a taxi company forcing strict regulations
"They get away with it because it's Silicon Valley and everything about Silicon Valley is supposed to be shiny and cool," she said.
Neil Weiss, the editor of Black Car News, said Mr Schifter had written a regular column for the news site and frequently talked about the economic challenges facing drivers. He said Mr Schifter was describing an accurate situation.
"I heard yesterday that other people have also taken their lives, but perhaps not so dramatically," he said. "It's been getting worse for some years. There are too many drivers and the traffic is terrible."
Mr Weiss's website reported that two vigils were held for Mr Schifter following his death on Monday and that a funeral service for him is due to be held in the city.
World news in pictures

Show all 50
"During his long and distinguished career as a driver, and also more recently as a writer, Doug connected with a lot of people. His words rang true, and they saw themselves in him – they knew all too well his rage and despair," it said.
Mr Schifter, who claimed to have driven more than five million miles during his career, finished his post by saying he feared the country was on a downward spiral.
"We are not doing enough to fight ignorance and hatred. We are not a great country if we cannot afford to care for those in need," he wrote.
"We are not a great country if we allow politicians to destroy lives. We are not a great country if we allow hatred of others because of where they were born or who they are."
A spokesman for City Hall told local media: "It's incredibly sad. Our thoughts are with his family and loved ones in what is undoubtedly the most painful of times."
Mr de Blasio said: "It's a horrible tragedy. This man was obviously going through a lot."
The New York Post said cab driver Danilo Corporan, 57, wrote a note on the back of a summons he received before killing himself in December.
Days before, he had a hearing at an administrative law court for accepting an illegal street hail and killed himself after being told he could lose his license, the paper said.
Uber did not immediately responded to enquiries. In a statement, a spokesperson for Lyft, said: "We're incredibly saddened by this tragic news, and extend our condolences to Mr Schifter's family."
Join our new commenting forum
Join thought-provoking conversations, follow other Independent readers and see their replies