Lisa Randolph-Gant: Queen Elsa cake maker says she will carry on baking and will not let people 'break her spirit'
Social media erupted with ridicule over the cake that had been make for a critically ill child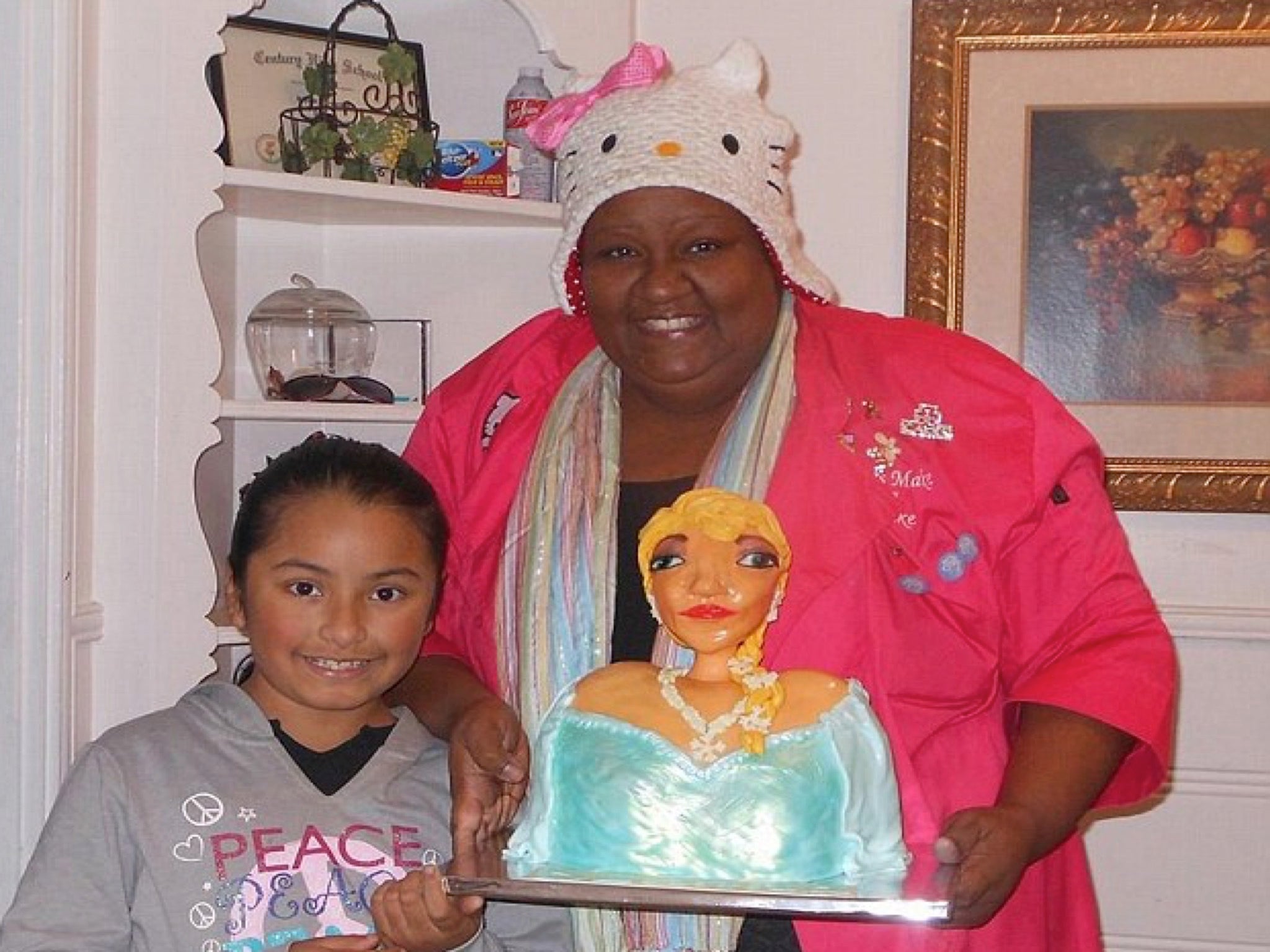 Lisa Randolph-Gant turned to what she assumed would be the happy world of of cake-making five years ago
During a prolonged break from her work as a nurse after a hernia operation went wrong, she found herself sitting in bed, surfing the TV channels and learned about people baking cakes to order. I could do that, she said.
Five years on, Ms Randolph-Gant has baked countless cakes of all varieties and for all occasions. But nothing prepared her for the storm of controversy and ridicule that erupted this week after a photograph was posted online that showed a Queen Elsa cake she had made for a critically ill child.
The baker, aged in her early 40s, had prepared the cake free of charge after being contacted by Icing Smiles, a national charity that arranges the baking of special cakes for seriously ill youngsters.
The cake Ms Randolph-Gant, from Los Angeles, was asked to bake for a girl called Briana, was Queen Elsa, a character from Disney's popular film Frozen.
This week, people mocked Ms Randolph-Gant after an image of the cake was posted on social media, along with a picture of Queen Elsa. The two pictures were posted side by side on Reddit by user OfficialBigHead with the caption: "The cake that was ordered and the cake that arrived".
People claimed the cake was everything from "ugly" to "horrific" to "terrifying". The situation was made worst after McGreevey Cakes, a decorating tips website based in New York, posted an image of another, highly-polished Queen Elsa cake that had taken 20 hours to create.
Ms Randolph-Gant maintained her silence for two days before she answered them with a post on Facebook. The cake may not have appeared perfect, she admitted, but there was context: on the day she was baking the cake her grandmother died, and she was obliged to complete Queen Elsa while comforting her mother.
What added to the difficulty was that just as the cake was finished, her Los Angeles neighhourbood, received a downpour.
Speaking to The Independent, Ms Randolph-Gant said that both Briana and the girl's mother had been more than content with the cake and posted an image of her, the little girl and Queen Elsa. The cake looked distinctly more professional than the image posted online, even if she admitted she had had to wipe the icing to get rid of water.
"She was so happy. She said she wanted to be a baker, like me," she said of her interaction with Briana.
Ms Randolph-Gant said she had learned an important lesson about social media and how it could bring out the worst in some people.
"When people are mean on the internet, it is who they are at their core," she said. "They are not able to do it face-to-face because they are cowards."
She added: "People who say mean-spirited things are the most wounded."
She said she believed the anonymity inherent with social media permitted people to say things they would not dare to say in person.
She said she had taken the time to respond because she wanted to put her side of the story and because she was receding endless messages in her inbox and links to media reports about the cake.
Cher Bork, the development manager at Iciing Smiles, said the charity used 7,500 volunteers across the country who contributed their time, passion and ingredients to produce cakes for seriously ill youngsters.
She said the organisation was standing by Ms Randolph-Gant, who they considered a "sugar angel". Unfortunately, she said Briana and mother - delighted by their cake - had been "devastated" by the controversy that had erupted.
She said Ms Randolph-Gant had managed to produce a cake for Briana in the most testing of circumstances. "She did not disappoint that little girl," she said.
Meanwhile, Ms Randolph-Gant said she had no intention of stopping baking the cakes or supporting the charity.
"I'm not going to let people break my spirit," she said. "That's what makes us who we are."
Join our commenting forum
Join thought-provoking conversations, follow other Independent readers and see their replies