LocoL: Roy Choi and Daniel Patterson bring healthy fast-food to a deprived Los Angeles neighbourhood
Staffed by around 50 local employees and soundtracked with old-school R&B and hip-hop, LocoL has a menu like no other
Tim Walker
Los Angeles
Saturday 23 January 2016 22:26 Comments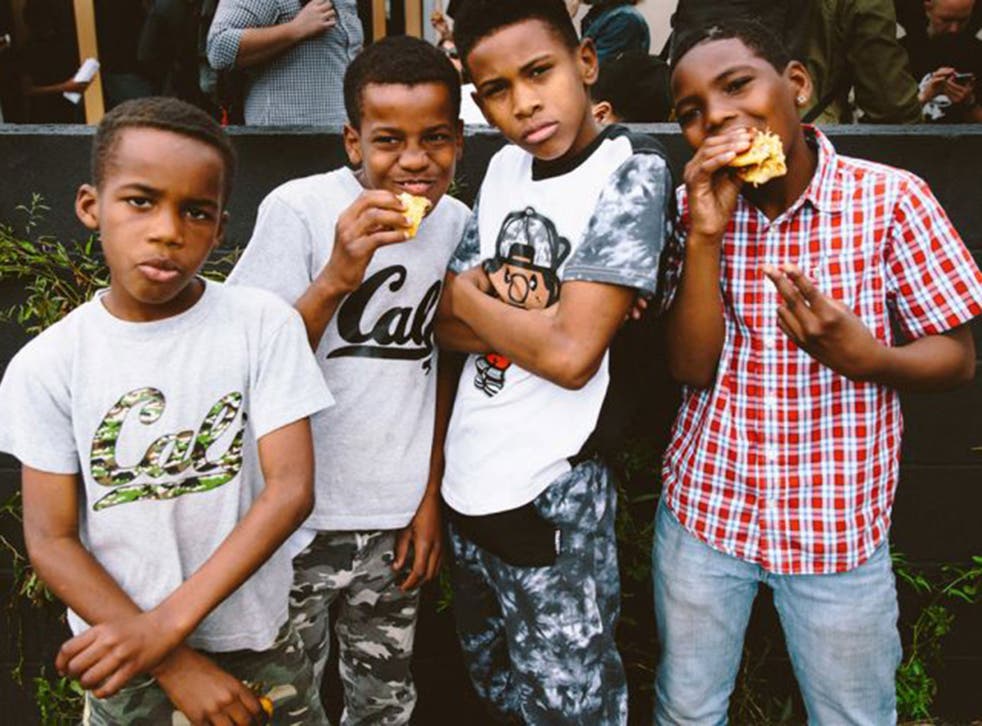 In years past, the Watts neighbourhood of South Los Angeles has been synonymous with urban neglect, impoverishment and racial unrest. Last week, though, it was the location of the hottest restaurant opening in town. On Monday morning, a queue of hundreds stretched away from the corner of 103rd Street and Anzac Avenue, awaiting the launch of LocoL: a hip new joint serving high-quality fast-food in a community accustomed to junk.
The concept was cooked up by Roy Choi, one of the founders of the food truck movement, and Daniel Patterson, chef at the two- Michelin starred Coi restaurant in San Francisco. Between them, they have made it their mission to bring healthy, tasty, affordable fare to the so-called "food deserts" of California and beyond.
Staffed by around 50 local employees and soundtracked with old-school R&B and hip-hop, LocoL has a menu like no other. Its signature cheeseburger, the "cheeseburg", contains a beef patty blended with grains, tofu and a beef-and-seaweed garum. It's not only healthier: the lower meat content means it is cheaper, too.
At $4 (£2.80), all LocoL's "burgs" – including a veggie burger and a fried chicken sandwich – cost less than a Whopper from the nearby Burger King. LocoL does not serve fries or sugary sodas. Instead, its side dishes includes rice, greens and spicy corn chips, while the drinks are $1 agua frescas. The queue was still dozens deep on Friday, when 47-year-old Steven Hubbard returned for his second LocoL lunch of the week. "I've lived in Watts all my life and we've never had a place like this," he said. "Before, if we wanted to eat right, we had to eat at home."
Mr Choi, formerly a top restaurant chef, launched his first Kogi BBQ truck in late 2008, offering a Korean twist on tacos, the classic Mexican street food. A little over seven years later, he has a fleet of five trucks and several different restaurants scattered across LA. His story prompted a memoir, and provided inspiration for the movie Chef, as Kogi kick-started the gourmet food truck phenomenon that has since spread across the globe.
In August 2013, addressing the MAD culinary symposium in Copenhagen, Mr Choi issued a challenge to fellow chefs – to open restaurants in those underprivileged neighbourhoods underserved by foodie culture. His message resonated with Mr Patterson, and the two launched the LocoL concept at the same event the next year, mixing the Spanish for "crazy" and the English "local". A crowdfunding effort raised more than $128,000 (£89,700).
Among those who turned up hungry on opening day were Girls creator Lena Dunham, Chef director Jon Favreau and the mayor of Los Angeles, Eric Garcetti. Alex Volberding, 34, a law student at UCLA, travelled across town from Brentwood on Friday to sample LocoL. He ordered a cheeseburg, a chilli bowl, a side of greens, some beef gravy, flatbread, an agua fresca and a carnitas "foldie", Choi's latest take on the taco.
The contents of his lunch tray came to $16 (£11). "All the food is excellent," said Mr Volberding. "I really support the philosophy of bringing a restaurant like this to a place where there aren't many healthy eating options, a restaurant that involves and is accessible to the community."
A 2008 ban on new fast-food restaurants in South Los Angeles, intended to curb obesity, proved ineffectual. An attempt by Michael Bloomberg, then mayor of New York, to ban large sugary sodas in his city was overturned by the courts. LocoL, however, represents an alternative method of combating the scourge of fast food – not with regulation, but with competition. One day, they hope to roll out LocoL nationwide.
In an online exchange with supporters several months ago, Choi pointed out one more thing that was missing from LocoL: a kids' menu. Children, he said, should be enjoying the same food as their parents. "A lot of the [adults] in this community didn't have this impression, memory, or experience growing up," he said. "Now, these kids will... Their first and only experience with food won't be fast food or processed food. It will be natural food."
Register for free to continue reading
Registration is a free and easy way to support our truly independent journalism
By registering, you will also enjoy limited access to Premium articles, exclusive newsletters, commenting, and virtual events with our leading journalists
Already have an account? sign in
Join our new commenting forum
Join thought-provoking conversations, follow other Independent readers and see their replies