Breitbart editor says she was fired for anti-Muslim tweet in wake of London terror attack
'There would be no deadly terror attacks in the UK if Muslims didn't live there,' says far-right journalist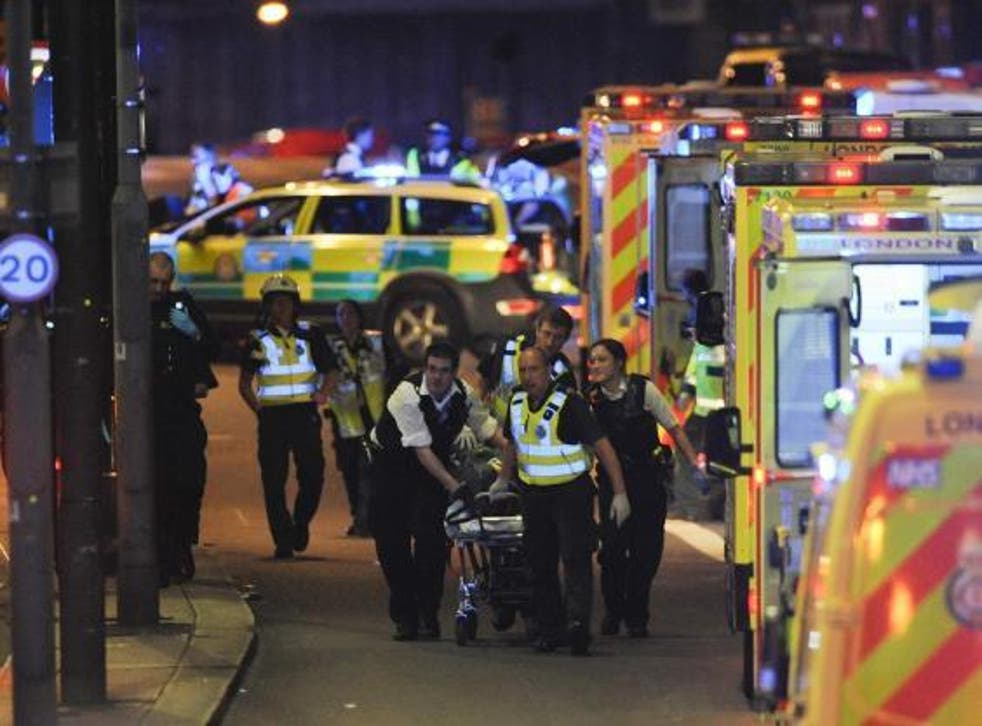 Breitbart has sacked an editor who made a number of inflammatory anti-Muslim remarks in the wake of the London Bridge terror attack which left seven dead and dozens injured.
Katie McHugh, who has written hundreds of articles for the far-right news site, sparked fierce criticism after she argued terrorist attacks would not take place in Britain if there were no Muslim residents.
Ms McHugh said: "There would be no deadly terror attacks in the UK if Muslims didn't live there."
Pej Vahdat, an Iranian-American actor who is best known for playing Arastoo Vaziri in crime drama Bones, responded to her tweet by saying: "You're a real moron".
Ms McHugh then hit back by wrongly identifying his ethnicity and claiming: "You're an Indian".
Other critics pointed to the fact Ms Hugh's initial tweet overlooked the long history of deadly terror attacks in the UK carried out by the IRA, a predominantly Catholic group, between the late 1960's and the late 1990's.
A number of Breitbart colleagues, who chose to remain anonymous, also attacked Ms McHugh for her Islamophobic comments. Speaking to CNN anonymously on Sunday, one said they found them "appalling" while another branded them "terrible".
Ms McHugh, a former writer for conservative site The Daily Caller, announced the news of her sacking via Twitter on Monday, saying: "Breitbart News fired me for telling the truth about Islam and Muslim immigration."
The journalist also shared a link to a crowdfunding page titled "Support Katie McHugh: Fired from Breitbart for telling the truth". The fundraising page claimed it would use the funds amassed to pay for her medical bills and living costs while unemployed.
Crowds gather for vigil honouring victims of London Bridge attack

Show all 8
The writer refused to apologise for her comments about the London Bridge attacks, insisting she deserved a pay "raise" rather than to be fired.
She said: "I said nothing wrong. As President Donald Trump says, if we don't get smart, it will only get worse".
This is by no means the first time she has made inflammatory remarks about race. She once told her 19,000 Twitter followers: "Mexicans wrecked Mexico and think invading the USA will magically cure them of their retarded dysfunction. Lol."
It is rare for Breitbart, a publication which has been accused of writing racist and misogynist articles, to dismiss its employees for their controversial views. Although one exception is the case of Milo Yiannopoulos. In February, the alt-right figurehead, who was one of the site's most high-profile writers, was forced to resign from the publication after his apparently pro-paedophilia remarks resurfaced in an old podcast.
Breitbart, the most widely-read Conservative site in the US, was founded by conservative commentator Andrew Breitbart in 2007 and was later expanded by senior Trump aide Steve Bannon.
The chief strategist, who is a former executive chairman of the site, declared the publication "the platform for the alt-right" after taking the reins around four years ago and transforming the agenda from ultra-conservatism to anti-establishment, anti-immigrant, nationalist and overtly pro-Trump during the presidential election.
Breitbart, which has published comment pieces titled "Political Correctness Protects Muslim Rape Culture" and "Birth Control Makes Women Unattractive and Crazy", has gained growing access to the White House since Mr Trump entered office.
The publication was dubbed "Trumpbart" before Mr Trump took office, with the President giving a number of interviews to the site in the build-up to the election, boosting its traffic to a 124 per cent spike in 2016.
Register for free to continue reading
Registration is a free and easy way to support our truly independent journalism
By registering, you will also enjoy limited access to Premium articles, exclusive newsletters, commenting, and virtual events with our leading journalists
Already have an account? sign in
Register for free to continue reading
Registration is a free and easy way to support our truly independent journalism
By registering, you will also enjoy limited access to Premium articles, exclusive newsletters, commenting, and virtual events with our leading journalists
Already have an account? sign in
Join our new commenting forum
Join thought-provoking conversations, follow other Independent readers and see their replies