'Cool but weird': Department store converted into makeshift high school
Learning space features Calvin Klein sign, Levi's jeans wall and Michael Kors cafeteria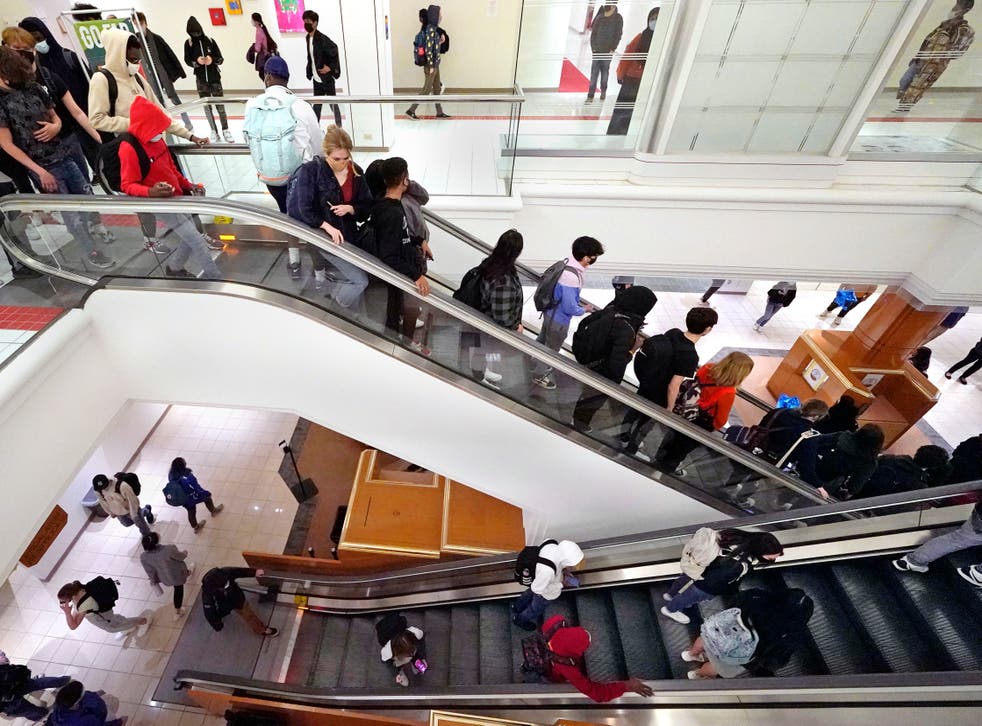 Leer en Español
An abandoned Macy's department store in Vermont has been transformed into a high school by officials following their building's unexpected closure, with students branding the surreal atmosphere "weird but cool".
Students from Downtown Burlington High School begun attending classes in a refurbished section of their local shopping centre on 4 March, about six months after their original building was forced to close.
Administrators had to shut the school building because toxic industrial chemicals known as PCBs were found in the building and soil during renovations, forcing students to learn remotely.
The empty department store, which closed in 2018, underwent a $3.5m (£2.5m) refurbishment supported by the state to transform it into a learning space while keeping some of the original Macy's design features.
Partial walls, a library and a yet to be finished gym have all been added while sparkly white tile floors, bright red carpeting, Calvin Klein and Michael Kors signs and Levi's jeans classroom wall have been retained.
Read more:
"It's weird but cool at the same time," said freshman Moses Doe, 15, who explained that he and his family were frequent shoppers at the Macy's before its metamorphosis.
"I have to say even though everyone complains that it's loud and crowded, I just am so much happier being around people," 18-year-old senior, Lila Iyengar Lehman, said.
"It's way better than being stuck at home on your computer all day long. And although the situation's weird, I think, you know, everyone's doing the best with the circumstances so I think it's pretty great overall," she said.
Gleaming white tile floors and escalators that whisk students to and from classes have become part of everyday life for the students, an element which Moses said he enjoys.
Despite some challenges such as noise levels due to the stand alone classroom walls, a lack of windows, and student's being unable to leave the building unexcused, the school is working, officials said.
The district has leased the building for three and a half years while it learns more about the PCBs at the old school and the work that needs to be done. Just half of nearly 1,000 students attend at a time.
"It's really, really nice to see all my friends," Lila said. "Like I forgot how much I miss all those little interactions with people like passing in the hallways and saying 'hi' to teachers and just chatting with your friends."
Reporting by the Associated Press
Register for free to continue reading
Registration is a free and easy way to support our truly independent journalism
By registering, you will also enjoy limited access to Premium articles, exclusive newsletters, commenting, and virtual events with our leading journalists
Already have an account? sign in
Register for free to continue reading
Registration is a free and easy way to support our truly independent journalism
By registering, you will also enjoy limited access to Premium articles, exclusive newsletters, commenting, and virtual events with our leading journalists
Already have an account? sign in
Join our new commenting forum
Join thought-provoking conversations, follow other Independent readers and see their replies