Women's March: Madonna said she thought about 'blowing up White House' but 'chose love' instead
The singer spoke to an audience of more than 500,000 – twice as many that appeared at Trump inauguration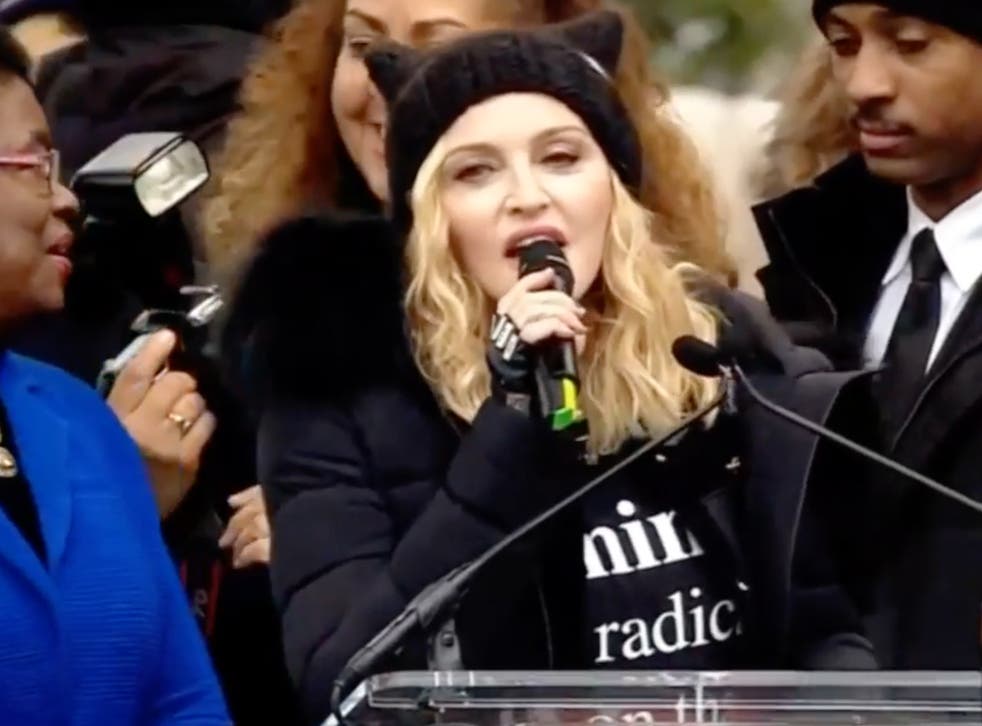 Madonna told a crowd of more than half a million that she thought about "blowing up the White House" during an impassioned speech at a massive anti-Trump protest in Washington.
The singer, who often makes sensational political statements, made the exaggerated remark to illustrate her anger at the shocking electoral college win of minority President Donald Trump.
"Yes, I'm angry. Yes, I am outraged. Yes, I have thought an awful lot about blowing up the White House," she said. "But I know this won't change anything. We cannot fall into despair."
Stay up to date with the Women's March on Washington on our liveblog
The Women's March on Washington brought people from across the US to protest the Trump administration, a day after the new president was sworn into office to a significantly smaller crowd of people. Madonna reflected on the monumental attendance, referring to the event as the beginning of a revolution.
In pictures: Women of the world march against Trump

Show all 32
"Welcome the revolution of love. To the rebellion. To our refusal as women to accept this new age of tyranny," Madonna, 58, said. "Where not just women are in danger, but all marginalised people.
"Where being uniquely different right now might be truly considered a crime."
Before performing "Express Yourself", Madonna issued her call to action: "Today marks the beginning of our story. The revolution starts here. The fight for the right to be free to be who we are to be equal."
Early projections anticipated a 200,000 turnout for the event – which attracted countless supporters in all 50 states and major cities around the globe – but more than 500,000 people arrived in the nation's capital this morning.
Madonna is one of a significant number of high-profile entertainers and social justice advocates who delivered passionate speeches in the jam-packed National Mall.
"We march today for the moral core of this nation, against which our new president is waging a war," said actress America Ferrera. "Our dignity, our character, our rights have all been under attack and a platform of hate and division assumed power yesterday. But the President is not America. … We are America, and we are here to stay."
Feminist icon Gloria Steinem, who served as honorary co-chair of the Women's March, warned Mr Trump of the power of numbers during her speech.
"The Constitution doesn't begin with, 'I, the President'," she said. "It begins with, 'We, the people". So don't try to divide us!"
Reflecting on the lackluster attendance of the inauguration, Ms Steinem added: "I have met the people, and you are not them. We are the people. Just this march in Washington today required 1,000 more buses than the entire inauguration."