California earthquake: Most powerful tremor in 25 years rocks San Francisco Bay area
Its epicentre was in California's Napa County and has left at least 15,000 without power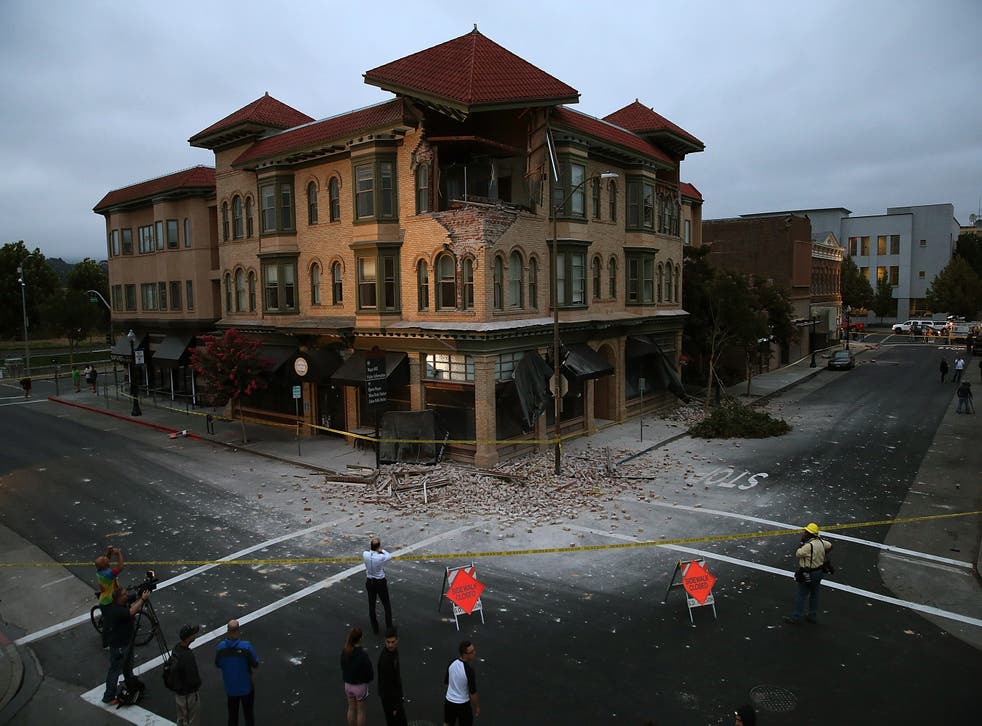 An earthquake measuring 6.0 on the Richter scale has hit northern California, causing some injuries and property damage.
It struck four miles north-west of the town of American Canyon in Napa County and is the biggest earthquake the San Francisco Bay Area has seen since 1989.
There have been no immediate reports of fatalities, though at least 87 injuries, power outages and some property damage having been reported, in addition to a fire at a mobile home park.
The US Geological Survey (USGS) said that it first struck at 3.20am local time (10.20am GMT) at a depth of 6.7 miles, shocking many sleeping Californians awake.
The government agency gave the quake an 'orange' status, which says that while fatalities are expected to be low, economic losses could be significant.
"Significant damage is likely and the disaster is potentially widespread," the report states.
It added: "Overall, the population in this region resides in structures that are highly resistant to earthquake shaking, though some vulnerable structures exist."
In 1989 an earthquake measuring 6.9 struck the Santa Cruz area of California killing 62 people, according to government figures.
Prior to that one there had been quakes of 5.7 and 5.8 in 1983 and 1980 respectively.
The "perceived shaking" of this earthquake is said by the USGS to have been "severe" for about 15,000 residents at the very epicentre.
It also said potential structural damage to vulnerable buildings could be "heavy".
At least 15,000 Pacific Gas and Electric Company customers are without power, the San Francisco Gate reports.
Three properties on a mobile home park have been gutted by a fire which started when a water main burst after the earthquake struck.
Napa Fire Department confirmed that three people are in a critical condition , including a child who was hurt by debris falling from a chimney.
Bruises, concussions and cuts are thought to be the other minor injuries sustained by residents.
The California Highway Patrol Santa Rosa said on Twitter that it was responding to downed power poles and outages in Sonoma County, while some aftershocks are understood to have occurred in the Napa wine valley.
MC Hammer has been live tweeting the earthquake after saying he was by the San Francisco airport: "I know they're on top of it at the airports but it was violent enough to damage runways .. #earthquakesSF", he said.
Another Twitter user said: "pretty shaky shock waves of magnitude more than 6 on Richter Scale felt at Alemany Boulevard, San Francisco!"
Spokesman for the San Francisco Police Department, Albie Esparza, said: "All facilities reported no damage at this time, and operations continue normally."
Join our new commenting forum
Join thought-provoking conversations, follow other Independent readers and see their replies