Making a Murderer: Full video emerges of crucial 'confession' by Brendan Dassey to investigators
The teenager's confession was a key part of the case agaisnt his uncle, Steven Avery
Andrew Buncombe
New York
Friday 08 January 2016 14:48 Comments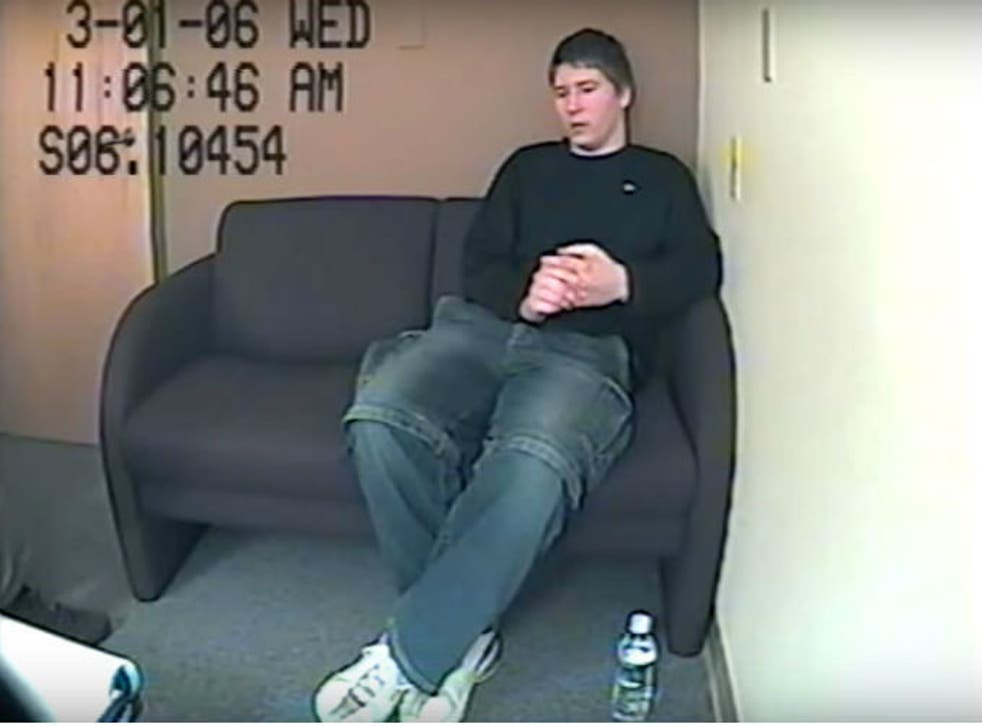 As America and much of the rest of the world remains gripped by the Making a Murderer documentary, unedited video footage has emerged that purportedly portrays one of the most controversial - and crucial - aspects of the investigation.
The families of convicted prisoners Steven Avery and Brandon Dassey, have said the questioning of the teenage Dassey by officers, in the absence of his parents or his lawyers, pushed him into making what they say was a false confession.
Earlier this week, the prosecutor who brought the case accused the 10-part series, by the filmmakers Laura Ricciardi and Moira Demos, of bias. Prosecutor Ken Kratz said there was much evidence available to investigators that was not included in the film.
Mr Katz told the New York Times that the film "really presents misinformation", and was the result of an attempt by Mr Avery's lawyers to stoke public outrage. "That is absolutely what they wanted to happen," he said.
Now, video has reportedly emerged of the full, unedited four hours of interviews between the then 16-year-old Dassey and lead investigators Tom Fassbender and Mark Wiegert. It was first published by People.com.
The interview, conducted in March 2006 when Dassey was pulled out of his lessons to be quizzed alone, resulted in the teenager telling the investigators that he had helped his uncle, Steven Avery, rape and murder photographer Teresa Halbach on October 31 2005.
The youngster, whose mother described him as someone with learning difficulties, said he and his uncle had shot her in the head and burned her body at a bonfire on the Avery salvage business property later that evening.
The confession was a crucial part in the case against Avery and was used to undermine his alibi. Shortly afterwards, Mr Kratz, the Calumet County Prosecutor, held a press conference at which he said the teenager had provided graphic details of the killing of the young woman.
The film also shows the teenager's mother reacting in horror when she learns that her son has confessed to something he has told her he did not do. A recorded telephone conversation between the teenager and Barb Janda, shows her asking why he had said such things.
"They got in my head," the teenager said of the investigators.
He subsequently said he had never seen Ms Halbach and had nothing to do with her murder.
The response to the documentary series has been been huge and more than 150,000 people have signed petitions calling on the White House to issue pardons to the two men.
However, the White House has said it cannot pardon the men as they were convicted of a state-prosecuted crime, and not a federal offence.
The person who could issue pardons, the governor of Wisconsin, Scott Walker, has previously said he has not watched the programme and will not pardon Avery.
He said the man should use the court system to appeal.
Register for free to continue reading
Registration is a free and easy way to support our truly independent journalism
By registering, you will also enjoy limited access to Premium articles, exclusive newsletters, commenting, and virtual events with our leading journalists
Already have an account? sign in
Join our new commenting forum
Join thought-provoking conversations, follow other Independent readers and see their replies