Malia Obama joins Dakota Access Pipeline protests at Sundance Film Festival
'She recognises, regardless of her last name, that if she doesn't participate in democracy, there will be no world for her future children,' says fellow protester
Maya Oppenheim
Sunday 29 January 2017 11:01 Comments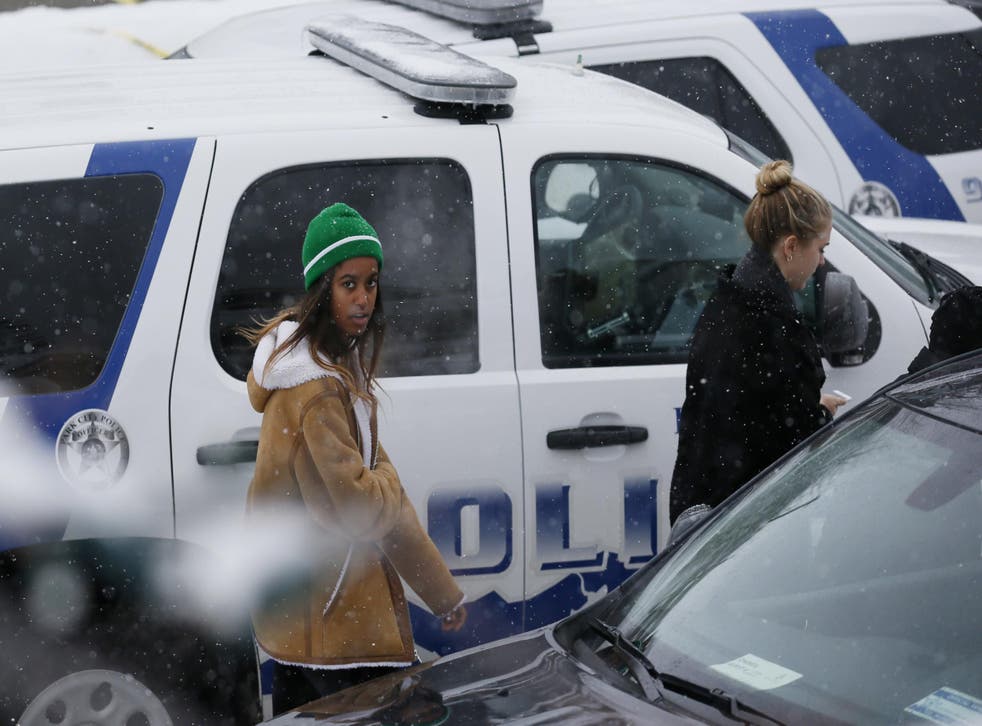 Malia Obama has been spotted at a protest against the Dakota Access pipeline held at the Sundance Film Festival.
The 18-year-old, who is the eldest daughter of former President Barack Obama, was seen at the Standing Rock solidarity event in Park City in Utah on Monday. She is reported to have left her family's Caribbean holiday to attend the largest independent film festival in the US.
Fellow protester and actress, Shailene Woodley, applauded Malia and said it was "amazing" to see her at the demonstration.
What is the Dakota Access Pipeline?
"To witness a human being and a woman coming in to her own outside of her family and outside of the attachments that this country has on her, but someone who's willing to participate in democracy because she chooses to," Woodley, who has been a key part of the protests, told Democracy Now.
"Because she recognises, regardless of her last name, that if she doesn't participate in democracy, there will be no world for her future children."
Protesters occupy Standing Rock reservation, North Dakota

Show all 15
On Tuesday, President Donald Trump signed an executive order to advance the construction of the $3.8bn (£3bn) Dakota Access Pipeline. Last November the US Army Corps of Engineers denied the permit to build the 1,100-mile pipeline. Protesters fear the pipeline could damage drinking water and desecrate sacred grounds.
Obama pays emotional tribute to his daughters - but Sasha wasn't allowed to attend
While Malia has not spoken out about the election of Donald Trump, her father said her and younger sister, Sasha, were "disappointed" about his victory. Nevertheless, the former President was insistent that they would remain positive and not "mope".
After the billionaire property developer's win and the defeat of the first female presidential candidate, Mr Obama had a hopeful message for his daughters. He reminded them to remain positive and fight for people, encouraging them not to worry about an "apocalypse" but focus on moving forward.
Malia, who left the White House just over a week ago, will start Harvard University in September. She is currently on a gap year, having graduated from Sidwell Friends, last summer. Sidwell Friends is a private school in Washington which was attended by Chelsea Clinton, Tricia Nixon Cox, and Archibald Roosevelt.
Register for free to continue reading
Registration is a free and easy way to support our truly independent journalism
By registering, you will also enjoy limited access to Premium articles, exclusive newsletters, commenting, and virtual events with our leading journalists
Already have an account? sign in
Join our new commenting forum
Join thought-provoking conversations, follow other Independent readers and see their replies