Man accidentally kills himself 'while taking selfie with a gun'
At least 27 people died in 'selfie-related' incidents around the world last year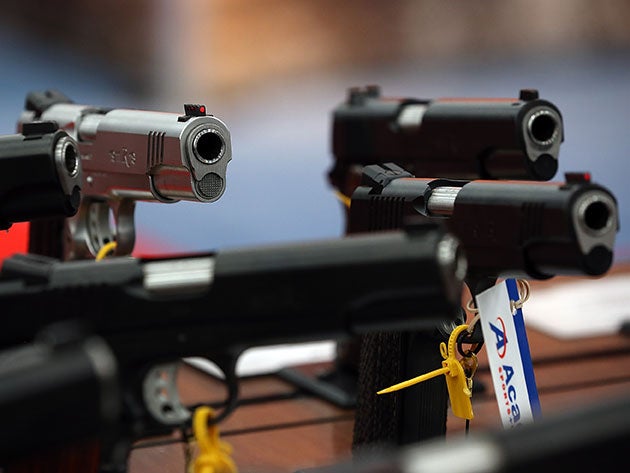 It wasn't the first photo the 43-year-old Concrete, Washington resident had taken with his gun. But it would be the last.
The Skagit Valley Herald reported that the man, who officials did not name, fatally shot himself in the face while attempting to take a selfie with what he thought was an unloaded gun.
The man's girlfriend, who was with him when the gun went off, told authorities that the pair had taken several selfies with the gun throughout the day. The man unloaded the gun before each photo session, then replaced the bullets when they were done.
But before the final photograph, he apparently left one bullet inside the gun.
The man's girlfriend was with him when he died, Skagit County Sheriff's Office Chief of Patrol Chad Clark told the Skagit Valley Herald. Police are investigating his death as accidental.
The Washington man is not the first to accidentally shot himself while taking a selfie, or even the first to die doing so. Last fall, a 19-year-old from Houston died while taking pictures of himself with a gun and posting them on Instagram. He too thought the gun was unloaded when he held it to his head for a photo, police told KPRC.
It's been reported that more people die while attempting to take selfies than in shark attacks.
At least 27 people died in "selfie-related" incidents around the world last year, The Post has reported.
The problem seems to be worse in India than anywhere else: the country was home to half of those 27 deaths. To confront the apparently growing public health hazard, the Indian government decided to ban some selfies outright.
No-selfie zones have been established around some large religious gatherings (where organisers fear that selfie-induced bottlenecks could lead to a stampede), beaches, ledges and other treacherous spots where narcissism might turn deadly.
In Russia, where a woman almost died after inadvertently shooting herself while posing for a photo with a gun she had found, Russia's ministry of internal affairs published a brochure instructing citizens on safe selfie habits.
"A selfie with guns kills," read the warning next to an image of a stick figure holding a camera and a gun, slashed out by a red line.
"Along with all the advantages of the modern world there appear new threats," Russian official Yelena Alekseyeva said at a press conference, according to CNN. "We would like to remind the citizens that the chase for 'likes' in social networks can lead to the road of death."
Copyright: Washington Post
Join our commenting forum
Join thought-provoking conversations, follow other Independent readers and see their replies