Man gives perfect response to those who can't tell the difference between Sikhs and Muslims
'The average American associates a turban and a beard with ISIS, Taliban, or Bin Laden'
Alexandra Sims
Thursday 17 December 2015 15:45 Comments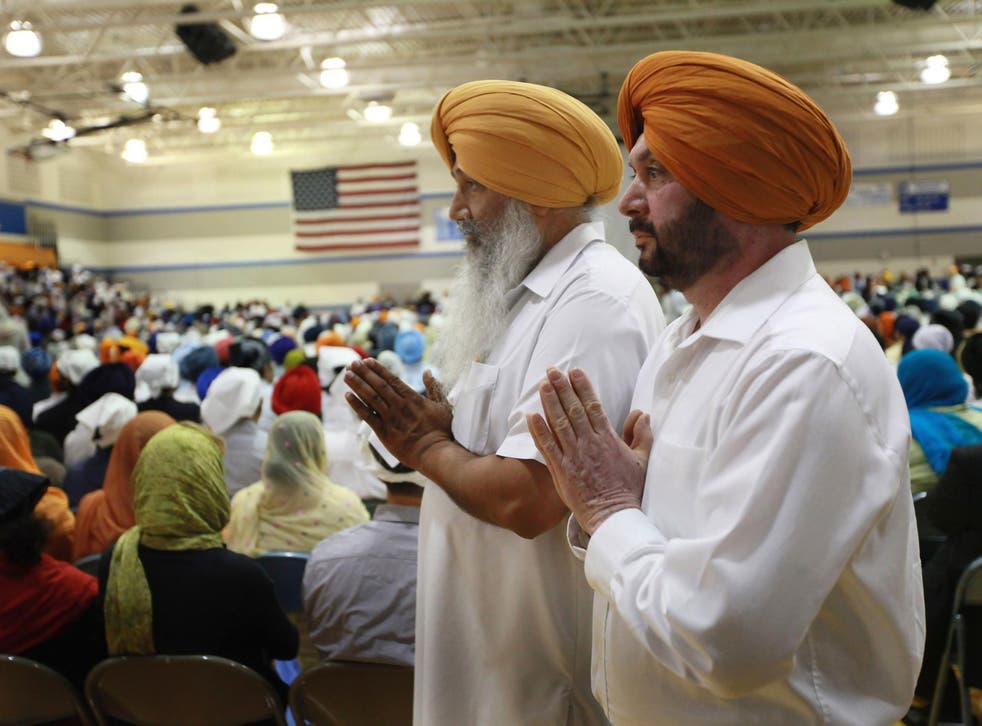 A man has written a message to those who confuse Sikhs and Muslims in the wake of rising levels of hate crime towards the Sikh community.
Harmeet Singh, a Sikh living in America, took to Facebook to explain the values of Sikhism and why both faiths must stand in solidarity against racism.
"They say the average American does not know the difference between a Sikh and Muslim. They tell me the average American associates a turban and a beard with ISIS, Taliban, or Bin Laden," said Mr Singh.
"We are not the victims of mistaken identity; we are in fact doing exactly what our identity was supposed to do. It was supposed to absorb hate and ignorance so others would not have to."
Mr Singh goes on to describe the principles of Sikhism in the post, which has received more than 1,800 likes.
"Our heritage teaches us tolerance, to love the enemy and to protect even those we do not agree with," says Mr Singh. "These seemingly progressive values, of equality, freedom of religion, justice for all that you thought were American are actually something Sikhs have been living, and dying for centuries over."
According to the Sikh Coalition, the Sikh community has faced increasing levels of hate crime since 9/11, with many people incorrectly identifying them as Muslims because of their beards and turbans.
A survey published earlier this year by the Nation Sikh Campaign in the US found between 20 and 28 per cent of respondents mistakenly labelled images of four differently dressed Sikhs as Middle Eastern, despite the faith being founded in India and almost all Sikhs being of Indian descent.
On Monday, a group of Sikh Denver Broncos fans were denied entry into Qualcomm Stadium because they were wearing turbans.
One member of the group, Verinder Malhi, said: "Everybody is kind of confusing us with the turbans, because what you see on TV is mostly the terrorists, they wear turbans."
Last week, police opened an investigation after a Sikh temple in Buena Park, Orange County was vandalised with anti-Isis graffiti, featuring the word Islam misspelled as "Islahm".
Police said they are investigating the incident due to a history of Sikhs being targeted after terrorist attacks.
Last month a Canadian Sikh man was photoshopped wearing a suicide vest and wrongly identified as one of the Paris attackers who killed 130 people across the French capital.
Mr Singh stresses Sikhs should not seek to other themselves from Muslims but to stand in solidarity against racism faced by both religions.
"Our religion provides us the guidance that there is no other, there is no difference, there is no better, there is only divine light which shines in all.
"My hope is of a better America, where tolerance is not just a word that is thrown around, but actually practiced by every individual. Till then [...] the 'Average Sikh' will be out there with our turbans and beards easy to spot and ready for any challenge that may be presented."
Register for free to continue reading
Registration is a free and easy way to support our truly independent journalism
By registering, you will also enjoy limited access to Premium articles, exclusive newsletters, commenting, and virtual events with our leading journalists
Already have an account? sign in
Join our new commenting forum
Join thought-provoking conversations, follow other Independent readers and see their replies