Man gored by bison returns to scene with date months later – and she is gored by bison
'I am not superstitious, but I have this weird feeling they don't like me,' victim concludes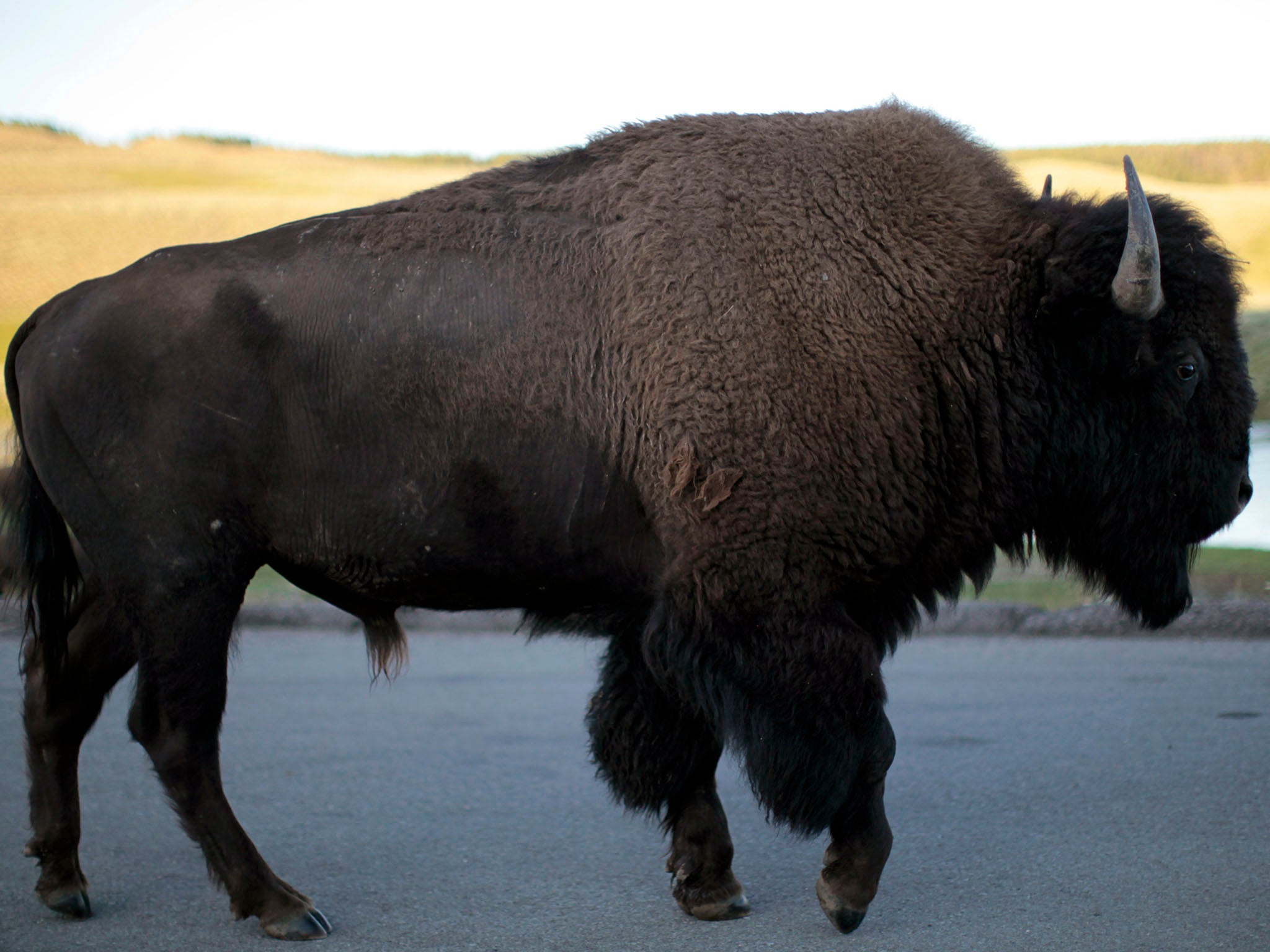 It was a horrific bison attack that left trail runner Kyler Bourgeous with a collapsed lung and cracked ribs.
But when the fully-recovered 30-year-old wanted to impress a date three months later, he invited her to the state park where he had been gored.
Bison attacks are rare, he reasoned. And the scenery at Antelope Island in the US state of Utah was too stunning to be scared of going back: "I've never seen better sunsets anywhere," he said.
It was to be, it turned out, an unwise decision.
His date became the second person attacked there this year.
Kayleigh Davis was airlifted to hospital with a gored thigh and broken ankle after being charged by one of the beasts.
World news in pictures
Show all 50
"I thought my situation was just a freak accident," Mr Bourgeous, from nearby Syracuse, told the Washington Post on Monday. "But apparently, they're a lot more aggressive than I ever thought."
Neither he nor Ms Davis are understood to have made the mistake of approaching the animals. Both are keen outdoor types, and know the 900kg monsters are best left alone.
"There's a fair number of people that assume by association that this was somehow my fault, because I was there when it happened again," Mr Bourgeous say. "I would never intentionally approach a bison."
During his own ordeal on 1 June, the keen cyclist and climber had reached a park summit when he saw two bison. As he attempted to get out of sight, one of the beasts – which can hit speeds of 35mph – charged. His attempts to flee were in vain. "You can't outrun bison," he noted.
He was thrown into the air by the animal. Its horns pierced his hips and armpit. As he lay on the floor, it trampled him before waiting to see if he would move again. "It's just hovering there, waiting for you to move, and it will finish you off if you do," he said.
He was rescued after two park-users saw the incident.
Yet, despite needing to use a hip drain for several weeks, Mr Bourgeous says he was determined to go back to the park, which he has been visiting since childhood.
So, when he and Ms Davis decided to have an outdoors date, it seemed like just the right location.
The pair – who met online shortly after the attack – agreed to go for a run and then watch the sunset together.
She had gone ahead and out of sight as he put on bug spray, when a group of Scouts on bikes raced up to him to say they had just seen a woman being gored.
"I swore a bit, because I was in disbelief," Mr Bourgeous said.
Ms Davis later said she had seen the bison and given it space but the Scouts coming into view may have spooked it.
"I looked over my shoulder, seeing it get closer," she told the BBC. "And I looked again and it was pretty much right behind me. Right as I saw it, I flew up in the air 15 ft."
She landed on her back and – remembering conversations about her date's previous experience – lay completely still as the bison sniffed her.
Eventually, it wandered away, allowing Mr Bourgeous and other hikers to move into help.
Yet despite what may now seem a disastrous date, the pair say it may have brought them closer together and they are continuing to see each other.
Support free-thinking journalism and attend Independent events
Whether they will return to Antelope Island, however, is another matter. "I generally am not superstitious, but I have this weird feeling that the bison there really don't like me," Mr Bourgeous said.
Join our commenting forum
Join thought-provoking conversations, follow other Independent readers and see their replies