Man's has 63kg tumour removed by doctors who say it likely began as ingrown hair
Roger Logan says he spent nearly a decade in an armchair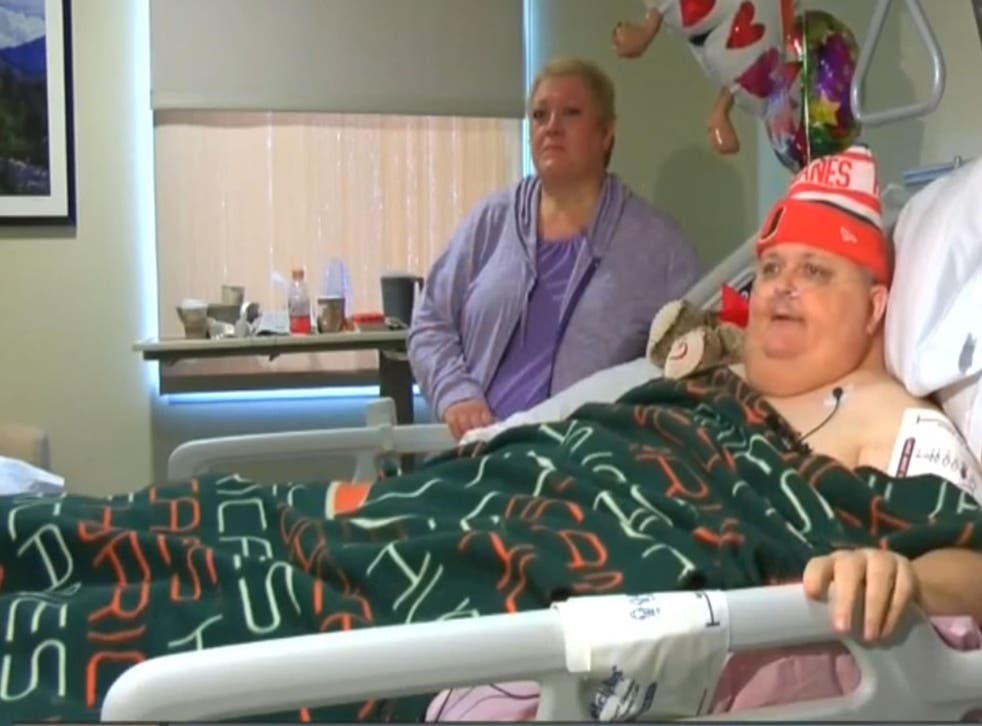 A man had a tumour weighing 63.5kg removed by doctors who think it was likely that it started with an ingrown hair.
Roger Logan, had been living with the growth for more than 10 years, watching on helplessly as it became infected, swelled and developed its own blood supply.
Doctors had previously told the 57-year-old from Mississippi that he was "just fat", he said.
But the tumour grew so big that it hung to the floor when Mr Logan sat down. Unable to move, Mr Logan spent most of his time in an armchair in his room.
But after an operation at Bakersfield Memorial Hospital,in California, the tumour has now been removed.
The tumour is believed to have sprouted from an ingrown hair in his lower stomach, surgeon Dr Vipul Dev told the Bakersfield Californian newspaper.
"I used to equate it, you just put a strap around your neck and carry three bags of cement around with you all day long, just swinging," Mr Logan told US news channel Kero-TV.
By the time the tumour reached 130-140lbs doctors told Mr Logan it was too risky for him to have surgery and only gave him a 50 per cent chance of survival.
But his wife Kitty was determined to help her husband have the operation and she scoured the country for a specialist.
"She just kept pushing. She wouldn't let me quit," said Mr Logan.
Eventually Ms Logan found a doctor, who agreed to carry out the operation, 2,000 miles from their home.
World news in pictures

Show all 50
The couple made the 40-hour road trip to California with his chair attached to the floor of a cargo van as he was unable to board an aircraft.
It was "just like I was in my living room at home," he said.
Since the operation, Mr Logan has been able to walk for the first time in nearly three years.
"My feet are together.They haven't been together in years," he said, adding that he was looking forward to life out of his armchair.
Register for free to continue reading
Registration is a free and easy way to support our truly independent journalism
By registering, you will also enjoy limited access to Premium articles, exclusive newsletters, commenting, and virtual events with our leading journalists
Already have an account? sign in
Register for free to continue reading
Registration is a free and easy way to support our truly independent journalism
By registering, you will also enjoy limited access to Premium articles, exclusive newsletters, commenting, and virtual events with our leading journalists
Already have an account? sign in
Join our new commenting forum
Join thought-provoking conversations, follow other Independent readers and see their replies