US man pays $3,000 tax bill with five wheelbarrows of pennies
Staff spend seven hours counting the coins after the office's automated machines could not cope with the load
Lucy Pasha-Robinson
Sunday 15 January 2017 16:28 Comments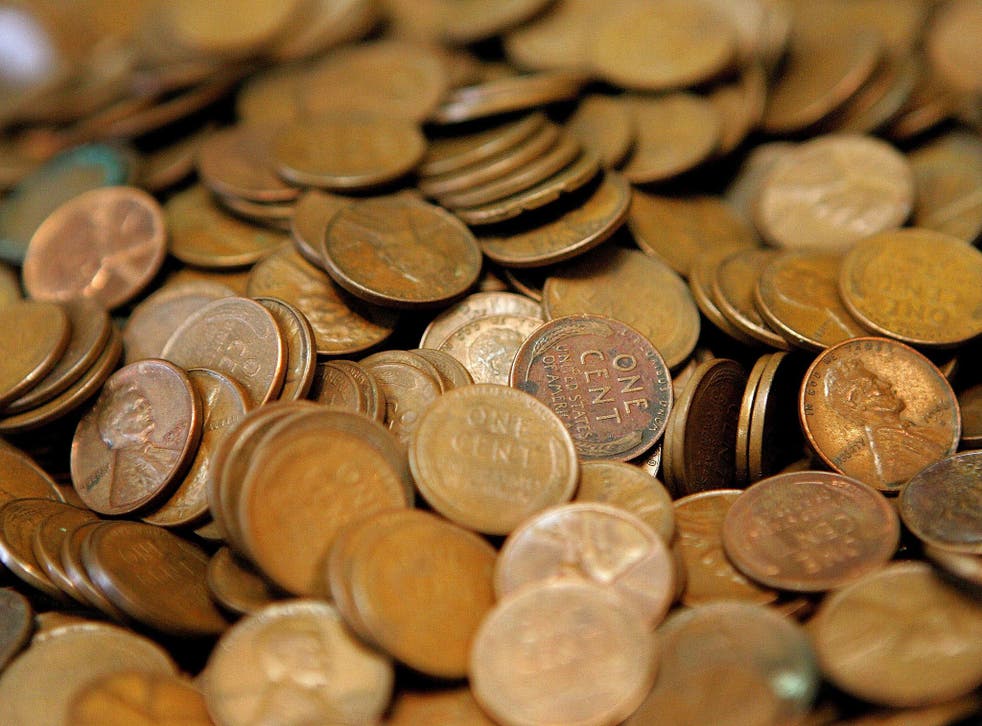 An American man spent more than $1,000 (£820) to defend his right to use 300,000 pennies to pay his tax bill.
Nick Stafford delivered five wheelbarrows full of coins to his local Department of Motor Vehicles (DMV) to pay sales tax on two new cars, a haul weighing more than 1,600 pounds.
It took staff over seven hours to count the coins, with the office's automated counting machines unable to cope with the load.
Mr Stafford collected hundreds of rolls of coins and hired 11 people to help him break them open with hammers, a process which took four hours and cost him $440 (£360) in labour.
He also purchased five wheelbarrows at $400 (£330) to transport the coins, bringing his total expenses to $840 (£670).
Mr Stafford's dispute with the DMV started when repeated inquiries to his local office went unanswered, leaving him feeling aggrieved, the Bristol Herald Courier reports.
Eventually, he resorted to filing a Freedom of Information request to obtain his local office's direct number, but to no avail - a withholding of information that he believed violated public records law.
Mr Stafford subsequently filed three lawsuits against specific employees at the Lebanon DMV and against the DMV itself to obtain direct phone numbers for offices in Abingdon, Clintwood, Gate City, Jonesville, Marion, Norton, Tazewell, Vansant and Wytheville.
"If they were going to inconvenience me then I was going to inconvenience them," he said.
A judge dismissed the lawsuits at Russell County General District Court on Tuesday however the state's attorney general handed Mr Stafford a list of the requested phone numbers in the courtroom.
"The phone numbers are irrelevant to me," Mr Stafford said.
"I don't need them. I told the judge 'I think I proved my point here.'"
He paid $165 (£135) for the three lawsuits, bringing his total spend to $1,005 (£825) to obtain 10 phone numbers and the satisfaction of delivering 300,000 pennies.
Brandy Brubaker, a spokeswoman for the Virginia DMV, said it was happy with the outcome of the lawsuits.
"We are pleased that the court agreed with our counsel that the argument was not a sufficient request to invoke the FOIA statutory penalties," she said.
"We make every effort to share information with citizens as state and federal law allows."
Mr Stafford said the DMV had to accept his unusual form of payment because the US Coinage Act of 1965 says that coins are "legal tender for all debts, public charges, taxes and dues".
Register for free to continue reading
Registration is a free and easy way to support our truly independent journalism
By registering, you will also enjoy limited access to Premium articles, exclusive newsletters, commenting, and virtual events with our leading journalists
Already have an account? sign in
Join our new commenting forum
Join thought-provoking conversations, follow other Independent readers and see their replies