Student praised for holding hands with disabled stranger on bus to comfort him
'Sometimes you just have to be selfless and put someone else's needs above yours'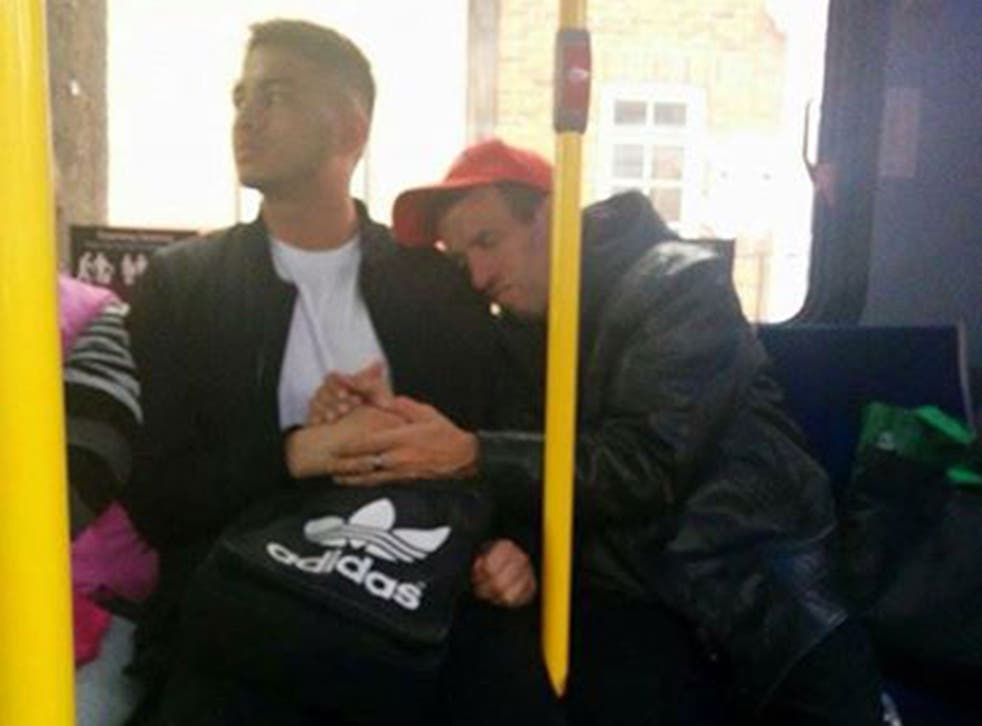 A student has been hailed as an "inspiration" after he held hands and comforted a stranger with disabilities on a bus in Canada.
Godfrey Cuotto, a 21-year-old student in Hamilton, Ontario, was making his way home from a shift at a burrito restaurant when a man, only known as Robert, approached him on a packed bus.
Robert, whose family later revealed that he has cerebral palsy and is deaf, asked Mr Cuotto to shake his hand.
Initially, Mr Cuotto feared that he was being pranked, but soon realised Robert "just needed comfort," he told Huffington Post Canada.
Uplifting news: in pictures

Show all 7
During the 30-minute bus journey the pair shared, Mr Cuotto obliged as Robert held and kissed his hand, and hugged and leaned against him.
"Sometimes you just have to be selfless and put someone else's needs above yours," said Mr Cuotto.
The student, who is studying at McMaster university in Hamilton, told the Kiss 92.5 radio station that his mother taught him how to treat others, and said he was "raised by a queen"
A fellow passengers spotted Mr Cuotto and Robert, and uploaded a photo of the pair to the Only in Hamilton Facebook page, which is used to share funny and heartwarming moments from around the city.
A Facebook user, who was not named due to the way the page is managed, posted on Only in Hamitlon: "I didn't know if u can post this but I would liking to say thank you to the guy who was seating beside a special needs gentleman [sic].
"He allowed him to hold his hand and find comfort well in a packed bus [sic].
"It make my day when I see stuff like that [sic]."
The post was shared over 10,000 times, and received over 40,000 likes.
Touched Facebook users praised Mr Cuotto for his compassion, including many whose family members have similar disabilities to Robert.
"So nice to see a young man be kind and comfort someone that truly needed it. His mother did an amazing job in raising him, God Bless them both," wrote Stella Psarakis.
Corina Rideout, another Facebook user, wrote: "This story melts my heart. My older brother was born with special needs and to see a complete stranger offer a caring hand to that gentleman bring a tear of joy to my eyes. May god bless you and your loving mother for raising such a fine young man."
Others took to Twitter to praise Mr Cuotto.
After Mr Cuotto stayed on the bus until the final stop with Robert, a family member contacted the student to thank them for comforting their uncle.
Register for free to continue reading
Registration is a free and easy way to support our truly independent journalism
By registering, you will also enjoy limited access to Premium articles, exclusive newsletters, commenting, and virtual events with our leading journalists
Already have an account? sign in
Register for free to continue reading
Registration is a free and easy way to support our truly independent journalism
By registering, you will also enjoy limited access to Premium articles, exclusive newsletters, commenting, and virtual events with our leading journalists
Already have an account? sign in
Join our new commenting forum
Join thought-provoking conversations, follow other Independent readers and see their replies