Man shot during anti-Trump protest rally in Portland, Oregon
The suspected assailant arrived at the scene in a car and fired a gun in the air before shooting the victim, according to an eyewitness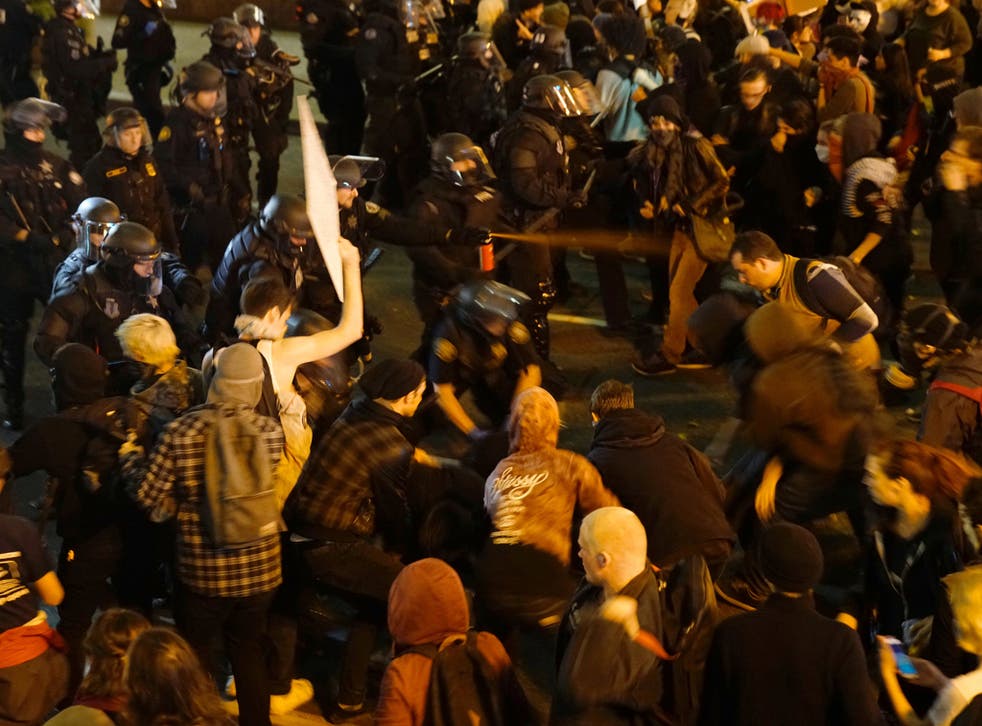 A man has been shot at an anti-Trump rally in Portland, Oregon, where demonstrations against the President-elect had already become violent.
Portland police reported projectiles were thrown at them by protestors before a shooting was reported on Morrison Bridge in the centre of city.
In a statement, police have described the victim's injuries as non-life-threatening and said he is being treated in hospital.
Police have described the possible suspect as a thin man in his late teens, 5ft 8in, wearing a black hoodie and saggy blue jeans.
An eyewitness to shooting, local community activist Cameron Whitten, told OregonLive protesters were moving westbound over the bridge when a car with multiple occupants drove onto the bridge travelling eastbound.
The 25-year-old activist said the car's multiple occupants got out and one of them, armed with a gun, shot in the air before shooting a demonstrator in the lower body.
In response, police cleared the bridge and set up a crime scene guarded by officers in riot gear.
Donald Trump says protests against him are 'unfair'
Portland Police are calling for any witnesses to come forward with information and contact them via their non-emergency line at 503-823-3333.
President-elect Donald Trump has blamed successive nights of protest against his electoral victory on the media "inciting" demonstrators.
He said on Twitter on Thursday: "Just had a very open and successful presidential election. Now professional protesters, incited by the media, are protesting. Very unfair!".
Join our new commenting forum
Join thought-provoking conversations, follow other Independent readers and see their replies