Two people killed by Mardi Gras parade floats in New Orleans
'To be confronted with such a tragedy a second time at the height of our Carnival celebrations seems an unimaginable burden to bear,' says mayor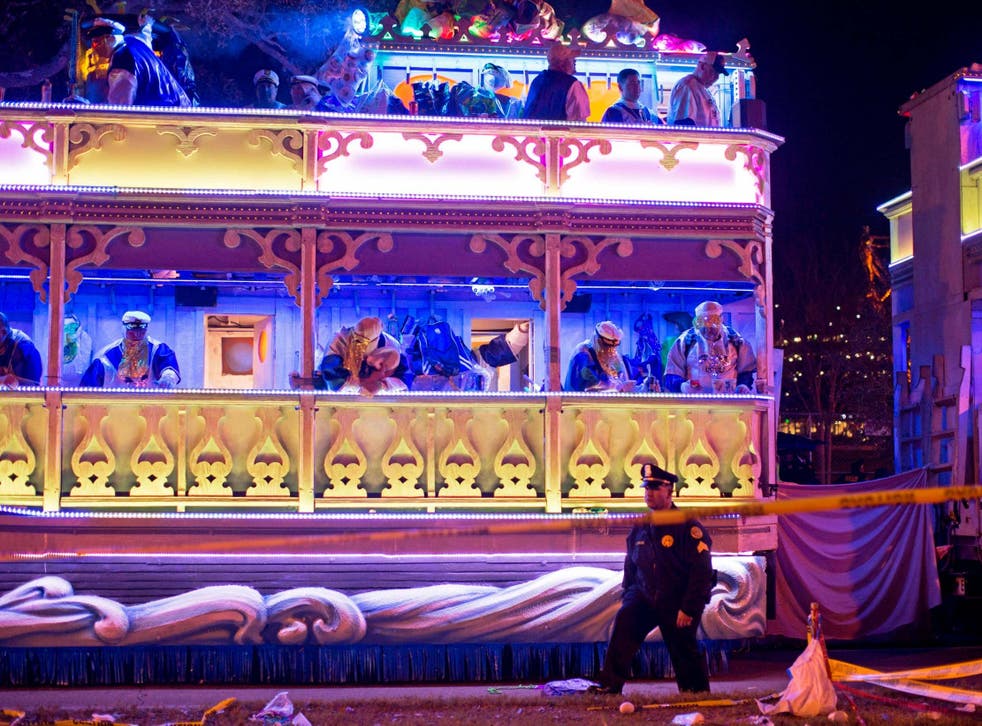 Two people have died within days of each other after being struck or run over by parade floats during huge Mardi Gras celebrations in New Orleans.
The first victim was a woman who was killed on Wednesday after another tandem float rolled over her as she was trying to "reach for beads", said police.
Geraldine Carmouche, 58, was the first person to die in a parade-related incident in the region since 2009, when a 23-year-old rider fell from a float and was run over by its front wheels in Carencro, about 120 miles west of New Orleans.
On Saturday, a man was hit and killed by a tandem float, which consist of multiple floats attached to one another and pulled by a tractor.
The parades are organised by social clubs referred to as "krewes" or "super krewes", with the latter known for holding larger events involving celebrity grand marshals.
Best pictures from Mardi Gras 2019

Show all 25
Carmouche was killed during a parade organised by the Krewe of NYX. The club's captain, Julie Lea, said in a statement: "On such a joyous night, this is obviously a tragic occurrence.
"The parade takes a backseat when something like this happens on the route. On behalf of the entire Krewe of NYX. Along with the City of New Orleans, we offer our most sincere condolences to the family and friends of the individual involved."
The second victim, who was not named, died on Saturday in a parade organised by the Krewe of Enydmion, one of the most popular events in the lead-up to Mardi Gras.
According to local news site NOLA, witnesses said the man slipped under the float while attempting to catch a string of beads thrown from the float, and was crushed underneath.
Mayor LaToya Cantrell said in a statement: "To be confronted with such a tragedy a second time at the height of our Carnival celebrations seems an unimaginable burden to bear. The Cityt and the people of New Orleans will come together, we will grieve together, and we will persevere together.
"Our hearts break for those lost and for their loved ones, and our prayers and deepest sympathies are with them – and will be with them in all the days and months ahead.
"May our people take this moment to uplift our brothers and sisters, to mourn as one and to move forward, together."
The most recent fatality prompted New Orleans' emergency response team to ban the use of tandem floats for the rest of the carnival, which spans over two weeks before the beginning of lent.
Mardi Gras is celebrated all over Louisiana and attracts tourists from all over the world, doubling the population of New Orleans in the days leading up to Shrove Tuesday, which falls on 26 February this year.
Register for free to continue reading
Registration is a free and easy way to support our truly independent journalism
By registering, you will also enjoy limited access to Premium articles, exclusive newsletters, commenting, and virtual events with our leading journalists
Already have an account? sign in
Join our new commenting forum
Join thought-provoking conversations, follow other Independent readers and see their replies