Puerto Rico energy company says all its customers have electricity nearly one year after Hurricane Maria
But announcement may not reflect reality for everyone on the island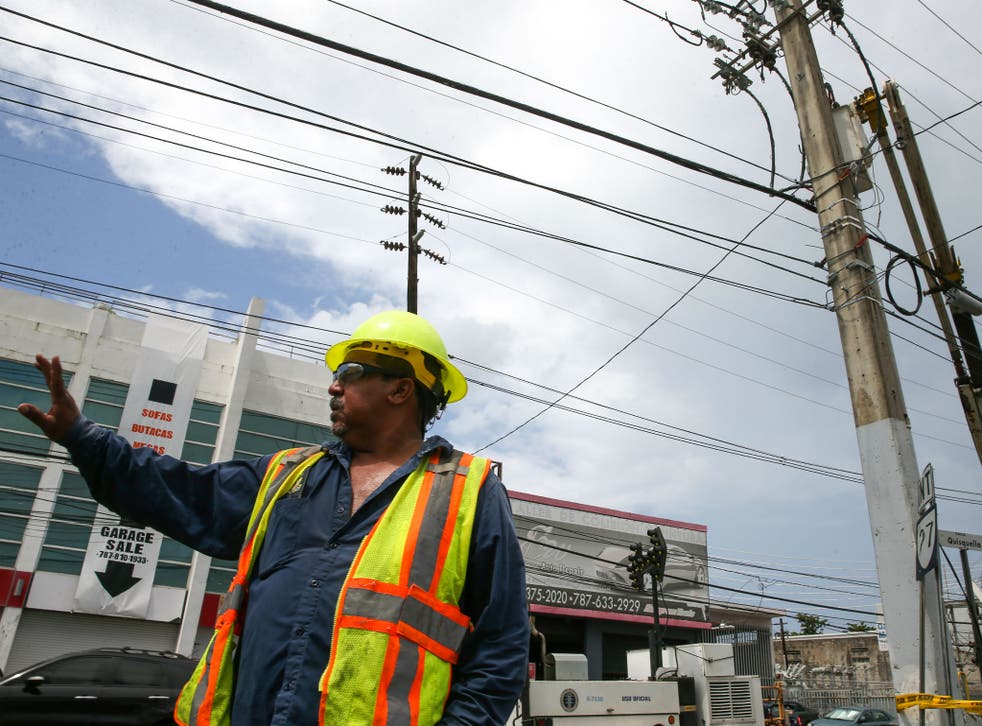 A power company in Puerto Rico has restored electricity to all of its customers 11 months after Hurricane Maria hit.
The announcement, however, may not reflect the status of all homes on the island.
Puerto Rico Electric Power Authority (PREPA) announced on Twitter it had restored electricity for the remaining customers, posting a photo of a family located in Ponce who were said to be the last clients needing power.
"With this, we completed the restoration of service by Hurricane Maria," the caption translated to English read.
Hurricane Maria devastated Puerto Rico last September, and it is still not clear how many lives the storm claimed.
Although the official death toll was reported to be 64, officials in Puerto Rico have recently estimated that Maria killed more than 1,400 people.
The hurricane-induced blackout is the worst in America's history; more than three million people were without electricity after Maria hit.
PREPA engineer Carlos Alvarado told ABC News the families in Ponce were emotional when the power came back.
Juan A Rosado-Reynes, spokesperson for the US Federal Emergency Management Agency (FEMA), who has provided assistance to its federal partners in Puerto Rico in the aftermath of Maria, said the move was an "important milestone" though there was a lot more work left to be done.
But as some residents in Puerto Rico told CNN, the restoration news does not reflect the reality for everyone living on the island.
J​​ose Saldaña Jr who lives in El Yunique National Forest said he and his family have yet to see power restored.
Mr Saldana said it was "not true" that electricity had been restored to all homes in Puerto Rico.
Bringing aid to Puerto Rico

Show all 20
Geraldo Quiñones, a spokesperson for PREPA, told CNN that the company does not "have control in El Yunique", adding that there has been a back-and-forth between PREPA and the US Forest Service.
Mr Quiñones said the two organisations were confident the problem will be "resolved soon".
The Independent has contacted the Puerto Rico Federal Affairs Administration for information on the status of electricity for homes in Puerto Rico.
PREPA and the US Forest Service were also contacted but no response had been received from any of those bodies at the time of publication.
Register for free to continue reading
Registration is a free and easy way to support our truly independent journalism
By registering, you will also enjoy limited access to Premium articles, exclusive newsletters, commenting, and virtual events with our leading journalists
Already have an account? sign in
Register for free to continue reading
Registration is a free and easy way to support our truly independent journalism
By registering, you will also enjoy limited access to Premium articles, exclusive newsletters, commenting, and virtual events with our leading journalists
Already have an account? sign in
Join our new commenting forum
Join thought-provoking conversations, follow other Independent readers and see their replies