Mark Oberholtzer: Texas man whose truck was seen in jihadi photo says his life has been ruined
Oberholtzer was visited by the FBI and Department of Homeland Security who told him to 'protect himself'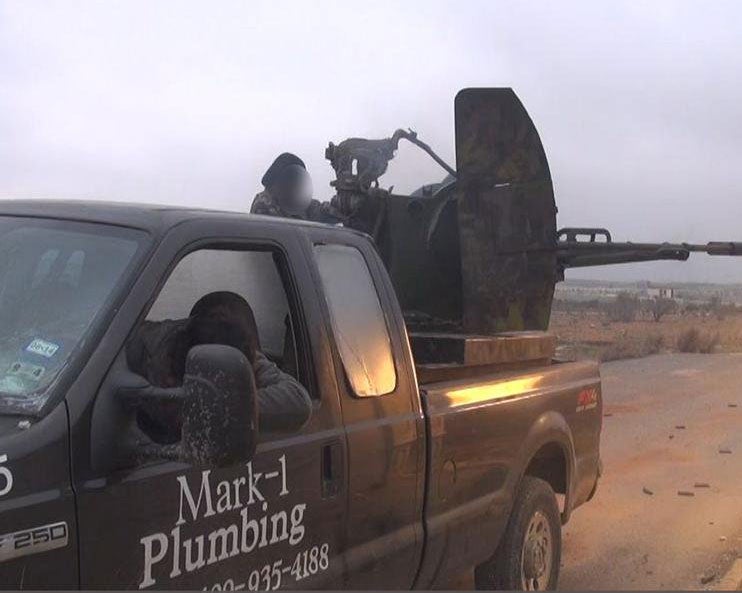 A man whose truck was seen in jihadi video has filed a lawsuit against a Texas Ford dealer that resold his vehicle without removing his company logo for ruining his life.
Mark Oberholtzer, who owns Mark-1 Plumbing in Texas City, claims the dealer he traded with resold the truck without removing the decal with the logo and company phone number.
The vehicle emerged in a photo of jihadis shooting an anti-aircraft gun from it in December 2014, posted by a member of jihadi group Ansar al-Deen on Twitter with the caption "using plumbing truck against regime in Aleppo".
Mr Oberholtzer traded his Ford pickup for a newer model with AutoNation Ford Gulf Freeway in October 2013.
He said in the lawsuit in Harris County Court that while he waited for the deal to close, he began removing the decals but was told to stop by a salesman who said it "would blemish the vehicle paint" and "the dealership had something better for removal".
According to Courthouse News Service, Mr Oberholtzer's secretary informed him of the photo as he was driving to Corpus Christi on December 17, 2014.
"By the end of the day, Mark-1's office, Mark-1's business phone, and Mark's personal cellphone had received over 1,000 phone calls from around the nation," states the lawsuit.
"These phone calls were in large part harassing and contained countless threats of violence, property harm, injury and even death."
Mr Oberholtzer said his secretary was too afraid to go to the office, and he too was afraid for himself and his family.
The family went to McAllen, another city in Texas, for nine days to escape the "hostile onslaught".
Exclusive: Army is fighting British jihadists in Afghanistan
Show all 9
While there, Mr Oberholtzer called the dealer to discuss the situation, who stated they "never touched the truck" and had sent it to Dallas, according to the plumber.
A vehicle history report obtained by Mr Oberholtzer allegedly shows the truck was auctioned off in Texas in November 2013, then shipped from Houston to Turkey the following month.
Huge media attention threw his life into turmoil, says the complainant, as he received constant interview requests from "USA Today, CBS, NBC, and Inside Edition".
Mr Oberholtzer also says he was visited by the FBI and Department of Homeland Security, whose agents advised him to "protect himself" as "there are crazy people out there".
An episode on The Colbert Report, a news show hosted by Stephen Colbert, featured Mr Oberholtzer's old truck when it "began with the segment 'Texan's Truck in Syria'".
The lawsuit states the episode was watched by over 2 million viewers, "making it the most watched episode ever in the show's history".
He still receives threatening phone calls "whenever Isis commits an atrocity that is reported nationally" a year after the photo emerged, says Mr Oberholtzer.
He is seeking more than $1million in punitive damages for "fraud, gross negligence, negligent misrepresentation, defamation, invasion of privacy and deceptive trade" from defendant Charlie Thomas Ford Ltd. dba AutoNation Ford Gulf Freeway.
Join our commenting forum
Join thought-provoking conversations, follow other Independent readers and see their replies