Martin O'Malley: Ex-Baltimore mayor who inspired The Wire's Tommy Carcetti set to run against Clinton for Democratic nomination
Mr O'Malley's trademark has been a data-based approach to just about everything that Government does, starting with Baltimore's crime epidemic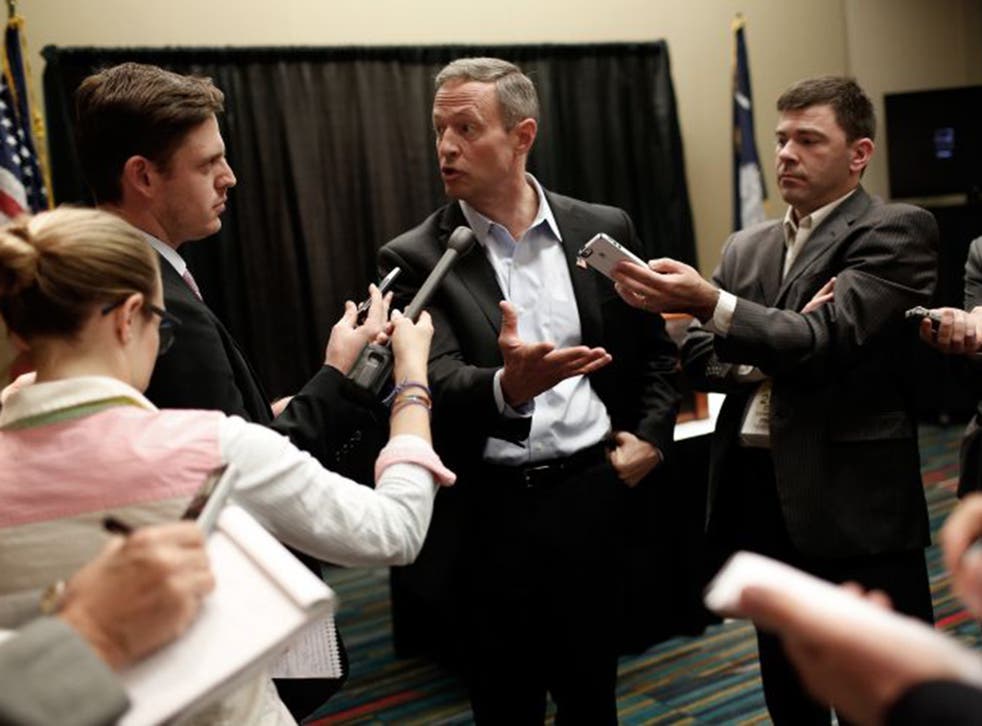 As Hillary Clinton and her husband know only too well, the history of American presidential politics is filled with examples of outsiders coming from nowhere to unseat establishment candidates.
And now one such putative "goliath slayer" was honing his stump speech – not in Iowa, but in London, and not even to American voters but to a small group of international government experts.
Until recently, Martin O'Malley, the former Mayor of Baltimore and Governor of Maryland, has perhaps best been known as the inspiration for Tommy Carcetti, the fictional crime-busting mayor in the acclaimed American TV series The Wire. But if Hillary Clinton stumbles it could be the tall, slightly gangly former attorney who is in poll position to capitalise.
Mr O'Malley, 51, is widely expected to throw his hat in the ring for the Democratic nomination later this summer. And as an administrator widely credited with transforming the fortunes both of Baltimore and Maryland he would, in any other field, be a plausible candidate for the nomination. At the moment, though, he barely registers in the opinion polls although, as Ms Clinton found to her detriment in 2008 and Mr Clinton found out to his benefit in 1991, such polls are only a snap shot of sentiment at the time.
In pictures: Hillary Clinton's Rivals

Show all 5
Mr O'Malley's trademark has been a data-based approach to just about everything that Government does, starting with Baltimore's crime epidemic, which was dramatised in The Wire.
First as Mayor and later Governor he pioneered was he called CityStat and StateStat – effectively the use of real time information to inform political decisions, prioritise resources and measure what worked and what didn't.
It started off with crime reduction, but was adapted to other areas of public policy such as education, health and transport. On Monday he was talking to policy makers from the UK and around the world about his technique as part of a global delivery leaders' conference organised by the Centre for Public Impact. And despite the slightly strange audience and location for presidential aspirant, Mr O'Malley was clearly honing his message for the primaries.
"This, my friends, is fundamentally a new way of governing," he said. "It's not about excuses. It's not about moving left to right. It's about moving forward. It's about measuring performance and getting things done.
"You and I find ourselves living in a moment between times – a hinge of history. The old ways of governing, ideology and bureaucracy, are fading away, and this new way of governing is emerging, which calls for a different way of leadership.
"It is fundamentally entrepreneurial, collaborative and intensively performance measured."
Strangely, for a politician who has made the use of dry data as his principle selling point, Mr O'Malley has an almost (Bill) Clintonesque folksy delivery. And he has a track record for coming from behind to win.
He went from single digits to victory when he ran for mayor of Baltimore in 1999 and beat the incumbent Republican to become Governor in 2006.
Officially he is yet declare for the Democratic presidential nomination. But that's only a matter of time.
Asked what role he saw himself having in rolling out his CityStat and StateStat programmes on a national level he paused, smiled and replied: "A central role".
Register for free to continue reading
Registration is a free and easy way to support our truly independent journalism
By registering, you will also enjoy limited access to Premium articles, exclusive newsletters, commenting, and virtual events with our leading journalists
Already have an account? sign in
Register for free to continue reading
Registration is a free and easy way to support our truly independent journalism
By registering, you will also enjoy limited access to Premium articles, exclusive newsletters, commenting, and virtual events with our leading journalists
Already have an account? sign in
Join our new commenting forum
Join thought-provoking conversations, follow other Independent readers and see their replies