Martin Shkreli - once dubbed 'most hated man in America' - convicted of securities fraud
He spun the guilty verdicts as a victory, since he avoided some of the harsher crimeial convictions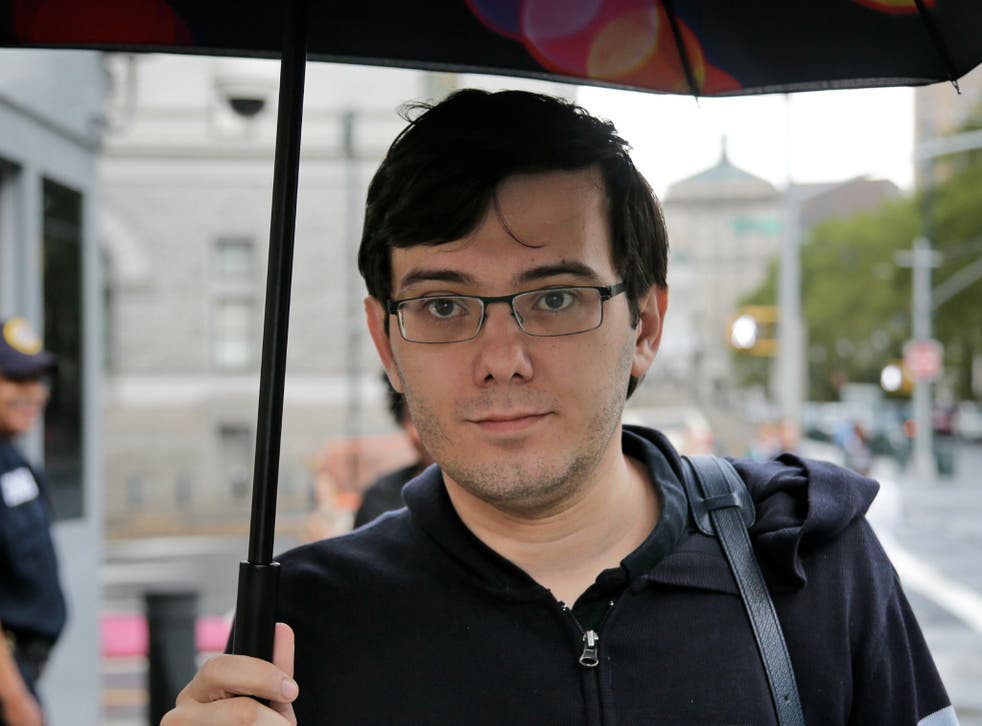 A federal jury has found Martin Shkreli guilty on multiple criminal securities fraud charges, and faces years in prison once he is sentenced.
Shkreli, who has been nicknamed "Pharma bro" and called "the most hated man in America", was sentenced in Brooklyn after a trial that lasted more than a month.
Altogether, Shkreli was found guilty on three of eight charges brought against him. That includes convictions on securities fraud, and conspiracy to commit both securities fraud and wire fraud.
Outside of the court house, Shkreli portrayed the decision as a victory for him: "This was a wtich hunt of epic proportions, and maybe thy found one or two broomsticks, but at the end of the day, we've been acquitted of the most important charges," he said.
Prosecutors in the trial said that a huge trove of evidence showed that Shkreli had duped multiple investors into investing millions of dollars into hedge funds he ran, MSMB Capital and MSMB Healthcare. He did so by falsely claiming to have an superb record of running those types of funds. He also told investors that his investment strategy was low risk.
He quickly lost much of that money after receiving it, prosecutors said, and said that he used a portion of the cash to capitalise his pharmaceutical company Retrophin. During that time of losses, he continued to send out financial statements to his investors saying that the hedge funds were receiving positive returns.
Shkreli brushed off investors who asked him for their money, sometimes for months at a time. In doing so, he kept inventing excuses and suggesting that he pay them back through alternative methods.
World news in pictures

Show all 50
The former pharmaceutical executive wound up looting the stock of Retrophin to pay back his investors he had ripped off.
The fraud charges are unrelated to the actions that made Shkreli something of a household name. Back in 2015, he raised the price of the anti-parasite drug Daraprim by more than 5,000 per cent while serving as the executive of the drug company Turing Pharmaceuticals. That raised the price from $13.50 a dose all the way up to $750 a dose for the drug that is used to treat infections from toxoplasmosis, a condition that can be fatal in patients suffering from AIDS. The price hike was cirticised by politicans and other pharmaceutical companies, leading Turing Pharmaceuticals to cut the cost per does to $375 for some hospitals.
That price hike focused quite a bit of attention on Shkreli, who responded to the criticism with low-grade trolling and an insouciant attitude. When a group of high school students were able to replicate the drug for $2 a dose as a part of an ordinary chemistry product, for instance, Shkreli tweeted that any pharmaceutical company could replicate drugs for less than market price.
Shkreli has since then appeared before Congress, further building up his image as a villain in the public's eye. Sitting on Capitol Hill, the former health care executive delivered testimony that was later referred to as containing almost only dramatic theatre as he shifted in his chair, sometimes smiling, and invoking his Fifth Amendment protections to not answer any questions the members of Congress asked.
Join our new commenting forum
Join thought-provoking conversations, follow other Independent readers and see their replies