Martin Shkreli: First witness in trial of 'America's most hated man' says she felt 'betrayed' by former pharmaceutical boss
34-year-old denies fraud charges but faces up to 20 years in prison if convicted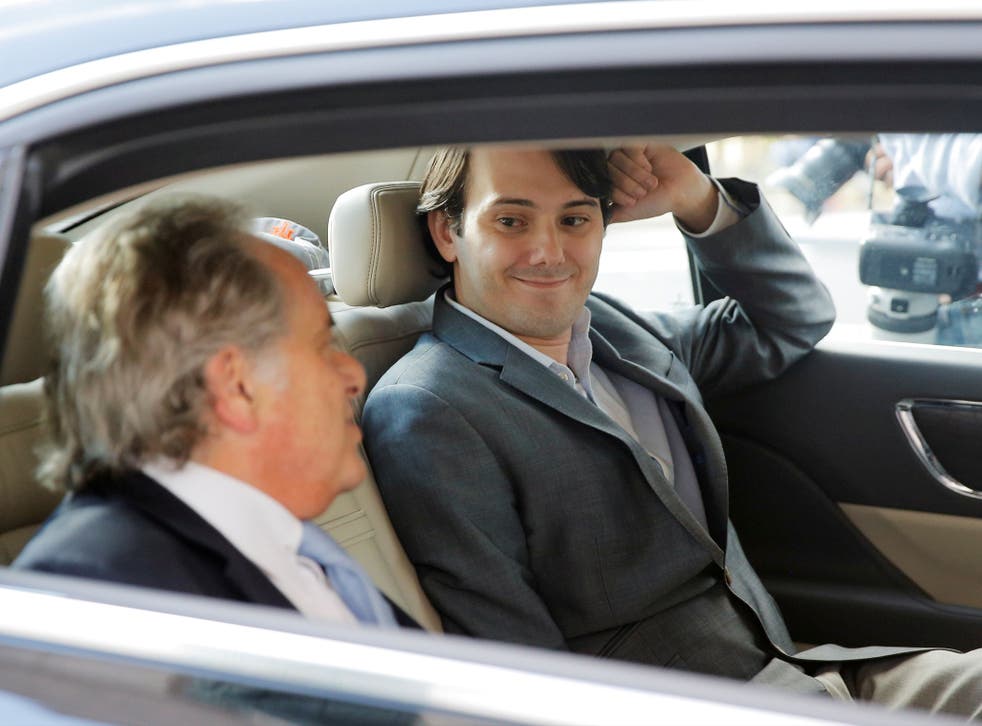 An investor who put $300,000 into a hedge fund managed by Martin Shkreli said she felt "betrayed" after being told she was in line for huge returns, only for the account to be closed just 31 minutes later, a jury has heard.
Prosecutors say Sarah Hassan was the victim of a scam orchestrated by the former pharmaceutical executive – dubbed "the most hated man in America" – who is standing trial charged with fraud relating to the drug company he once ran.
The 34-year-old denies the charges but faces up to 20 years in prison if convicted.
Mr Shkreli gained notoriety in 2015 after a drug firm he founded, Turing Pharmaceuticals, spent $55m for the US rights to sell Daraprim, a life-saving medicine used to treat a parasitic infection called toxoplasmosis, which those with weakened immune systems, including Aids patients, rely on.
The company promptly raised the price from $13.50 to $750 per pill – a rise of 5,000 per cent.
Ms Hassan, who ultimately recouped her investment in a settlement that included a stock windfall, is the first witness to testify in the trial.
She told jurors she agreed to have dinner with Mr Skhreli after a friend of her father's told her he was "a rising star in the hedge fund world".
She said Mr Shkreli claimed to manage $40m and said she was "thrilled" when he reported in an email in September 2012 that she made nearly $135,000 in profit.
Despite never receiving formal account statements, she said she "trusted him and I trusted the numbers".
In another email sent to all investors, Mr Shkreli announced he was using all the assets in the fund to launch Retrophin, another biotech company.
World news in pictures

Show all 50
When she tried to get her investment back, he stalled for months, Ms Hassan said.
"To be frank, I felt somewhat betrayed at this point," the 27-year-old told jurors at a federal court in Brooklyn, New York. "I was told I could get my cash from the fund months ago… It just wasn't right."
She finally agreed to a settlement for $400,000 cash and stock shares she sold for $900,000 once the company went public.
Mr Shkreli's lawyer, Benjamin Brafman, questioned her on how his client had harmed her, aside from being difficult to deal with.
"I know it was frustrating — trust me, I've dealt with him — but at the end of the day, you had a successful agreement in which you more than tripled your money, correct?" he said.
She agreed. But she also said that until the settlement, she had to live with the fear that she lost her money.
Along with the Daraprim scandal, Mr Shkreli has become notorious for bragging about himself and trolling critics on social media.
A posting on his Facebook page on Thursday criticised reports that his legal team were struggling to assemble a jury.
Lawyers for Mr Shkreli are understood to have dismissed almost 250 potential jurors in the first two days of jury selection.
He wrote: "Lying media corporate drones love to lie for their shareholders."
But Mr Brafman told jurors that his client was "not on trial for all of the other stuff that made him a household name".
"You may not like Martin Shkreli…and you may have reasons to hate Martin Shkreli, but that is not a basis on which to convict."
Additional reporting AP