His murder galvanised the LGBT+ rights movement. 25 years on, his mother fears the US is 'starting completely over'
The brutal 1998 murder of gay University of Wyoming student Matthew Shepard sparked an outcry that paved the way for broader LGBT+ rights and hate crime legislation across the US. But as the 25th anniversary of his killing approaches, Matthew's mother, Judy, tells Sheila Flynn: 'I didn't expect to be here'
Tuesday 08 August 2023 16:17 BST
Comments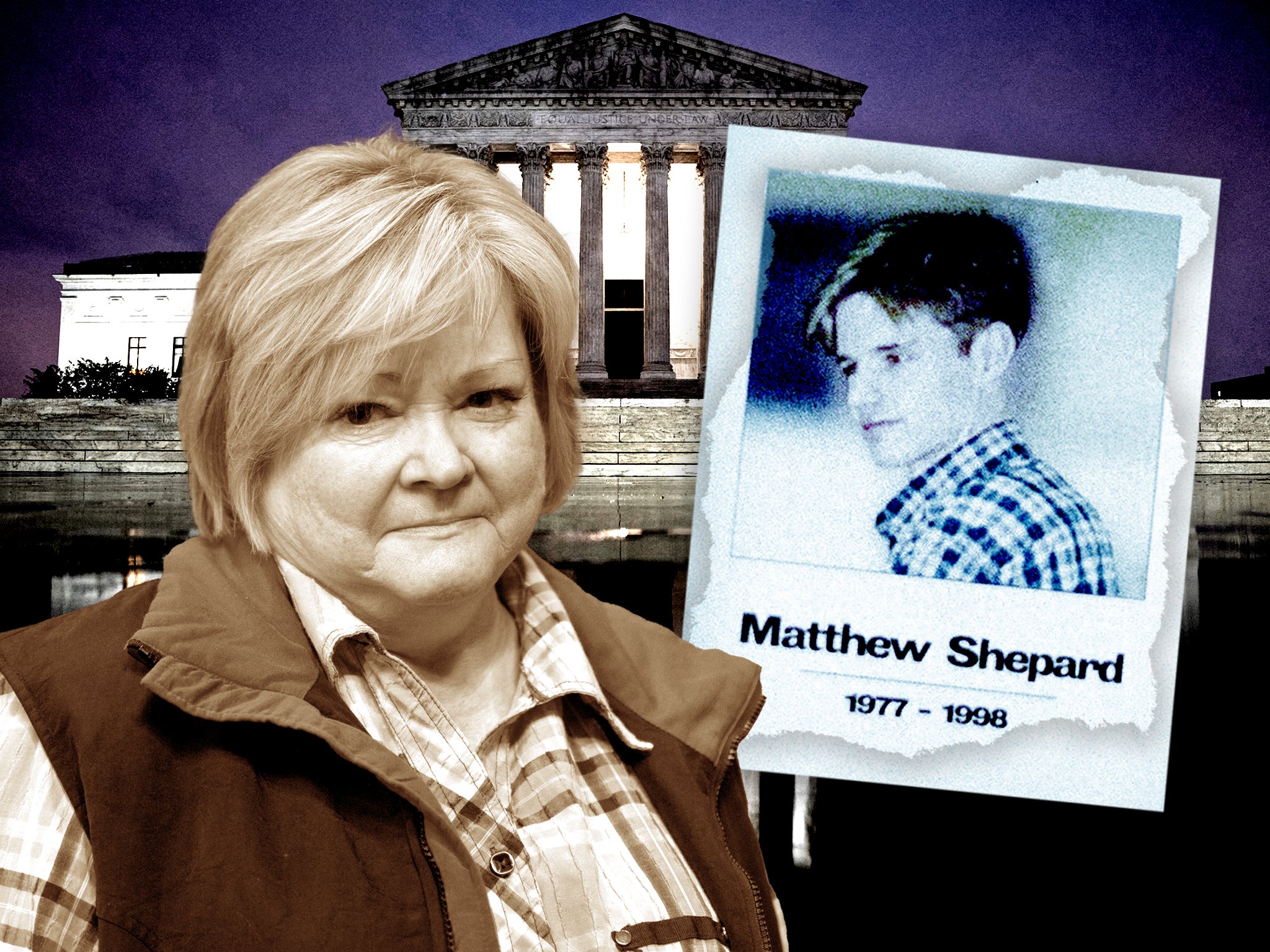 There's a sign in the office of Judy Shepard's Wyoming home – beyond the refrigerator with its photos of her murdered son, less than three hours from the capitol building of one of the few states still to enact hate crime legislation – that reads: "I'm sorry, did I roll my eyes out loud?"
Ms Shepard, who turns 71 this month, starts talking about that sign as she attempts to describe her feelings in the wake of recent decisions by the US Supreme Court.
"I think I probably did more than roll my eyes," she tells The Independent of the court's June ruling allowing creative businesses to refuse services for same-sex clients.
Because Ms Shepard has spent nearly the past quarter-century fighting for equality legislation, thrown into the international spotlight in 1998 by the brutal murder of her 21-year-old son, Matthew. The gay University of Wyoming student was badly beaten and tied to a fence in Laramie, already in a coma when he was discovered 18 hours later and succumbing to his injuries the following week on 12 October 1998.
His death galvanised a movement; Matthew's name became something of a rallying cry amongst LGBT+ activists, and Judy and her husband, Dennis, were highly visible and vocal – particularly when it came to issues facing gay youth. They began the Matthew Shepard Foundation two months after his murder and pushed doggedly for change; the Matthew Shepard and James Byrd Jr. Hate Crimes Prevention Act was signed into law by President Barack Obama in October 2009, and, ten years later, Matthew was one of the inaugural 50 American "pioneers, trailblazers, and heroes" inducted on the National LGBTQ Wall of Honor within the Stonewall National Monument (SNM) in New York City's Stonewall Inn. Also in 2019, Matthew was honoured with a plaque at Washington National Cathedral, where his remains had eventually been interred after years of searching for a safe and appropriate resting place.
For an encouraging stretch of time, there were victories, both in the courts and socially; before the 2016 election, Ms Shepard says, she and her husband "had ideas of, actually, 'Well, we think our work is pretty much over now ...They don't need us anymore. We're good. We can go home now if we want to.'
"And it just didn't turn out that way," she says, referring to the election of Donald Trump and his subsequent installation of conservative Supreme Court judges. "And I just sometimes feel like we're just starting completely over."
There have been several significant blows to LGBT+ rights and other causes central to the left. Five years ago, the Supreme Court ruled in favor of a Colorado baker who objected to designing a cake for a same-sex wedding; last year, the Court overturned Roe v Wade; and on 30 June, the Court's conservative majority ruled that a Christian designer could refuse to work with gay couples.
During the Trump presidency, Ms Shepard says, "the whole administration was just completely opposite of everything we had all been fighting for – all the marginalised communities – for decades. And it was just like, we see the haters unleashed now, even encouraged now. So that's very scary, and I'm worried that right now, at this moment in time, some of them, even in my state, those people are being elected into office ... we are outnumbered in Wyoming at least three to one. So really, it's going to be a while before I expect to see [progressive legislation]."
Before that, she says, she'd been heartened by the stories she'd hear from gay youth around the country – and she still is, to some extent. Things seemed to have been changing on a grassroots level when it came to acceptance across the sexual spectrum.
"One of the coolest things is, I did a lot of colleges in the beginning, and now I'm meeting them as adults in the corporate world, which is very cool to me," she says. "The stories we used to hear from kids were, 'I wish my parents were as accepting as you.' And now we don't hear that so much, which is, I think, great."
She says: "Certainly, the young people I come in contact with, they just don't give a crap about any of that stuff ... they're worried about climate change and gun safety and getting an education and a job, not who's in love with who and all that stuff," she says. "So they believe in equality across the board."
Mrs Shepard continues: "I think it's because they're more educated and because they've seen same-sex marriage now and families with two moms and two dads."
She does concede, however, that "it's a geographic thing" in the sprawling US.
"If you're living in the Deep South, that may not be as widely accepted as it is in Minnesota or Colorado or California – some parts of California, not even all of California," she says, highlighting the stark division within the country.
While the youth may be accepting, however, a vast swathe of problematic "haters" are the adults who should be setting a societal example, she says.
"What we're hearing is, kids in school, it's not so much the kids that are giving those kids problems, it's staff," she says. "It's either the principal who goes to the evangelical church, or it's the one teacher who just cannot let go of their own bias or the janitor or the lunch lady or the bus driver. It's not so much the kids anymore in public schools, it's the staff."
She fears that trend she'd been seeing of more familial and social acceptance may be changing, fuelled by ongoing alt-right rhetoric.
"What breaks my heart is when I hear people, really genuine people who should know better, saying those things – like parents, right? If you have a gay kid, your responsibility is your child. It's not your fault, or anybody's fault that they're gay; they are who they are – and just, you know, figure it out. Love them. That's what you're supposed to do. So that's the heartbreaking part to me ... why are they letting somebody in the pulpit tell them how to think? I don't get that at all.
"And I've met so many parents who are like, 'I'm not letting anybody tell me how to raise my kids.' However, that is also what the other side says."
She's certain that, had Matthew lived, he would have been hugely active in social causes, "not just for the gay community but all the marginalised communities.
"That's who Matt was," she says. "He didn't understand categorising people, putting them in a category, Black or Mexican or immigrant or Muslim ... to him, they were people, first and foremost."
At the time of his death, Matthew – who'd already lived overseas with his family after his father secured work in Saudi Arabia, introducing the teen not only to the Middle East but also to Switzerland, where he attended school – was studying political science at the University of Wyoming with a minor in languages.
"His dream was to be part of the State Department," Ms Shepard tells The Independent. "He wanted to do this work internationally, magnified by living in Saudi and seeing the discrepancy between the haves and have nots, especially when it comes to US foreign aid."
He was venturing into the fledgling world of social media – complete with a MySpace page –and would have fully embraced the advent of "anything that would have put him in touch with more people," according to his mother.
She wants people to "remember that he was a human being and had friends and family who cared about him ... he was a real person with real flaws but a heart as big as the all outdoors.
The Laramie Project, a play based on interviews with Wyoming residents following Matthew's murder, was later turned into a film
"He loved people, the theater, politics," she says, describing him as "very much an extrovert".
"Every day was a new adventure," she says. "He just wanted the world to be a better place. [He was] very empathetic, good listener, smart ... The world lost something really special when we lost Matt."
Since then, Ms Shepard says, "Dennis and I have figured, we've sort of come to the conclusion, that the work we do now is what Matt would be doing if he were here."
She also believes that, right now, her son "would be very discouraged and angry – and all the more out there, speaking out, trying to remind people.
"There's a fear, I feel, that the gay community in states where they have all the rights have kind of forgotten that there are others out there that don't have those rights ... and we've sort of dropped the ball in demanding them," she says, adding that she's "a little more worried about that now that the extreme right wing has gained a louder voice."
"I think that this is a moment in time ... people will wake up and go, 'This is really not what I want my country to be,'" she tells The Independent. "But in the meantime, it's hurting kids, especially trans kids and gay kids. And yes, so that, that worries me ... I'm just tired of being angry all the time."
She stresses the need for political action rather than complacency, but acknowledges that, for "one thing, people are trying so hard right now just to get by day to day.
"And they're tired, and they have work responsibilities and family responsibilities," she says. "Not everybody has the freedom to just go to a school board meeting ... what are they going to do with their kids? It's a big choice now. So there's priorities, but there are folks who don't have those other things going on that should be doing more, I think."
She says: "A lot of young people just don't understand how government works, how important it is to use your privilege to vote. And I just think it's kind of escaped – well, until recently, anyway – a lot of young people that don't understand how important it is that they do vote. But as, as just regular folks, y'all have got to start going to school board meetings and fighting back. You just cannot let that stuff happen, continue to happen – and town council meetings and county commissioner meetings. All politics are local, and then they become national."
When it comes to factions pushing for division and intolerance, Ms Shepard has witnessed the vitriol firsthand – such as members of the infamously anti-gay Westboro Baptist Church picketing at Matthew's funeral.
She says of such "haters:" "I pity, them, actually, that their lives are so steeped in finding ways to hate people and take away their rights and privileges. I'm just befuddled. Animosity? Probably not. I'm just like, 'What are you people doing?' That's just stupid. Westboro Baptist Church, when they used to follow us around? ... I feel bad for them. Their lives are just surrounded by hate. What must their lives be like?"
Her own life remains committed to combating such hate, she says, and continuing the fight for equality which has become her son's legacy.
"I didn't expect to be here, 25 years later, doing this work," she says. "Quite honestly, [after] two or three years, I thought people were just going to move away from Matt onto the next horrible thing, because that's what humanity does ... maybe I didn't have an idea of how big the scope was of Matt's story."
Even if, as time passes, people don't remember her son's name, she says, "this may sound weird to you, but that's okay with me: Just get the work done."
She remains determined, despite feeling "frustrated and tired.
"I love meeting people and working with them, but I'm really disappointed that it's not further along now and disappointed in the population in general, I think, that they didn't fight back against this nonsense," she says.
So all that's left is to continue looking forward – and remain "beyond hopeful.
"I am positive," she says. "I'm 100 per cent positive people are going to look back at this and go, 'What were we thinking?' Or 'What were they thinking?'
"The majority is going to take hold again," she says. "But it is a moment in time where we're just stuck right now."
Join our commenting forum
Join thought-provoking conversations, follow other Independent readers and see their replies