Melania Trump 'would likely fail' her husband's proposed immigrant screening test
Doubts surface that the Slovenian-born first lady, who does not have a college degree, would pass skills-based points system
Jeff Farrell
Tuesday 08 August 2017 01:32 Comments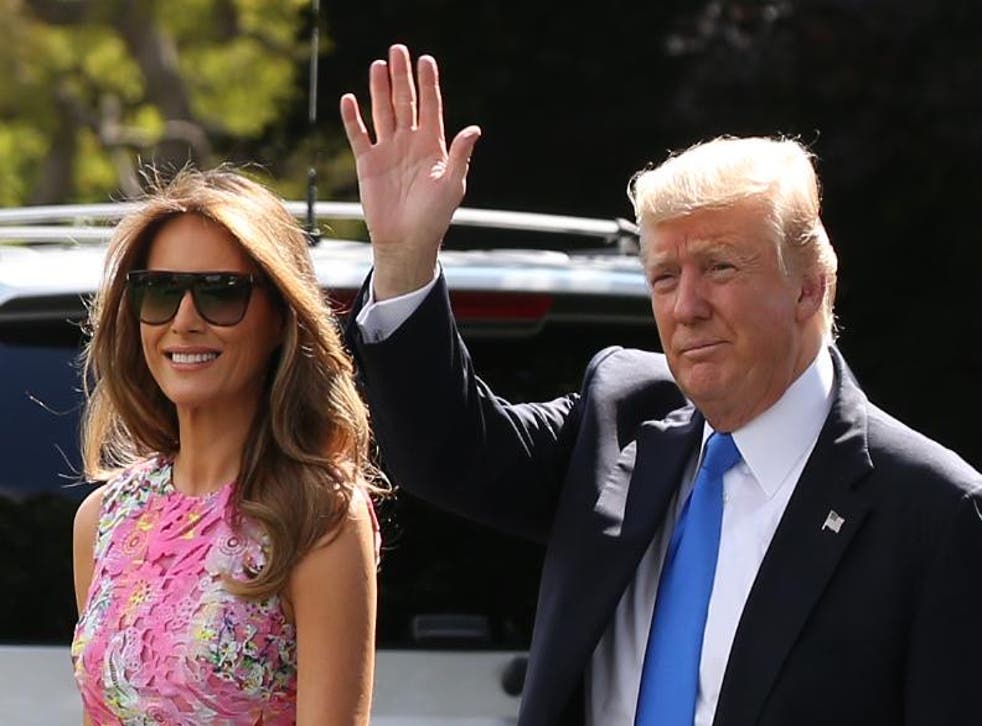 Donald Trump's supporters don't care if his wife Melania would likely fail to get into the US if she was vetted under a proposed screening system because she is the "right kind" of immigrant, it has been claimed.
Journalist Julia Ioffe spoke out over "restrictive" plans by the President's administration to curb the number of arrivals by forcing the hopefuls to first take a skills-based points system.
She said the crackdown was a bid by Mr Trump to pander to the loyal followers of his populist style of politics who ushered him into the White House in his shock election victory.
But Ms Ioffe said his supporters were not concerned if his Slovenian-born wife herself could pass that screening because she is a "beautiful white woman from Europe, and we like those".
She said she doubted Ms Trump could jump through that hoop because she does not hold a college degree.
She also pointed out that the first lady had first entered the US on a H-1B visa – one of the visas that Mr Trump's Republican administration is trying to restrict.
Last week the President threw his support behind the proposed points-based system designed to weed out the number of would-be immigrant who would qualify to enter the US.
Ms Ioffe, a Russian-born journalist with The Atlantic Magazine, pointed out to CNN that the first lady herself arrived in the US under visas which Mr Trump's administration is trying to restrict.
She said: "It's interesting because Melania Trump was here originally on a H-1B visa, when in fact she worked illegally under a tourist visa first.
"But that doesn't seem to matter, because when you ask Trump supporters they don't seem to care. She's the right kind of immigrant: she's a beautiful white woman from Europe, and we like those."
She added: "She doesn't have a college degree, you know. I don't know how she would have done under this points system."
In a wider swipe at the proposal by Mr Trump's administration's to crack down on immigrants, Ms Ioffe said there was nothing new in the plan by Republican senators David Perdue and Tom Cotton.
"It's kind of more of the same in slightly different packaging, the same thing he has been promising to his base since he started running (for the White House) two years ago," she said.
World news in pictures

Show all 50
"It's very restrictive in one shape or another."
Mr Trump and his congressional allies framed the bill in the pipeline as a way to recruit more skilled workers and transition away from an immigration system that is focused on family unity.
But critics including the tech industry has largely spurned the proposal, saying it failed to deal with the shortage of qualified foreign workers.
The plan gets into an already crowded line of measures that Congress is considering, including health care, tax reform, a budget and raising the debt ceiling, meaning it is unlikely that the proposal will even be put on the table any time soon.
Register for free to continue reading
Registration is a free and easy way to support our truly independent journalism
By registering, you will also enjoy limited access to Premium articles, exclusive newsletters, commenting, and virtual events with our leading journalists
Already have an account? sign in
Join our new commenting forum
Join thought-provoking conversations, follow other Independent readers and see their replies