Melania Trump will move into the White House from New York in the summer, says senior aide
Confirmation of move comes as First Lady announces she is putting together a 'dynamic' team that will make the country 'better for everyone' in her first official FLOTUS statement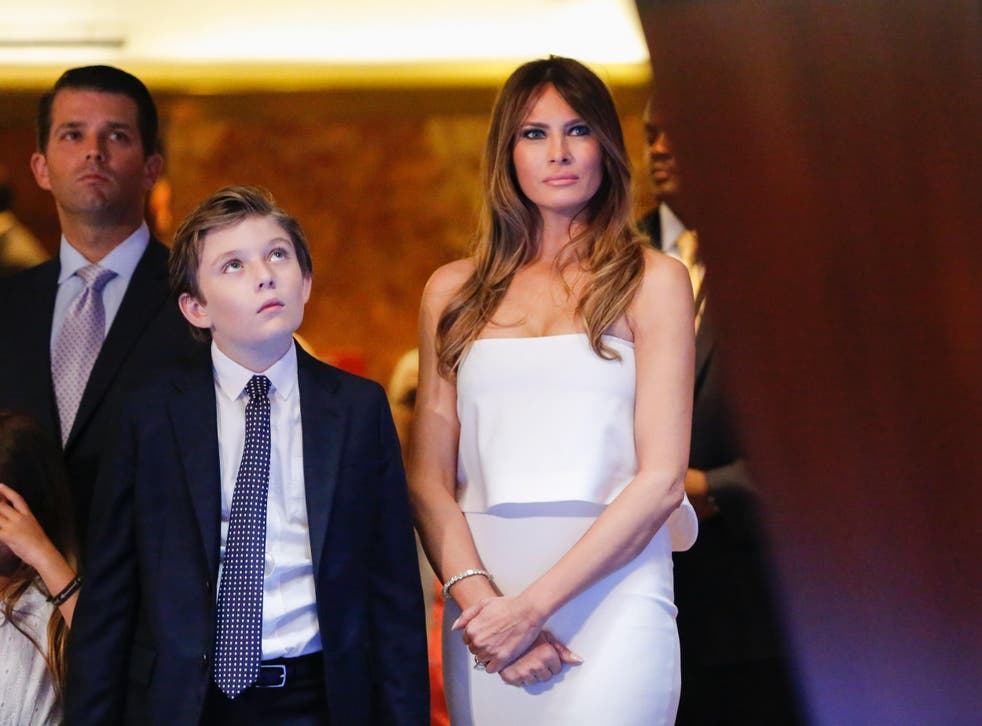 ​Melania Trump will move to the White House from New York in the summer, a senior aide has said.
The First Lady is to leave her Trump Tower penthouse and move to Washington, joined by the couple's 10-year-old son Barron, at the end of the school year, and is already beginning to to take on her duties, according to the aide.
"Ms Trump will be moving to DC and settling into the White House at the end of the school year, splitting her time between New York and DC in the meantime," Stephanie Winston Wolkoff, senior adviser to the First Lady told ABC News.
Melania Trump dismisses husband's leaked audio as 'boy's talk'
Ms Wolkoff added that Ms Trump was "honoured to serve this country and is taking the role and responsibilities of the First Lady very seriously."
The announcement appears to dispel rumours published in American tabloids and magazines on Wednesday that the First Lady and the coupe's 10-year-old son may no longer be moving to Washington.
It comes as the White House announced on Wednesday that Lindsay Reynolds, a former member of worked under George W Bush's administration, would be joining the First Lady's team as her Chief of Staff.
In an official statement on Wednesday, Ms Trump expressed her "honour" at taking on the position of First Lady, and said she was in the process of putting together a "dynamic and forward thinking group of individuals" to make up a team that would work to make the country "better for everyone".
"It has been an honour to take on the responsibility of the position of First Lady, with its long history as an important representative of the President, our family, and the traditions of our nation around the world," she said in the statement.
"I am putting together a professional and highly-experienced team which will take time to do properly. I am excited to be organising and bringing together such a dynamic and forward thinking group of individuals who will work together to make our country better for everyone."
Ms Trump remained barely visible during her first week as First Lady, making no public appearances since a prayer service the morning after the inauguration, giving no media interviews as first lady and not indicating with any specificity what she has planned for her new role.
Many saw this as a sign that she was reluctantly grappling with how to embrace the increased scrutiny, while others viewed it as an indication she was taking her time to determine how she would make an impact as First Lady.
The controversial orders Donald Trump has already issued

Show all 9
Despite her silence, Ms Trump has already been under scrutiny over her body language during Mr Trump's widely broadcast inauguration, with one body language expert suggesting she "doesn't look comfortable in her own skin" and another saying her body was "an object" to Mr Trump.
The First Lady assumed her role with the lowest favourability ratings of any modern first lady. Only 37 per cent of the public had a favourable view of her in a Gallup poll released in January, while the same percentage gave her an unfavourable rating.
Michelle Obama, Laura Bush and Hillary Clinton each had a favourability rating above 55 per cent when they became first lady.
Join our new commenting forum
Join thought-provoking conversations, follow other Independent readers and see their replies