Melania Trump 'didn't want to be First Lady come hell or high water'
President's wife uncomfortable in role and assumed husband had no chance of winning race against Democratic rival Hillary Clinton
Maya Oppenheim
Monday 27 November 2017 14:40 Comments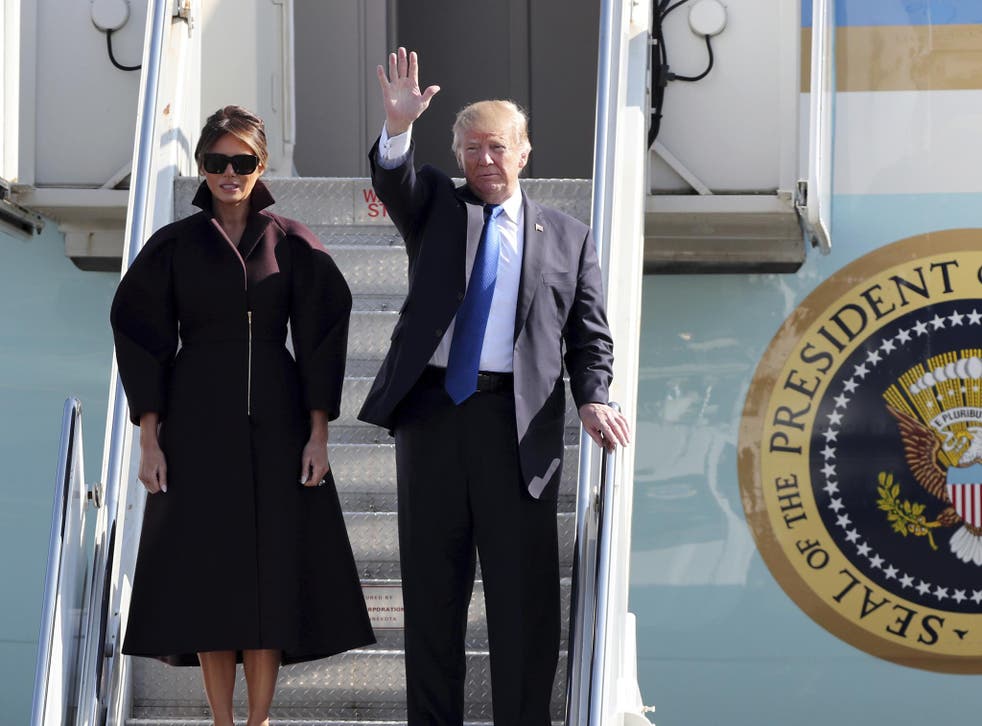 Melania Trump reportedly did not want to become First Lady "come hell or high water" and thought it was unlikely she would ever do so.
The First Lady, who married Donald Trump in 2005, is said to have always been reluctant for her husband to become president but assumed it would never actually happen.
"This isn't something she wanted and it isn't something [Donald Trump] ever thought he'd win. She didn't want this come hell or high water," a longtime friend of the Trumps told Vanity Fair.
"I don't think she thought it was going to happen," they added.
However, it was apparently the 47-year-old who initially pushed Mr Trump to run for president after becoming impatient with his dawdling and hesitancy.
Roger Stone, a former Trump campaign advisor, said: "He always wanted to run. She is the one who pushed him to run just by saying run or do not run. I don't think she was ever too crazy about it."
According to Stone, Ms Trump urged her husband to "either run or don't run."
"She said, 'It's not my thing. It's Donald's thing'. And I think she understood he was going to be unhappy if he didn't run," he said.
Since President Trump's presidential nomination, rumours have abounded claiming Ms Trump is reluctant to take on the role of First Lady. This was further augmented by Ms Trump, who is the US president's third wife, breaking precedent by not moving to the White House until five months after Mr Trump's inauguration.
Furthermore, lack of information about her daily activities has generated speculation she spends less time in the White House than is usual for a First Lady.
Ms Trump, who is almost a quarter century younger than her husband, is known for being reclusive and media shy.
Born in Slovenia when it was part of Yugoslavia, Ms Trump is the first ever First Lady to be born in a communist nation. She is also the first First Lady to be born abroad since Louisa Adams who moved into the White House in 1825.
The then-small-town girl, who friends say has always been a private person, began her modelling career when she was just 16 and signed with a modelling agency in Milan at the age of 18. She went on to graduate from a design high school and attend the University of Ljubljana before relocating to Italy and later Paris for modelling.
Ms Trump has had a fraught relationship with her husband's first wife Ivana Trump. Last month, the pair had an explosive exchange after Ivana jokingly referred to herself as First Lady.
Ivana, the wife whose high-profile divorce from Trump allowed the president to become a mainstay in tabloid headlines, said she had a "direct number" to the White House and called the president every two weeks. "I'm basically first Trump wife," she said on Good Morning America with a laugh. "I'm First Lady, OK."
The joke did not go down well with the current First Lady and resulted in Stephanie Grisham, Melania's communications director, unleashing a scathing rebuttal.
"Mrs Trump has made the White House a home for Barron and the President. She loves living in Washington, DC, and is honoured by her role as first lady of the United States. She plans to use her title and role to help children, not sell books," Ms Grisham said.
She added: "There is clearly no substance to this statement from an ex, this is unfortunately only attention-seeking and self-serving noise."
But Ivana has weighed in on the furore again over the weekend, saying Ms Trump "went bananas" when she branded herself "the first Trump lady".
Sevnica: Melania Trump's home town

Show all 18
"I said I'm first Trump lady. And first lady went bananas over it. I have no idea how it sparkled. I have no idea why, but I am definitely first Trump lady," she told The Ray D'Archy Show.
"I was married to Donald. I have three kids with him, and I have no idea why she resents it."
She added: "Let's leave it at that. Who cares."
Ivana married the President in 1977 and divorced in 1992 after he had an affair with his second wife, Marla Maples
Register for free to continue reading
Registration is a free and easy way to support our truly independent journalism
By registering, you will also enjoy limited access to Premium articles, exclusive newsletters, commenting, and virtual events with our leading journalists
Already have an account? sign in
Join our new commenting forum
Join thought-provoking conversations, follow other Independent readers and see their replies