Melania Trump hits back after she was criticised for tweeting about White House tennis pavilion
The planned pavilion was announced last autumn, and has been funded by private donations
Dave Maclean
New York
Saturday 07 March 2020 20:34 Comments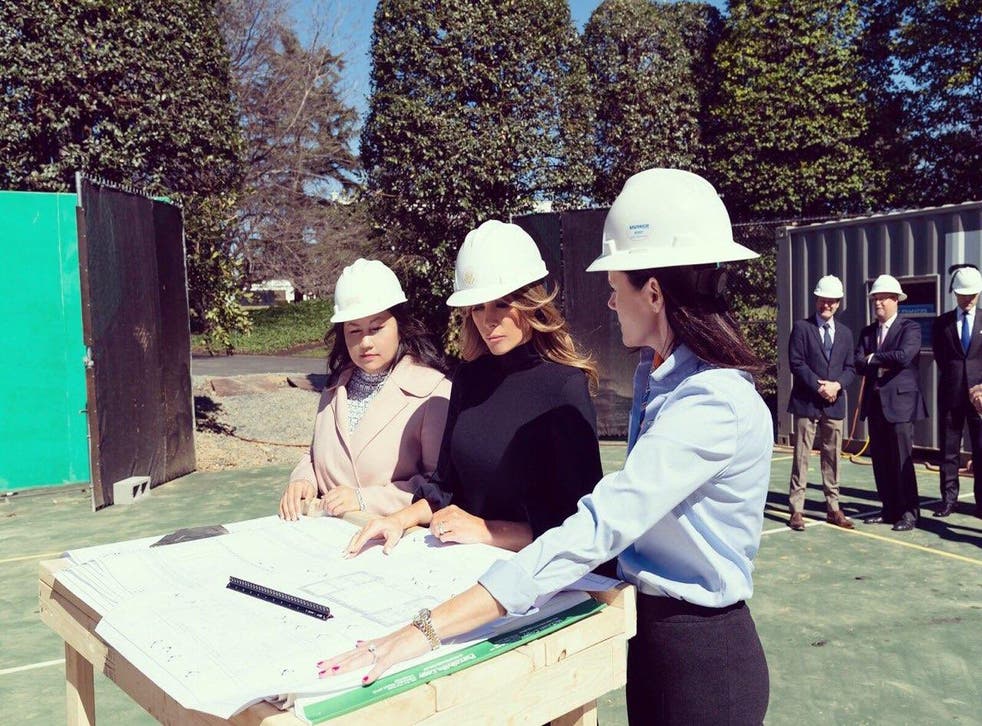 Melania Trump has hit back after she was criticised for tweeting about the progress of a White House tennis complex as coronavirus spread across America.
She posted about the tennis pavilion on Thursday, which many found tone deaf given the recent deadly Tennessee tornadoes and ongoing coronavirus worries.
On Saturday she followed up with a tweet saying: "I encourage everyone who chooses to be negative and question my work at the to take time and contribute something good & productive in their own communities."
It marked a rare response to criticism for the First Lady who has typically avoided getting involved in disputes.
But it wasn't enough for some people. One Twitter user responded: "In case you didn't notice, the world is in the midst of coronavirus pandemic. People are dying. And you post about the new tennis pavilion at the White House – seems a little out of touch."
Mia Farrow wrote: "Sorry if we were 'negative & questioned' your 'good & productive work' making a tennis pavilion ( whatever that is) for the WH with our money. We are dealing with a negative thing or two. Love the hard-hat."
The planned pavilion was announced last autumn, and has been funded by private donations.
In a news release at the time, Mrs Trump said: "Architectural inspiration for the pavilion is drawn from the White House, with the end goal of the new structure on the south lawn complementing and contributing to the People's house. It is my hope that this private space will function as a place to gather and spend leisure time for First Families."
Register for free to continue reading
Registration is a free and easy way to support our truly independent journalism
By registering, you will also enjoy limited access to Premium articles, exclusive newsletters, commenting, and virtual events with our leading journalists
Already have an account? sign in
Join our new commenting forum
Join thought-provoking conversations, follow other Independent readers and see their replies